Seattle Seahawks Bike Being Raffled Off For Charity
Chaparral Motorsports
|
August 30, 2013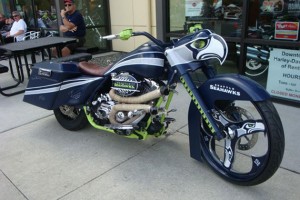 Football fans across the U.S. are not usually shy about proclaiming love for their team, whether through wearing apparel or attending games. However, one lucky Seattle Seahawks fan will soon be able to show his or her affiliation in a new way - by riding around on a motorcycle. Keith Wong, an award-winning bike builder, outfitted a 2005 Harley-Davidson Road King with Seattle Seahawks-inspired touches, and the motorcycle will be raffled off for charity.

It took more than 300 hours of work to create the final product, which features exhaust pipes shaped like Seahawk talons, the image of the mascot sculpted into the headlight, front wheel spokes designed to look like the logo and a color scheme based on Seattle's uniforms. Even the seat has been made out of old footballs, and there are several other motorcycle accessories that have this football theme.

"It's such a great opportunity for me to do something that everybody gets to see, support the Seahawks and help a really good cause," Wong told MyNorthwest.com. "What more is there? ... I'm looking forward to riding it down to CenturyLink Field to show it off before the raffle."

The bike will be raffled off as part of the Union Ride & Charity Rally Sept. 7, with the proceeds benefiting several charities and nonprofit organizations, such as the Awareness, Education and Prevention of Traumatic Brain Injury in Youth Football.