Kurt Caselli Crowned 2013 AMA National Hare & Hound Champion
Chaparral Motorsports
|
August 28, 2013
[caption id="attachment_28334" align="alignright" width="300"]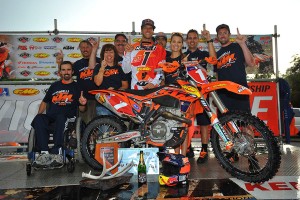 Kurt Caselli wrapped up his third consecutive AMA National Hare & Hound Championship one round early - Photo: Mark Kariya[/caption]

Factory FMF/KTM rider Kurt Caselli wrapped up his third consecutive AMA National Hare & Hound Championship one round early at the ninth round of the off-road racing series held in the Nevada desert.

This round was unique from the other Hare & Hound races as it was ran as a point-to-point race instead of the typical multi-loop race. This meant that the riders started at one point and raced to the final point at the finish while their pit crew chased them along the way for support.

Caselli took the holeshot off the start and began to stretch his lead. "My bike started up right away and I was able to get a good jump off the start," stated Caselli. "I rode a smart race, and luckily, made no mistakes. The course was very well marked for this event which allowed me to continue to pull out front."

Caselli pulled over a one minute lead on the 2nd place ride of David Pearson before he crossed the checkered flag to earn the victory and clench his third consecutive Hare & Hound Championship. Pearson, aboard a KTM, as well as Factory FMF/KTM rider Ivan Ramirez joined Caselli on the podium finishing 2nd and 3rd overall. The three riders made it an all KTM podium sweep.

[caption id="attachment_28333" align="alignleft" width="300"]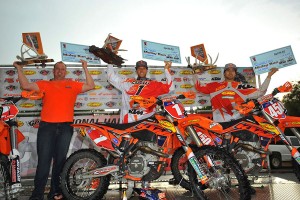 Kurt Caselli, David Pearson, and Ivan Ramirez riders made it an all KTM podium sweep - Photo: Mark Kariya[/caption]

"It feels really great to clench the championship a round early. It is a great way to end the season. I am happy I was able to get another championship for the FMF/KTM Team before I switch over to rally racing," stated Caselli.

The champ will not attend the final Hare & Hound event as he will head to a World Rally round for practice and a team photo shoot for his 2014 debut as a Factory rider for the Red Bull KTM Rally Team.

"So many people have helped me along the way in my career and I want to thank each of them for their contribution to my success. I can't wait for the next step in this journey, remarked Caselli.

2013 AMA National Hare & Hound Panaca Image Gallery
(Click for full size images)


Source: KTM North America