Marc Marquez Continues To Impress In MotoGP
Chaparral Motorsports
|
August 26, 2013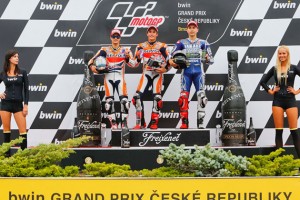 Marc Marquez
continued a string of dominant performances in MotoGP by winning his fourth consecutive sport bike race at the Brno circuit in the Czech Republic. The win, which was his fifth of the year, made him the most successful rookie rider in MotoGP history, CNN reported.

Marquez started the race in second place behind Jorge Lorenzo, and he was content to stay close until he saw an opportunity to make a move. His chance came during the 16th lap, when he and Lorenzo began passing each other and trading leads. By the 19th lap, Marquez finally grabbed a hold of the lead and refused to let go, eventually separating himself from Lorenzo and claiming the victory.

"Before we came here I didn't expect to win, because Jorge and Valentino [Rossi] had both tested at Brno recently and Dani [Pedrosa] is always so fast here and won the race last year," Marquez said. "It is a completely different track to those at which we have raced before, and these 25 points feel different to Indianapolis."

With seven motorsports events remaining in the 2013 season, Marquez sits 26 points ahead of teammate Pedrosa. Lorenzo is also within striking distance, as he is 44 points out of first place, Ultimate Motorcycling reported.