Allstate Searches For The Next Great Safety Idea
Chaparral Motorsports
|
August 9, 2013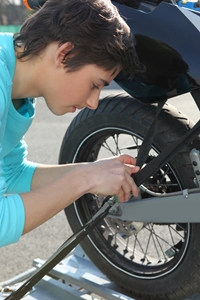 Motorcycle safety goes beyond investing the right protective motorcycle gear and maintaining the machine. A number of other efforts, ranging from awareness campaigns to Rider Risk Maps, are also available to help riders avoid harm.

Allstate Insurance Company recently launched a new contest that aims to make the roads safer for all motorcyclists. The initiative, called the Good Rides Grant program, invites anyone from riders to dealerships to send in their ideas for safety precautions.

"Riding a motorcycle presents a feeling of freedom, adventure and camaraderie with fellow riders, but we also know the risks that come along with it," said Keith Rutman, vice president of Allstate Powersports. "The Good Ride Grant program allows Allstate to continue our mission of protecting riders while also keeping an open ear to the riding community and what they feel is important."

Entries can be submitted through the Allstate Motorcycle Facebook page through Aug. 31. The first 1,000 ideas will be reviewed by a panel of judges, who will then select 15 finalists. Once the finalists have been decided, Facebook fans can vote on the best ideas, with the five overall winners each receiving $5,000 to put their ideas into action.