Indian Motorcycles Introduces 2014 Lineup
Chaparral Motorsports
|
August 7, 2013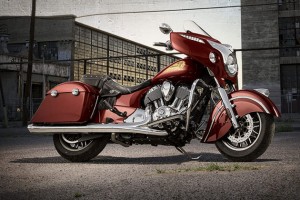 Motorsports
fans around the country flock to South Dakota for the Sturgis Motorcycle Rally, which runs Aug. 5 to 11. The festivities got started a bit early, however, as Indian Motorcycles set up a display outside the Sturgis Motorcycle Museum and Hall of Fame for a special presentation Aug. 3.

Once the clock struck 9 p.m., the brand unveiled three new models that will make up the 2014 Indian Chief lineup. Known as the Indian Chief Classic, Indian Chief Vintage and Indian Chieftain, these cruisers are on track to become three of the most anticipated and popular choices in the motorcycle world.

"On Saturday night we revealed three stunning new Indian Chief models that represent the results of our journey and the future of this brand," said Scott Wine, CEO of the Indian Motorcycles parent company Polaris. "It was a triumphant day for us, and I know motorcycling fans around the world proudly join us in celebrating Indian Motorcycle and the realization that choice in American motorcycles is here to stay."

The complete 2014 lineup of bikes, apparel and motorcycle accessories from Indian Motorcycles is now available for order. All of the products are expected to hit the shelves of retailers in September.