Toby Keith Purchases Stake Of Brass Balls Cycles
Chaparral Motorsports
|
August 5, 2013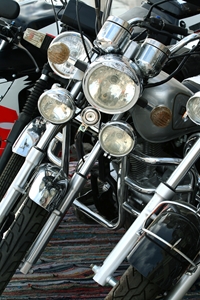 Toby Keith is known throughout the music industry as a staple of the country genre. The best-selling artist is regularly heard crooning on the radio or seen rocking out on stages across the U.S., and his next gig will have him lighting up the stage at the famous Sturgis Motorcycle Rally. When he heads to the motorsports festival, however, Keith will have something else in mind, as he recently became the co-owner of Brass Balls Cycles.

The company, which is based in Keith's home state of Oklahoma, provides a unique line of custom choppers and sport cruisers to riders across the country, Ultimate Motorcycling reports. It has worked with the singer in the past, donating bikes as raffle prizes in support of one of Keith's charities and working with the country star as part of other charitable endeavors.

"This partnership will help Brass Balls Cycles increase its U.S. market presence, as well as expand the brand internationally," said Dar Holdsworth, co-owner of Brass Balls Cycles. "We will be revealing new and revised models in the near future and, as always, proudly power our bikes with American-made S&S V-Twin motors."

Keith has been a supporter of motorcycles for some time, so it's only natural he would want to get more involved with the industry. While there's no word on just how much involvement he will have, some riders are sure to be awaiting news of his input.