New BMW Gear To Have Airbags In Motorcycle Apparel
Chaparral Motorsports
|
July 24, 2013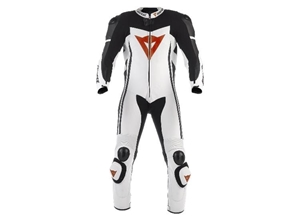 Safety is one of the most important aspects of any motorcycle investment, no matter if it's an individual bike or a specific piece of motorcycle gear. That may be part of the reason why BMW Motorrad teamed up with Dainese to create a new line of motorcycle apparel equipped with all of the latest innovations that can keep any rider safe.

The new clothing is designed to include protective sections that are fully inflatable. In the event of a crash or collision, these segments, which are incorporated directly into the gear, would rapidly expand to help cushion an impact. The first product to be released with these new safety features is a one-piece leather racing suit known as the DoubleR RaceAir. Its debut will be at the International EICMA motorcycle show in Milan, which is slated for this November.

Now that the first product has been completed, Dainese will work to enhance the line of apparel offered by BMW Motorrad. The two companies are also going to strive to incorporate these airbags into the motorcycles themselves, with the goal having them in all BMW offerings by 2015.