2013 AMA Motocross Washougal Results
Chaparral Motorsports
|
July 22, 2013
Ryan Villopoto Wins At Washougal
[caption id="attachment_27643" align="alignright" width="300"]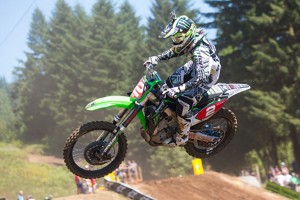 Ryan Villopoto can now add overall win at the Washougal National to his resume - Photo: George Crosland[/caption]

There isn't much that Ryan Villopoto has not won. The motocross rider has racked up numerous championships and individual victories, and after this past weekend, he can add an overall win at the Washougal National to his resume.

Villopoto won at the 33rd Annual Peterson CAT Washougal National for the first time in his career - breaking rival Ryan Dungey's streak of five straight wins in the process. A native of Washington state, where the race took place, Villopoto finished second and first in the two motos, which was enough to take the overall win, although not enough to build on his lead in the championship standings. He still sits 42 points in front of the second-place Dungey in the rankings.

"I've never been very great at this place. I've always struggled here a little bit," Villopoto told The Columbian. "It definitely feels good to get it done ... I ended up on the short end of the stick a lot of times. Today, I ended up with the long stick."

Next, AMA Motocross will head to Millville, Minn., for the ninth round of the motorsports series, which takes place July 27.

Monster Energy Kawasaki's Ryan Villopoto Conquers Washougal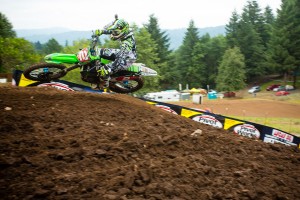 The scenic Pacific Northwest was host to Round 8 of the Lucas Oil Pro Motocross Championship on Saturday as Monster Energy Kawasaki's Ryan Villopoto earned his first overall win at Washougal in front of his home state crowd. Idaho native Jake Weimer also grew up racing through the trees of Washougal and finished a season best fourth overall. Monster Energy/Pro Circuit/Kawasaki's Justin Hill used his past experience in the hard, slick hills to achieve his first top-five finish in fifth, while Martin Davalos finished eighth and Adam Cianciarulo rounded out the top-10. Darryn Durham and Blake Baggett finished 14th and 15th respectively in the 250 class, and Tyla Rattray finished 19th in the 450 class.

Axes the Competition
In his eight-year professional career, Villopoto has won at just about every track and although he has won motos, he had never won the overall in his home state. He fought hard to recover from a slow start to finish second and therefore knew he needed to win the second moto if he wanted to grab the overall that had eluded him. Starting up front, Villopoto made quick work to take over the lead after hounding the leader for the long overdue win which he celebrated in front of family and friends.

"It feels great to finally get the win here," said Villopoto. "I could hear the fans all around the track. Both Ryan (Dungey) and James (Stewart) were riding great today so it means even more to have had to work for it. Our goal is always to win every weekend but this one there was definitely a little extra incentive."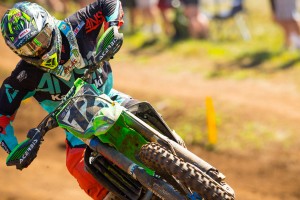 Jake of Old
Weimer has had a roller coaster of a season, but things clicked on Saturday on the track he grew up visiting. A mid-pack start in the first moto forced him to battle towards the front to finish 10th. In Moto 2 Weimer got a much better start and fought hard to secure his spot in fourth, gapping the rest of the field. His 10-4 moto score was enough to grant him a season best fourth overall on the day.

"It feels awesome to finally put two motos together," said Weimer. "I got a great start in the second moto and was able to distance myself early. I grew up racing Loretta's qualifiers up here so it's somewhat of a home race for me as well. I'm feeling confident and plan to carry that into Millville."

Local Knowledge
In his first professional visit to Washougal, Hill put his experience to work. Hailing from Oregon, Hill grew up racing Washougal as an amateur just like Villopoto and Weimer, giving him extra confidence and motivation on Saturday. He pushed and rode hard both motos to earn his first career top-five finish with a 5-7 moto score.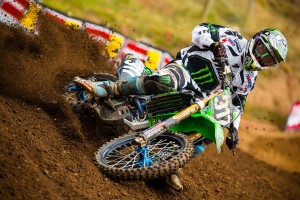 "I love this place," said Hill. "I came up north early and have been working to find my old riding style. I think it has paid off and I feel like I have even more to come. I want the podium and plan to get there."

Starts
Washougal is known for having a hard base and loose soil, which creates very slippery conditions. This year they did not rip the dirt very deep which only emphasized those conditions, and lead to the start being extremely important. Cianciarulo and Durham were both victim to this as they were not able to make up much ground from their start positions in the motos. Hard corners left very little passing lines and forced the riders to be extra aggressive in order to move forward.

Looking Forward
The Lucas Oil Pro Motocross Championship heads back east to Millville, Minn., to one of the most favored tracks on the circuit. The elevation changes and perfect loamy dirt allow for great racing and bar to bar battles. Round 9 takes place Saturday, July 27 at Spring Creek Motocross Park.

Source: Kawasaki Racing

Ryan Dungey Earns 2nd Overall At Washougal Motocross
[caption id="attachment_27638" align="alignright" width="300"]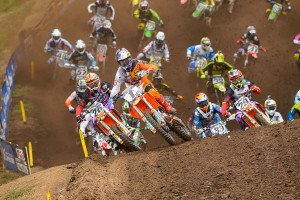 Ryan Dungey took the holeshot in the first moto - Photo: Simon Cudby[/caption]

Red Bull KTM Factory rider Ryan Dungey earned 2nd overall at the eighth round of the Lucas Oil Pro Motocross Championship Series after earning the first moto win and taking the runner-up position in moto two at Washougal Motocross Park.

Ryan Dungey took the holeshot in the first moto to put his KTM 450 SX-F Factory Edition race machine into the early lead. Dungey went on to lead every lap in an impressive moto to take the race win.

"Washougal has been a great track for me over the past few years. I have had a lot of moto wins and overalls at this track and I really enjoy this place," stated Dungey.

[caption id="attachment_27640" align="alignleft" width="300"]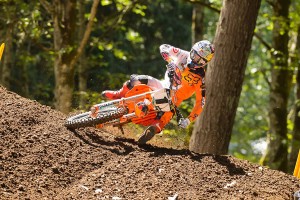 While coming in second for the day, Ryan Dungey did not lose any championship points - Photo: Simon Cudby[/caption]

Dungey nearly pulled the holeshot in the second moto but was edged out slightly by Josh Grant. Moments later, Dungey sprinted ahead of Grant and had the lead by the second corner. Dungey and rival Ryan Villopoto pulled away out front consistently running lap times 3-5 seconds faster than their competitors. Dungey held off the charge of Villopoto for the first eight minutes of the race before Villopoto made a pass to take over the lead. Dungey fell to second place and finished the race in that position to tie Villopoto in points for the day.

"I am bummed to not take the overall but I am happy I did not lose any points to Ryan (Villopoto) today," stated Dungey on the podium. "I am working harder to get moto wins as I know I need them in order to close the point gap. I am looking forward to heading to Millville next weekend as it is my hometown track and I am hoping to do well in front of my local fans."

Next Round: July 27, 2013 - Millville, MN

Source: KTM North America

James Stewart Podiums At Washougal MX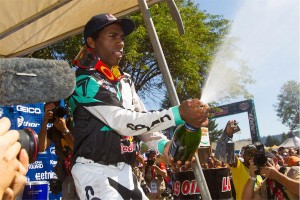 Yoshimura Suzuki Factory Racing's James Stewart captured his third podium of the season at round eight of the 2013 AMA Pro Motocross Championships at the Washougal National in Washougal, Washington on Saturday.

Stewart came into the weekend fresh off of a podium finish at the previous round and raring to go. In the first moto, Stewart got a good start and ran in second for much of the race before struggling with arm pump and finishing third. In the second moto, Stewart again got a good jump off the gate on his Yoshimura Suzuki RM-Z450 and slotted into third place on the opening lap. Although he still struggled with issues from the previous moto, he went on to click off smooth, consistent laps to finish third at the end of the race. These combined third-place moto results handed him third overall for the day.

"I ended up being three-three," said Stewart. "Practice was good all day, I felt like we had something, but the track was difficult and it was hard for me to get used to it, especially coming from a sand track. In the first moto I had a problem with arm pump and we made a change that I thought would help, but we ended-up going the wrong way. The second moto was worse, the lap times went down and I just didn't have the speed. But overall it was a good weekend and I can't thank the Yoshimura Suzuki team enough. We're fighting and staying in it, and the results are starting to show it. We're happy about that but at the same time, we want to be battling for the win on the Yoshimura Suzuki RM-Z450. Now, I'm just looking forward to Millville and making some things happen."

Yoshimura Suzuki Factory Racing's next race is round nine of the 2013 AMA Pro Motocross Championships on Saturday July 27th at the Spring Creek National in Millville, MN.

Check out the Washougal "Behind The Scenes Race Report" Video:


Source: Team Suzuki

Rockstar Energy Racing Washougal Motocross National Race Report
[caption id="attachment_27631" align="alignright" width="300"]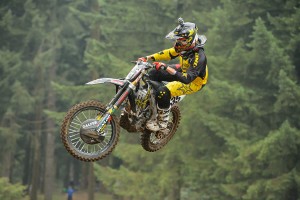 Ryan Sipes rode hard, but had a few mix-ups that caused him to come in 17th overall - Photo: Simon Cudby[/caption]

Rockstar Energy Racing traveled to the only stop in the beautiful Pacific Northwest for round 8 of the Lucas Oil Pro Motocross Nationals. The Huffman's once again had the very scenic track looking spectacular for racing in front of another huge crowd of race thirsty fans. The team experienced mixed results with some flashes of brilliance once again.

Ryan Sipes is still struggling with small tip overs. Once again he started out the first moto very well. His lines were good, his riding aggressive yet smooth and he looked to be moving towards the top 5 rapidly. He put an incredible pass on Chad Reed, clearly setting up for it several corners ahead. He was being patient and smart. Then as he was taking different lines in an attempt to pass another rider, he made a mistake as he attempted to hop over a hole in the track and lost his front end.

After he remounted, he just didn't seem like the same rider. He was able to move back near the top ten, but was clearly frustrated. His second moto did not start well as he came into contact with a group of riders sending him to the ground again, in a pile up. Although Ryan has had some consecutive races that have not gone well, he needs to remain positive and work on the small things that are holding him back because he is very close.

Ryan Sipes:
"Washougal was frustrating for me. My speed was there but I just couldn't stay off the ground. I ran in the top 5 both motos before my crashes. It's just tough to pick yourself up from that and not be bummed. I'll keep working on stuff and try to come back strong at Millville. It'll come around."
[caption id="attachment_27623" align="alignleft" width="300"]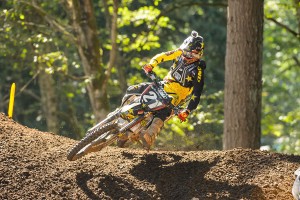 Jason Anderson came in 7th overall for the day - Photo: Simon Cudby[/caption]

Jason Anderson's first moto start did not go as planned. He had a good jump but was pinched off going down the start straight and forced way back in the pack. He began moving forward trying to pick off rider after rider. He then made a mistake of his own, hitting neutral in a soft sand section. When having no power to the rear tire in that sort of situation, a crash is nearly inevitable.

After Jason got back on his bike and reconvened, making up any ground was tough. All the other riders in front of him were top guys and had fell into a freight train pace. Everyone was going the same speed and that is how moto 1 continued til the end.

Moto 2 was a different story for Anderson. He didn't get a stellar start but he moved forward quickly all the way up to 5th. At times he was the fastest rider on the track. He ran a pace consistent with Eli Tomac for much of the moto. That is a big statement considering the way Tomac ran away with both motos. Jason is very near a major breakthrough.

Jason Anderson:
"We're here at Washougal and the sun is shining. Alright day. I was riding good. Rode good most the day. Had a good last moto and ended up going 11th and 5th so I was happy."
Rockstar Energy Racing will now travel all the way back east to Minnesota for the Spring Creek Motocross National in Millville. Both Sipes and Anderson will look to improve on their up and down finishes and put two solid motos together.

Source: Rockstar Energy Racing

Ken Roczen And Marvin Musquin Land On The Podium At Washougal Motocross Park
[caption id="attachment_27627" align="alignright" width="200"]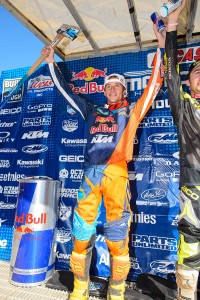 Ken Roczen on the Washougal podium - Photo: Simon Cudby[/caption]

Red Bull KTM Factory teammates Ken Roczen and Marvin Musquin finished on the podium at the eighth round of the Lucas Oil Pro 250 Motocross Championship Series held at Washougal Motocross Park with 2nd and 3rd place overall results.

In the first moto, Marvin Musquin got a great start and was sitting inside the top five as the riders rounded the first corner. Ken Roczen was further back and checked in at 9th place at the end of the first lap.

Both riders continued to push forward throughout the moto and found themselves in a familiar battle together around the halfway mark of the race. Roczen was able to make the pass on his teammate but Musquin did not drop back. The two stayed together and continued to close in on the top three riders. With three laps to go, Roczen made a pass on Justin Bogle to take over 3rd position while Musquin followed suit to take 4th. With two laps to go, both riders moved up one position after Blake Baggett, running 2nd, suffered a mechanical and did not finish the race. The two riders raced wheel to wheel the remainder of the race onboard their KTM 250 SX-F's to finish 2nd and 3rd respectively and land a podium finish.

"I tried really hard to not fall behind when Kenny passed me around the halfway mark," stated Musquin. "I found some better lines after that and was able to stay close to Kenny and was even able to challenge him for the position. I felt really good at the end of the moto and hope to get a better start in the second moto and hopefully land on the podium again."

[caption id="attachment_27625" align="alignleft" width="200"]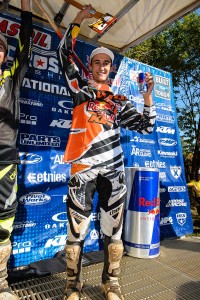 Marvin Musquin rounded out the 250MX podium - Photo: Simon Cudby[/caption]

In moto two, Roczen got a much better start and rounded the first corner in 4th place. Musquin was two positions back in the 6th place spot. Roczen made his passes quickly and put himself in 2nd behind Eli Tomac before the end of the first lap. Roczen would hold on to finish the moto in 2nd place. Roczen's 2-2 moto results earned him 2nd overall during the day.

"My shoulders got a little tired in the second moto," stated Roczen on the podium. "But no excuses, Eli rode better than me and I have to bounce back next week to continue to hold the points lead in the championship."

Musquin came from his 6th place position to finish 4th by the moto end. His 3-4 finishes placed him 3rd overall for the day which marked his 4th podium finish of the season.

"The shadows were really difficult to deal with in the second moto," stated Musquin. "I struggled with my starts this weekend and couldn't get up into the top three early in either moto. Luckily, I was able to still pull off a 3rd place result but I want to be on the top of the podium for the remainder of the season."

Now eight rounds into the series, Roczen continues to hold the points lead, which he hasn't lost since the opening round.

Next Round: July 27, 2013 - Millville, MN

Source: KTM North America

Washougal Overview And Point Standings
2013 AMA Pro Motocross Washougal Image Gallery (Click for full size images)


Overall Results - 450MX Class























































































































































































































































































































































































| Pos. | # | Rider | Bike | M1 | M2 | Points |
| --- | --- | --- | --- | --- | --- | --- |
| 1 | 2 | Ryan Villopoto | Kawasaki KX 450F | 2 | 1 | 47 |
| 2 | 1 | Ryan Dungey | KTM 450 SX-F Factory Edition | 1 | 2 | 47 |
| 3 | 7 | James Stewart | Suzuki RMZ 450 | 3 | 3 | 40 |
| 4 | 12 | Jake Weimer | Kawasaki KX 450F | 10 | 4 | 29 |
| 5 | 800 | Mike Alessi | Suzuki RMZ 450 | 7 | 6 | 29 |
| 6 | 29 | Andrew Short | KTM 450 SX-F Factory Edition | 6 | 9 | 27 |
| 7 | 33 | Josh Grant | Yamaha YZ 450F | 5 | 10 | 27 |
| 8 | 22 | Chad Reed | Honda CRF450R | 9 | 7 | 26 |
| 9 | 20 | Broc Tickle | Suzuki RMZ 450 | 13 | 5 | 24 |
| 10 | 51 | Justin Barcia | Honda CRF450R | 4 | 17 | 22 |
| 11 | 46 | Weston Peick | Suzuki RMZ 450 | 8 | 14 | 20 |
| 12 | 41 | Trey Canard | Honda CRF450R | 12 | 11 | 19 |
| 13 | 32 | Malcolm Stewart | Honda CRF450R | 11 | 12 | 19 |
| 14 | 49 | Phil Nicoletti | Yamaha YZ 450F | 18 | 8 | 16 |
| 15 | 10 | Justin Brayton | Yamaha YZ 450F | 15 | 13 | 14 |
| 16 | 57 | Ben LaMay | Yamaha YZ 450F | 17 | 15 | 10 |
| 17 | 35 | Ryan Sipes | Suzuki RMZ 450 | 14 | 33 | 7 |
| 18 | 26 | Michael Byrne | KTM 450 SX-F Factory Edition | 23 | 16 | 5 |
| 19 | 28 | Tyla Rattray | Kawasaki KX 450F | 16 | 21 | 5 |
| 20 | 3 | Mike Brown | KTM 450 SX-F | 25 | 18 | 3 |
| 21 | 168 | Tucker Hibbert | Honda CRF450R | 24 | 19 | 2 |
| 22 | 83 | Austin Howell | Suzuki RMZ 450 | 19 | 37 | 2 |
| 23 | 539 | Ricky Dietrich | Kawasaki KX 450F | 39 | 20 | 1 |
| 24 | 27 | Nicholas Wey | Kawasaki KX 450F | 20 | 40 | 1 |
| 25 | 63 | Derek Anderson | Kawasaki KX 450F | 21 | 22 | 0 |
| 26 | 557 | Noah McConahy | Honda CRF450R | 32 | 23 | 0 |
| 27 | 595 | Evgeny Mikhaylov | KTM 450 SX-F | 26 | 24 | 0 |
| 28 | 84 | Chris Blose | Yamaha YZ 450F | 31 | 25 | 0 |
| 29 | 982 | Akira Narita | Honda CRF450R | 22 | 26 | 0 |
| 30 | 901 | Eeli Takatalo | KTM 450 SX-F | 30 | 27 | 0 |
| 31 | 977 | Takuya Mihara | Kawasaki KX 450F | 36 | 28 | 0 |
| 32 | 71 | Zackery Freeberg | Honda CRF450R | 28 | 29 | 0 |
| 33 | 722 | Adam Enticknap | Honda CRF450R | 29 | 30 | 0 |
| 34 | 548 | Broc Schmelyun | Kawasaki KX 450F | 38 | 31 | 0 |
| 35 | 869 | Robert Lind | Yamaha YZ 450F | 33 | 32 | 0 |
| 36 | 228 | Daniel Meynet | Kawasaki KX 450F | 34 | 34 | 0 |
| 37 | 181 | Dustin Pipes | Suzuki RMZ 450 | 35 | 35 | 0 |
| 38 | 415 | Nicholas Schmidt | Honda CRF450R | 40 | 36 | 0 |
| 39 | 526 | Colton Aeck | Yamaha YZ 450F | 27 | 38 | 0 |
| 40 | 62 | Matthew Goerke | KTM 450 SX-F Factory Edition | 37 | 39 | 0 |
Rider Point Standings - 450MX Class ( Race 16 of 24 )


Ryan Villopoto - 380

Ryan Dungey - 338

Justin Barcia - 271

James Stewart - 224

Trey Canard - 219

Mike Alessi - 199

Andrew Short - 164

Jake Weimer - 160

Broc Tickle - 159

Josh Grant - 158

Manufacturer Cup Point Standings - 450MX Class ( Race 16 of 24 )


Kawasaki - 380

KTM - 356

Honda - 298

Suzuki - 296

Yamaha - 208

Overall Results - 250MX Class
| Pos. | # | Rider | Bike | M1 | M2 | Points |
| --- | --- | --- | --- | --- | --- | --- |
| 1 | 17 | Eli Tomac | Honda CRF250R | 1 | 1 | 50 |
| 2 | 94 | Ken Roczen | KTM 250 SX-F | 2 | 2 | 44 |
| 3 | 25 | Marvin Musquin | KTM 250 SX-F | 3 | 4 | 38 |
| 4 | 34 | Justin Bogle | Honda CRF250R | 4 | 6 | 33 |
| 5 | 317 | Justin Hill | Kawasaki KX 250F | 5 | 7 | 30 |
| 6 | 338 | Zach Osborne | Honda CRF250R | 14 | 3 | 27 |
| 7 | 21 | Jason Anderson | Suzuki RMZ 250 | 11 | 5 | 26 |
| 8 | 40 | Martin Davalos | Kawasaki KX 250F | 7 | 9 | 26 |
| 9 | 43 | Cole Seely | Honda CRF250R | 9 | 10 | 23 |
| 10 | 292 | Adam Cianciarulo | Kawasaki KX 250F | 6 | 16 | 20 |
| 11 | 175 | Cooper Webb | Yamaha YZ 250F | 12 | 11 | 19 |
| 12 | 19 | Will Hahn | Honda CRF250R | 10 | 13 | 19 |
| 13 | 38 | Kyle Cunningham | Yamaha YZ 250F | 8 | 15 | 19 |
| 14 | 44 | Darryn Durham | Kawasaki KX 250F | 13 | 14 | 15 |
| 15 | 1 | Blake Baggett | Kawasaki KX 250F | 35 | 8 | 13 |
| 16 | 77 | Jeremy Martin | Yamaha YZ 250F | 24 | 12 | 9 |
| 17 | 50 | Kyle Peters | Honda CRF250R | 16 | 17 | 9 |
| 18 | 70 | Tommy Weeck | Honda CRF250R | 15 | 18 | 9 |
| 19 | 157 | Jacob Baumert | Kawasaki KX 250F | 17 | 19 | 6 |
| 20 | 99 | Preston Mull | Honda CRF250R | 18 | 32 | 3 |
| 21 | 556 | Brady Kiesel | Yamaha YZ 250F | 19 | 39 | 2 |
| 22 | 244 | Ryan Zimmer | Honda CRF250R | 22 | 20 | 1 |
| 23 | 348 | Jason Brooks | Kawasaki KX 250F | 20 | 23 | 1 |
| 24 | 256 | Matas Inda | Kawasaki KX 250F | 23 | 21 | 0 |
| 25 | 329 | Chad Gores | Honda CRF250R | 25 | 22 | 0 |
| 26 | 72 | Dakota Tedder | Kawasaki KX 250F | 33 | 24 | 0 |
| 27 | 452 | Sean Hackley | KTM 250 SX-F | 37 | 25 | 0 |
| 28 | 846 | Trevor Reis | Honda CRF250R | 21 | 26 | 0 |
| 29 | 361 | David King | Kawasaki KX 250F | 34 | 27 | 0 |
| 30 | 976 | Josh Greco | Honda CRF250R | 28 | 28 | 0 |
| 31 | 255 | Duane Rigel | Kawasaki KX 250F | 30 | 29 | 0 |
| 32 | 93 | Landen Powell | Honda CRF250R | 27 | 30 | 0 |
| 33 | 243 | Joseph Dalzell | Kawasaki KX 250F | 32 | 31 | 0 |
| 34 | 655 | John Pauk | Honda CRF250R | 31 | 33 | 0 |
| 35 | 919 | Shawn Rhinehart | Suzuki RMZ 250 | 29 | 34 | 0 |
| 36 | 531 | Todd Krieg | KTM 250 SX-F | 26 | 35 | 0 |
| 37 | 397 | Brandon Scharer | Suzuki RMZ 250 | 40 | 36 | 0 |
| 38 | 66 | Kellian Rusk | Honda CRF250R | 38 | 37 | 0 |
| 39 | 42 | Vince Friese | Honda CRF250R | 36 | 38 | 0 |
| 40 | 536 | Erik Meusling | Honda CRF250R | 39 | 40 | 0 |
Rider Point Standings - 250MX Class ( Race 16 of 24 )


Ken Roczen - 356

Eli Tomac - 355

Marvin Musquin - 298

Blake Baggett - 260

Zach Osborne - 239

Jason Anderson - 202

Justin Bogle - 178

Kyle Cunningham - 177

Jeremy Martin - 171

Cooper Webb - 159

Manufacturer Cup Point Standings - 250MX Class ( Race 16 of 24 )


KTM - 365

Honda - 357

Kawasaki - 279

Yamaha - 239

Suzuki - 206