Jorge Lorenzo Gears Up To Race Laguna Seca Despite Injuries
Chaparral Motorsports
|
July 18, 2013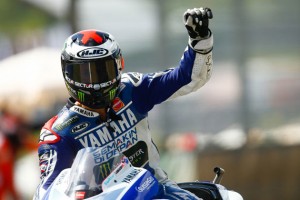 Motorsports
fans will be thrilled to know that Jorge Lorenzo will be competing at Laguna Seca this Sunday, despite injuries sustained during a practice run at last weekend's German Grand Prix.

Lorenzo, who is currently third in the points standing behind Marc Marquez and Dani Pedrosa, landed on his shoulder in a high speed crash at the Dutch GP several weeks earlier, breaking his left collarbone, according to BBC. He was outfitted with eight screws and a titanium plate, but when he crashed in Germany, he damaged the plate and it was unclear whether he would be ready to compete at Laguna Seca.

"Finally we have decided to go to Laguna Seca," Lorenzo said. "Following the final medical check and after speaking with Doctor Rodriguez, we are going to try. At the beginning I seriously thought that it might be convenient to take the necessary time to recover and be back at Indy, but in the last two days I have felt much better so now I want to be there, although I will not try to take too many risks."

Despite advice from his doctors to get more rest, Lorenzo will put on his motorcycle helmet and do his best to finish the race. Trailing just 11 points behind Marquez, Lorenzo needs to at least finish the race to stay in the running. Cal Crutchlow is closing in on him, so this race could change the overall standings.