Vietnamese Rider Creates A 'Batpod' Motorcycle
Chaparral Motorsports
|
July 13, 2013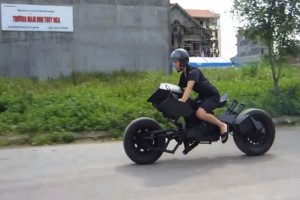 The latest cinematic installment of the Batman franchise was a hit with viewers and critics alike. Films like "The Dark Knight Rises" have spawned many new fans of the superhero, and it now can say that it has inspired motorcyclists as well. A motorsports enthusiast in Vietnam recently built a "Batpod" motorcycle, created loosely on the image of the machine used by Batman in the franchise.

Powered by a Suzuki FX125 engine, the motorcycle is completely functional. According to Motorcycle.com, it boasts double-caliper front brakes and a hub steering setup among other features, which make it a one-of-a-kind machine.

The custom bike was built with looks in mind, not performance. AutoBlog reports that the motorcycle is outfitted with car wheels and tires to keep the appearance similar to the film version, which likely limits the handling. Although it's not a full-scale replica, it does have the signature blacked-out paint job on the exterior and a few touches, like a fake Gatling gun attached to the exhaust, that are inspired by the film.

It may not be the most practical bike, but it's certainly a unique creation that will turn some heads.