2013 AMA Motocross RedBud Results
Chaparral Motorsports
|
July 8, 2013
Ryan Villopoto Shines In A Motocross Sweep
[caption id="attachment_27435" align="alignright" width="300"]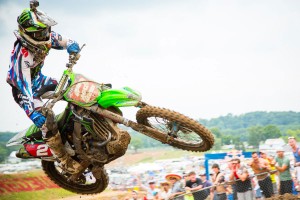 Ryan Villopoto got back to his winning ways this past weekend.[/caption]

Although Ryan Villopoto has been consistently leading the motorsports rankings for AMA Motocross, the past few races haven't been his best. The Kawasaki rider got back to his winning ways this past weekend, however, claiming the victory in the seventh round of the season at the RedBud National in Buchanan, Mich.

Villopoto swept the two motos at the event - the fourth time he has done that this year. He narrowly edged out James Stewart, who came in second in both races.

"We started the season in a very good position [winning the first five motos], but we kind of faded away and now it feels like we're back to where we need to be," Villopoto said, as quoted by Ultimate Motorcycling. "The tracks are getting rougher and the speeds are getting higher and we were definitely pushing the pace pretty hard today."

Villopoto's return to form was no surprise for motorsports fans, but his rival Ryan Dungey's finish was. Dungey was the 34th finisher in the first moto due to a technical failure with his dirt bike. He rebounded well in the second race, but got tangled up in a crash that left him in third place - and more than 40 points behind in the standings.

James Stewart Back On The Box At RedBud AMA MX
[caption id="attachment_27438" align="alignright" width="300"]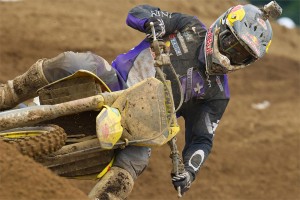 James Stewart turned in a flawless ride over the Fourth of July holiday weekend.[/caption]

Yoshimura Suzuki Factory Racing's James Stewart turned in a flawless ride over the Fourth of July holiday weekend racing his Yoshimura Suzuki RM-Z450 to an overall podium finish at the festive AMA Pro Motocross Championship RedBud National in Buchanan on Saturday.

The weekend's race saw Yoshimura Suzuki's Stewart celebrate his independence by picking up his first podium finish since the season-opening round. Unhampered by the bad luck that has plagued him much of the season, Stewart got a good start in the first moto and methodically moved through the field, picking off the competition until he finished second. In the day's second moto, Stewart got the holeshot and led several laps before again finishing an impressive second. When the dust had all cleared, Yoshimura Suzuki's Stewart finished second overall for the day.

"I had a great ride today," said Stewart. "Starting with a solid practice to just going faster throughout the day. I haven't been on the podium since Hangtown so it felt good to put the Yoshimura Suzuki RM-Z450 up there again. The first moto went pretty good. I had to come up and pass a few people and as I was settling into third, I inherited second when another rider went down. In the second moto, I pulled the holeshot and led a few laps, but I could tell some other guys had better lines and they got around me. Then I could see their lines and I started closing back up. Then I got into lappers and started losing some time, but overall, the pace was good and I was feeling great out there. It was a big confidence booster and we'll build on this as we take the next week off and then come back for Washougal."

Yoshimura Suzuki Factory Racing's next race is round eight of the 2013 AMA Pro Motocross Championships on Saturday July 20th at the Washougal National in Washougal.

Check out the RedBud "Behind The Scenes Race Report" Video:


Source: Team Suzuki

Ryan Dungey Remains Second in Overall Point Standings after Red Bud National
[caption id="attachment_27439" align="alignright" width="300"]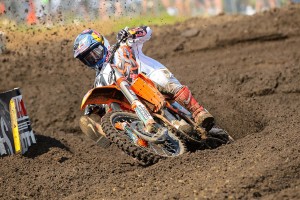 Ryan Dungey rebounded from a first moto 1 DNF to finish 3rd in moto 2 - Photo: Simon Cudby[/caption]

Red Bull KTM Factory rider Ryan Dungey was able to maintain his second place standing in the Lucas Oil Pro Motocross Championship points despite a DNF in the first moto at the seventh round of the series held at Red Bud. His third place result in the second moto coupled with his first moto result earned him tenth overall for the day.

Dungey launched off to a great start in the first moto sitting in third place as the riders rounded the first corner. He remained in third position until the halfway point in the race when he caught and passed Trey Canard to take over second place. He charged forward in second position for the next few laps before a technical issue caused him to not finish the race. As Dungey was not able to get technical assistance on the track, he had to return to the pits for his team to repair his bike and get ready for the second moto.

With a repaired bike, Dungey lined up for the start of the second moto. From a near last place gate pick (based on his first moto result), Dungey was able to salvage a sixth place start. Within the first three corners, he moved into fifth position. On the third lap, Dungey caught and passed Justin Brayton to take over fourth place and then began to chase down Josh Grant who was sitting in third.

Dungey quickly passed Grant and moved toward the battle between James Stewart and Ryan Villopoto for the lead position. Halfway through the race he had caught the two riders and found himself in a battle for the lead. Dungey passed Stewart and began to close in on Villopoto. Dungey continued to push and remained just a bike length behind Villopoto. Then on the two lap mark, Dungey suffered a hard crash where his bike landed on him pinning him under the bike. Incredibly, Dungey recovered from the crash and was able to still finish the moto in third place. The points earned in the second moto allowed Dungey to gain valuable points toward the championship standings.

After the race Dungey commented, "Unfortunately, we just had a tough day. It's part of racing. There was a lot going on out there today and I was pushing hard to get that second moto win. We have a week off now to do our homework and come back stronger for the next round."

Next Event: Washougal, WA - July 20, 2013

Source: KTM North America

Ken Roczen Wins 250 Motocross Class at Red Bud
[caption id="attachment_27440" align="alignright" width="300"]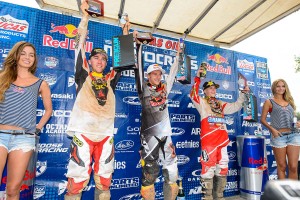 Ken Roczen tops the 250MX podium with Eli Tomac and Jeremy Martin - Photo: Simon Cudby[/caption]

Red Bull KTM Factory 250 Motocross rider Ken Roczen took his second overall victory of the season as he went 2-1 on the day at one of the most popular motocross tracks on the circuit, Red Bud. His teammate, Marvin Musquin, finished fourth overall with 3-4 moto results at the seventh round of the Lucas Oil Pro Motocross Championship Series.

Musquin and Roczen both got off to decent starts when the gate dropped for the first 250 Motocross moto. Musquin was sitting in third position at the end of the first turn while Roczen was a few spaces back in sixth. Roczen quickly charged forward and soon found himself in a battle for second position with his teammate. The two battled for three laps before Roczen made the pass on Musquin to take the position. Roczen went out to pull a 6 second gap on his teammate as he tried to catch the first place ride of Eli Tomac. At the end of the 30 minute plus two lap moto, Roczen crossed the line in second place behind Tomac while Musquin held on for third to round out the podium.

Both riders earned top ten starts at the beginning of the second moto and quickly moved up into the top five. By the fourth lap of the race, Roczen had made a pass on Zach Osborne to take over the lead. He went on to lead the remaining laps of the race to take the win by 7 seconds over Tomac. His 2-1 moto results earned him the overall for the day. This marks Roczen's second overall victory of the season. His teammate, Musquin, rode a solid moto, and despite two crashes near the end of the race, was able to finish fourth overall. His 3-4 results earned him fourth overall for the day.

Next Event: Washougal, WA - July 20, 2013

Source: KTM North America

RedBud Overview And Point Standings
2013 AMA Pro Motocross RedBud Image Gallery (Click for full size images)


Overall Results - 450MX Class























































































































































































































































































































































































| Pos. | # | Rider | Bike | M1 | M2 | Points |
| --- | --- | --- | --- | --- | --- | --- |
| 1 | 2 | Ryan Villopoto | Kawasaki KX 450F | 1 | 1 | 50 |
| 2 | 7 | James Stewart | Suzuki RMZ 450 | 2 | 2 | 44 |
| 3 | 33 | Josh Grant | Yamaha YZ 450F | 3 | 5 | 36 |
| 4 | 41 | Trey Canard | Honda CRF450R | 5 | 6 | 31 |
| 5 | 51 | Justin Barcia | Honda CRF450R | 9 | 4 | 30 |
| 6 | 10 | Justin Brayton | Yamaha YZ 450F | 6 | 8 | 28 |
| 7 | 29 | Andrew Short | KTM 450 SX-F Factory Edition | 4 | 12 | 27 |
| 8 | 32 | Malcolm Stewart | Honda CRF450R | 8 | 7 | 27 |
| 9 | 12 | Jake Weimer | Kawasaki KX 450F | 7 | 13 | 22 |
| 10 | 1 | Ryan Dungey | KTM 450 SX-F Factory Edition | 34 | 3 | 20 |
| 11 | 20 | Broc Tickle | Suzuki RMZ 450 | 11 | 11 | 20 |
| 12 | 22 | Chad Reed | Honda CRF450R | 13 | 10 | 19 |
| 13 | 35 | Ryan Sipes | Suzuki RMZ 450 | 12 | 14 | 16 |
| 14 | 54 | Les Smith | KTM 450 SX-F Factory Edition | 14 | 15 | 13 |
| 15 | 800 | Mike Alessi | Suzuki RMZ 450 | 37 | 9 | 12 |
| 16 | 49 | Phil Nicoletti | Yamaha YZ 450F | 10 | 38 | 11 |
| 17 | 27 | Nicholas Wey | Kawasaki KX 450F | 17 | 16 | 9 |
| 18 | 3 | Mike Brown | KTM 450 SX-F | 15 | 35 | 6 |
| 19 | 57 | Ben LaMay | Yamaha YZ 450F | 19 | 17 | 6 |
| 20 | 48 | Cole Thompson | Honda CRF450R | 16 | 34 | 5 |
| 21 | 867 | Fredrik Noren | Suzuki RMZ 450 | 21 | 18 | 3 |
| 22 | 26 | Michael Byrne | KTM 450 SX-F Factory Edition | 18 | 27 | 3 |
| 23 | 595 | Evgeny Mikhaylov | KTM 450 SX-F | 24 | 19 | 2 |
| 24 | 73 | AJ Catanzaro | Kawasaki KX 450F | 35 | 20 | 1 |
| 25 | 224 | Heath Harrison | Kawasaki KX 450F | 20 | 26 | 1 |
| 26 | 63 | Derek Anderson | Kawasaki KX 450F | 27 | 21 | 0 |
| 27 | 535 | Joey Peters | Yamaha YZ 450F | 31 | 22 | 0 |
| 28 | 58 | Tommy Hahn | Kawasaki KX 450F | 22 | 40 | 0 |
| 29 | 621 | Vann Martin | Kawasaki KX 450F | 28 | 23 | 0 |
| 30 | 548 | Broc Schmelyun | Kawasaki KX 450F | 23 | 29 | 0 |
| 31 | 606 | Ronnie Stewart | Suzuki RMZ 450 | 25 | 24 | 0 |
| 32 | 84 | Chris Blose | Yamaha YZ 450F | 26 | 25 | 0 |
| 33 | 881 | Jerry Lorenz | Yamaha YZ 250 | 38 | 28 | 0 |
| 34 | 168 | Tucker Hibbert | Honda CRF450R | 29 | 32 | 0 |
| 35 | 399 | Broc Peterson | Honda CRF450R | 32 | 30 | 0 |
| 36 | 869 | Robert Lind | Yamaha YZ 450F | 30 | 33 | 0 |
| 37 | 316 | Jeremy Kress | Honda CRF450R | 39 | 31 | 0 |
| 38 | 181 | Dustin Pipes | Suzuki RMZ 450 | 33 | 37 | 0 |
| 39 | 83 | Austin Howell | Suzuki RMZ 450 | 36 | 36 | 0 |
| 40 | 206 | Travis Sewell | Yamaha YZ 450F | 40 | 39 | 0 |
Rider Point Standings - 450MX Class ( Race 14 of 24 )


Ryan Villopoto - 333

Ryan Dungey - 291

Justin Barcia - 249

Trey Canard - 200

James Stewart - 184

Mike Alessi - 170

Andrew Short - 137

Broc Tickle - 135

Josh Grant - 131

Jake Weimer - 131

Manufacturer Cup Point Standings - 450MX Class ( Race 14 of 24 )


Kawasaki - 333

KTM - 309

Honda - 266

Suzuki - 256

Yamaha - 179

Overall Results - 250MX Class
| Pos. | # | Rider | Bike | M1 | M2 | Points |
| --- | --- | --- | --- | --- | --- | --- |
| 1 | 94 | Ken Roczen | KTM 250 SX-F | 2 | 1 | 47 |
| 2 | 17 | Eli Tomac | Honda CRF250R | 1 | 2 | 47 |
| 3 | 77 | Jeremy Martin | Yamaha YZ 250F | 4 | 3 | 38 |
| 4 | 25 | Marvin Musquin | KTM 250 SX-F | 3 | 4 | 38 |
| 5 | 338 | Zach Osborne | Honda CRF250R | 10 | 5 | 27 |
| 6 | 38 | Kyle Cunningham | Yamaha YZ 250F | 7 | 8 | 27 |
| 7 | 175 | Cooper Webb | Yamaha YZ 250F | 6 | 9 | 27 |
| 8 | 43 | Cole Seely | Honda CRF250R | 5 | 11 | 26 |
| 9 | 1 | Blake Baggett | Kawasaki KX 250F | 8 | 10 | 24 |
| 10 | 34 | Justin Bogle | Honda CRF250R | 12 | 7 | 23 |
| 11 | 19 | Will Hahn | Honda CRF250R | 9 | 12 | 21 |
| 12 | 292 | Adam Cianciarulo | Kawasaki KX 250F | 11 | 15 | 16 |
| 13 | 21 | Jason Anderson | Suzuki RMZ 250 | 34 | 6 | 15 |
| 14 | 44 | Darryn Durham | Kawasaki KX 250F | 18 | 13 | 11 |
| 15 | 266 | Jesse Wentland | KTM 250 SX-F | 15 | 16 | 11 |
| 16 | 50 | Kyle Peters | Honda CRF250R | 14 | 18 | 10 |
| 17 | 556 | Brady Kiesel | Yamaha YZ 250F | 13 | 39 | 8 |
| 18 | 317 | Justin Hill | Kawasaki KX 250F | 40 | 14 | 7 |
| 19 | 157 | Jacob Baumert | Kawasaki KX 250F | 17 | 19 | 6 |
| 20 | 248 | Mitchell Oldenburg | Honda CRF250R | 16 | 24 | 5 |
| 21 | 194 | Jackson Richardson | Honda CRF250R | 21 | 17 | 4 |
| 22 | 712 | Justin Starling | Honda CRF250R | 19 | 20 | 3 |
| 23 | 72 | Dakota Tedder | Kawasaki KX 250F | 20 | 21 | 1 |
| 24 | 348 | Jason Brooks | Kawasaki KX 250F | 23 | 22 | 0 |
| 25 | 449 | Dakota Kessler | Honda CRF250R | 22 | 23 | 0 |
| 26 | 244 | Ryan Zimmer | Honda CRF250R | 28 | 25 | 0 |
| 27 | 140 | Johnny Moore | Honda CRF250R | 27 | 26 | 0 |
| 28 | 353 | Kody Kamm | Honda CRF250R | 26 | 27 | 0 |
| 29 | 393 | Daniel Herrlein | Honda CRF250R | 24 | 28 | 0 |
| 30 | 37 | Alex Martin | Yamaha YZ 250 | 25 | 30 | 0 |
| 31 | 243 | Joseph Dalzell | Kawasaki KX 250F | 29 | 29 | 0 |
| 32 | 256 | Matas Inda | Kawasaki KX 250F | 31 | 31 | 0 |
| 33 | 165 | James Roberts | Honda CRF250R | 30 | 33 | 0 |
| 34 | 659 | Justin Freund | Kawasaki KX 250F | 32 | 34 | 0 |
| 35 | 350 | Roland Beck | Kawasaki KX 250F | 36 | 32 | 0 |
| 36 | 919 | Shawn Rhinehart | Suzuki RMZ 250 | 33 | 38 | 0 |
| 37 | 240 | Bryce Stewart | Yamaha YZ 250F | 37 | 35 | 0 |
| 38 | 731 | Steve Roman | Suzuki RMZ 250 | 35 | 37 | 0 |
| 39 | 452 | Sean Hackley | KTM 250 SX-F | 39 | 36 | 0 |
| 40 | 613 | James Decotis | Honda CRF250R | 38 | 40 | 0 |
Rider Point Standings - 250MX Class ( Race 14 of 24 )


Ken Roczen - 312

Eli Tomac - 305

Marvin Musquin - 260

Blake Baggett - 247

Zach Osborne - 212

Jason Anderson - 176

Jeremy Martin - 162

Kyle Cunningham - 158

Justin Bogle - 145

Cooper Webb - 140

Manufacturer Cup Point Standings - 250MX Class ( Race 14 of 24 )


KTM - 321

Honda - 307

Kawasaki - 249

Yamaha - 216

Suzuki - 180