2013 AMA Motocross Southwick Results
Chaparral Motorsports
|
July 1, 2013
Ryan Dungey Closes Out Southwick Motocross In Style
[caption id="attachment_27402" align="alignright" width="300"]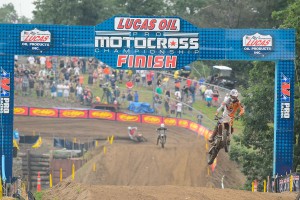 Ryan Dungey is now only 12 points behind Villopoto in the standings - Photo: Simon Cudby[/caption]

Southwick, Mass., has hosted a round of AMA Motocross for more than 30 years, but it was forced to say goodbye to the motorsports series for good after the completion of races June 29 and 30. The Southwick circuit hosted the sixth round of the 2013 AMA Motocross series, and it closed down in style with a mix of crashes, lead changes and surprise finishes.

James Stewart jumped out to an early lead and quickly established himself as the one to beat. In the middle of the ninth lap he lost control of his dirt bike after a jump and crashed, taking himself out for the remainder of the race. Ryan Dungey capitalized on Stewart's absence and began making a move toward the front of the pack.

Dungey eventually crossed the finish line in first place to end the first moto, closely followed by Andrew Short and Justin Barcia. During the second moto Dungey was left to battle with Ryan Villopoto, and although he wasn't victorious in that race, his strong finish was enough to make him the overall winner on the day.

"It's pretty cool to be the final winner here at Southwick," Dungey said. "... The day was awesome. We made some progress and some little steps forward [in the championship]."

The KTM rider is now only 12 points behind Villopoto in the standings, with six rounds still remaining.

Ryan Dungey Wins Moto-X 338 National
[caption id="attachment_27401" align="alignright" width="200"]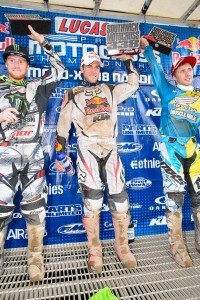 Ryan Dungey captured his third overall win of the season - Photo: Simon Cudby[/caption]

Red Bull KTM Factory rider Ryan Dungey captured his third overall win of the season finishing 1-2 at round six of the Lucas Oil Pro Motocross Championship Series held at Moto-X 338 racetrack.

In moto one Dungey didn't get the best of starts rounding the opening lap in 10th position. Chipping away at the front runners lead with every lap he worked his way into third spot by lap 10. With fellow KTM rider Andrew Short having his best race of the season leading the moto, Dungey got by Brett Metcalfe for second before passing Short for the lead with two laps to go. Dungey went on to win the moto with Short firmly placed second.

In the final 450 moto Dungey got a great start grabbing the holeshot and he battled neck-and-neck with Ryan Villopoto through the opening turns. Villopoto eventually got the upper hand and moved into the early lead with Dungey positioned close behind. The pair battled upfront for the majority of the moto before Villopoto clinched the moto win and Dungey took second. Dungey's 1-2 moto results beat out Villopoto's 4-1 results earning him his second-straight overall win and third overall victory of the season.

"Today was a good day," said Dungey. "It's nice to come out on top two weeks in a row. I feel I rode really good in moto one putting in solid laps and pushing myself. I'm not too stoked with finishing moto two in second place but I know I gave it my all and I pushed all the way to the end. What I'm most happy about is earning more championship points and narrowing the points gap to 12. I think we're in for an exciting end to the Motocross season with six rounds left."

Next Event: Buchanan, MI - July 6th, 2013

Source: KTM North America

James Stewart Rebounds From Southwick MX Crash
[caption id="attachment_27405" align="alignright" width="300"]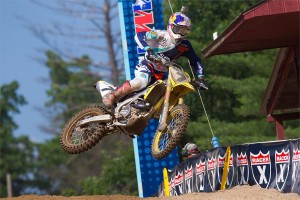 James Stewart made what can only be called the very best of an extremely bad situation.[/caption]

Yoshimura Suzuki Factory Racing's James Stewart made what can only be called the very best of an extremely bad situation at round six of the 2013 AMA Pro Motocross Championship at Southwick, that saw him rally after a nasty moto-one crash to come back and battle for a podium position on his Yoshimura Suzuki RM-Z450 in the second moto.

Heralded as one of the first motocross tracks in the United States to support professional motocross, Southwick's Moto-X 338 held its final AMA Pro National on Saturday. Said a nostalgic Stewart: "It's probably the toughest track of the year. I've had some great memories here. Everybody knows when you come to Southwick; it's a lot of work. It's the only sand track on the circuit and it's sad to see it go, especially for a Florida kid knowing how to ride sand."

Indeed, this Florida kid turned in quite the spectacular performance on the unique Southwick track. After taking the top overall qualifying spot, Stewart holeshot the first moto and immediately began to gap the field. After leading for more than half the race, he went down hard and was forced to sit out the rest of the moto. Returning for the second moto, Stewart got another good start on his Yoshimura Suzuki RM-Z450 and fought for a podium position for the entire race before finishing fourth. Overall, Stewart wound up 11th for the day.

[caption id="attachment_27400" align="alignleft" width="300"]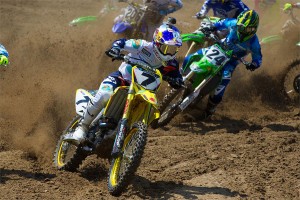 James Stewart wound up 11th for the day on the final Moto-X 338 AMA Pro National.[/caption]

"I was quickest in first practice and second quickest in second practice when the track was a little rougher," said Stewart. "The cool thing was that, the last time I raced here was in 2008 and I was running the same lap times today that I was then. And in the first moto, I got the holeshot and was starting to pull away. Then I went into that rut section and kind of lost the front end and I ended up taking a digger and hurt my shoulder and knocked the wind out of me. But I was able to come back and in the second moto, I got a good jump and made a couple of passes right at the beginning. After about 15 minutes, I felt like I could barely hold on but I stayed in there. The first moto was definitely a bummer because I felt like that race was ours, but I'm happy with the second moto. I'm pretty sore now but I'm going to go back and get checked out and come back strong for RedBud."

Yoshimura Suzuki Factory Racing's next race is round seven of the 2013 AMA Pro Motocross Championships on Saturday July 6th at the RedBud National in Buchanan.

Check out the Southwick "Behind The Scenes Race Report" Video:


Source: Team Suzuki

Ken Roczen Second At Southwick
[caption id="attachment_27404" align="alignright" width="200"]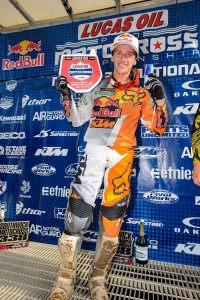 Ken Roczen earned second overall in the 250 class at Moto-X 338 - Photo: Simon Cudby[/caption]

Red Bull KTM Factory rider Ken Roczen earned second overall in the 250 class at round six of the Lucas Oil Pro Motocross Championship Series held at Moto-X 338 racetrack while teammate Marvin Musquin finished eighth overall.

In the opening 250 moto, both Roczen and Musquin were caught up in the first turn along with a bunch of riders. Musquin went down in the corner and was forced to race a come from behind moto while Roczen navigated his way through to challenge the opening lap from a mid-pack position. Both riders made up substantial amounts of time in the early laps of the race with Roczen slicing his way from 11th to third position in just five laps. Musquin rounded lap one in 24th place and by lap 10 had worked his way to 10th. During the closing stages of the race Roczen went down but was quick to get back up and finish the moto in third position. Musquin finished 10th.

Moto two welcomed top starts for both riders with Roczen nabbing the holeshot and Musquin close behind him in second. Roczen went on to ride a perfect second moto leading every lap of the race enroute to the moto win. Musquin who has been fighting a head cold this week struggled to fend off advances from a number of faster riders and he went on to finish the moto in ninth position. Roczen's 3-1 results put him second overall with Eli Tomac beating him for the overall (1-2) and Musquin said goodbye to Southwick 8th overall.

[caption id="attachment_27403" align="alignleft" width="300"]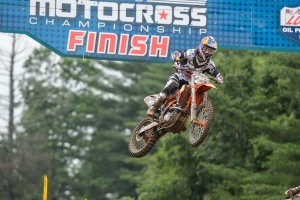 Marvin Musquin said goodbye to Southwick 8th overall - Photo: Simon Cudby[/caption]

"I'm really happy to win another moto," expressed Roczen. "It always feels good winning. I got a really bad start in the first moto when Marvin (Musquin) was forced into me in the opening turn. Starting a race mid-pack always ends up being a lot of extra work so I was happy in moto two when I go the holeshot and was able to ride my own race. I didn't get tired and felt good the whole moto which I'm really happy about. The team and I have also come a long way this week dialing my race bike in to my likings. Every rider is different and what works for Marvin set-up wise doesn't necessarily work for me. We worked a lot on my set-up this past week and it showed today. I'm really happy with the way everything panned out this week."

Next Event: Buchanan, MI - July 6th, 2013

Source: KTM North America

Southwick Overview And Point Standings
2013 AMA Pro Motocross Moto-X 338 Image Gallery (Click for full size images)


Overall Results - 450MX Class























































































































































































































































































































































































| Pos. | # | Rider | Bike | M1 | M2 | Points |
| --- | --- | --- | --- | --- | --- | --- |
| 1 | 1 | Ryan Dungey | KTM 450 SX-F Factory Edition | 1 | 2 | 47 |
| 2 | 2 | Ryan Villopoto | Kawasaki KX 450F | 4 | 1 | 43 |
| 3 | 51 | Justin Barcia | Honda CRF450R | 3 | 3 | 40 |
| 4 | 24 | Brett Metcalfe | Kawasaki KX 450F | 5 | 6 | 31 |
| 5 | 29 | Andrew Short | KTM 450 SX-F Factory Edition | 2 | 16 | 27 |
| 6 | 28 | Tyla Rattray | Kawasaki KX 450F | 10 | 8 | 24 |
| 7 | 49 | Phil Nicoletti | Yamaha YZ 450F | 6 | 13 | 23 |
| 8 | 800 | Mike Alessi | Suzuki RMZ 450 | 8 | 12 | 22 |
| 9 | 20 | Broc Tickle | Suzuki RMZ 450 | 11 | 10 | 21 |
| 10 | 33 | Josh Grant | Yamaha YZ 450F | 13 | 11 | 18 |
| 11 | 7 | James Stewart | Suzuki RMZ 450 | 34 | 4 | 18 |
| 12 | 22 | Chad Reed | Honda CRF450R | 7 | 18 | 17 |
| 13 | 54 | Les Smith | KTM 450 SX-F Factory Edition | 12 | 14 | 16 |
| 14 | 12 | Jake Weimer | Kawasaki KX 450F | 9 | 17 | 16 |
| 15 | 41 | Trey Canard | Honda CRF450R | 35 | 5 | 16 |
| 16 | 10 | Justin Brayton | Yamaha YZ 450F | 32 | 7 | 14 |
| 17 | 32 | Malcolm Stewart | Honda CRF450R | 20 | 9 | 13 |
| 18 | 26 | Michael Byrne | KTM 450 SX-F Factory Edition | 15 | 15 | 12 |
| 19 | 63 | Derek Anderson | Kawasaki KX 450F | 14 | 26 | 7 |
| 20 | 82 | Robby Marshall | KTM 450 SX-F | 16 | 20 | 6 |
| 21 | 73 | AJ Catanzaro | Kawasaki KX 450F | 17 | 21 | 4 |
| 22 | 867 | Fredrik Noren | Suzuki RMZ 450 | 18 | 33 | 3 |
| 23 | 27 | Nicholas Wey | Kawasaki KX 450F | 19 | 25 | 2 |
| 24 | 16 | John Dowd | Kawasaki KX 450F | 30 | 19 | 2 |
| 25 | 595 | Evgeny Mikhaylov | KTM 450 SX-F | 23 | 24 | 0 |
| 26 | 535 | Joey Peters | Yamaha YZ 450F | 24 | 27 | 0 |
| 27 | 39 | Robert Kiniry | Yamaha YZ 450F | 21 | 29 | 0 |
| 28 | 206 | Travis Sewell | Yamaha YZ 450F | 31 | 23 | 0 |
| 29 | 639 | David Buller | Honda CRF450R | 27 | 28 | 0 |
| 30 | 869 | Robert Lind | Yamaha YZ 450F | 22 | 32 | 0 |
| 31 | 35 | Ryan Sipes | Suzuki RMZ 450 | 36 | 22 | 0 |
| 32 | 221 | Ryan Desrosiers | Suzuki RMZ 450 | 29 | 31 | 0 |
| 33 | 84 | Chris Blose | Yamaha YZ 450F | 25 | 36 | 0 |
| 34 | 285 | Tony Archer | Kawasaki KX 450F | 33 | 30 | 0 |
| 35 | 515 | Michael Sottile | Honda CRF450R | 26 | 38 | 0 |
| 36 | 621 | Vann Martin | Kawasaki KX 450F | 28 | 40 | 0 |
| 37 | 58 | Tommy Hahn | Kawasaki KX 450F | 37 | 34 | 0 |
| 38 | 181 | Dustin Pipes | Suzuki RMZ 450 | 38 | 35 | 0 |
| 39 | 42 | Vince Friese | KTM 450 SX-F | 39 | 37 | 0 |
| 40 | 765 | Michael Giese | Yamaha YZ 450F | 40 | 39 | 0 |
Rider Point Standings - 450MX Class ( Race 12 of 24 )


Ryan Villopoto - 283

Ryan Dungey - 271

Justin Barcia - 219

Trey Canard - 169

Mike Alessi - 158

James Stewart - 140

Tyla Rattray - 119

Broc Tickle - 115

Andrew Short - 110

Jake Weimer - 109

Manufacturer Cup Point Standings - 450MX Class ( Race 12 of 24 )


Kawasaki - 283

KTM - 271

Honda - 232

Suzuki - 212

Yamaha - 143

Overall Results - 250MX Class
| Pos. | # | Rider | Bike | M1 | M2 | Points |
| --- | --- | --- | --- | --- | --- | --- |
| 1 | 17 | Eli Tomac | Honda CRF250R | 1 | 2 | 47 |
| 2 | 94 | Ken Roczen | KTM 250 SX-F | 3 | 1 | 45 |
| 3 | 338 | Zach Osborne | Honda CRF250R | 5 | 3 | 36 |
| 4 | 1 | Blake Baggett | Kawasaki KX 250F | 2 | 8 | 35 |
| 5 | 21 | Jason Anderson | Suzuki RMZ 250 | 6 | 4 | 33 |
| 6 | 43 | Cole Seely | Honda CRF250R | 8 | 7 | 27 |
| 7 | 38 | Kyle Cunningham | Yamaha YZ 250F | 13 | 5 | 24 |
| 8 | 25 | Marvin Musquin | KTM 250 SX-F | 10 | 9 | 23 |
| 9 | 292 | Adam Cianciarulo | Kawasaki KX 250F | 9 | 12 | 21 |
| 10 | 37 | Alex Martin | Yamaha YZ 250 | 12 | 11 | 19 |
| 11 | 317 | Justin Hill | Kawasaki KX 250F | 14 | 10 | 18 |
| 12 | 34 | Justin Bogle | Honda CRF250R | 4 | 33 | 18 |
| 13 | 44 | Darryn Durham | Kawasaki KX 250F | 11 | 14 | 17 |
| 14 | 77 | Jeremy Martin | Yamaha YZ 250F | 35 | 6 | 15 |
| 15 | 175 | Cooper Webb | Yamaha YZ 250F | 7 | 34 | 14 |
| 16 | 194 | Jackson Richardson | Honda CRF250R | 16 | 16 | 10 |
| 17 | 556 | Brady Kiesel | Yamaha YZ 250F | 15 | 17 | 10 |
| 18 | 613 | James Decotis | Honda CRF250R | 29 | 13 | 8 |
| 19 | 266 | Jesse Wentland | KTM 250 SX-F | 17 | 18 | 7 |
| 20 | 13 | Blake Wharton | Suzuki RMZ 250 | 39 | 15 | 6 |
| 21 | 348 | Jason Brooks | Kawasaki KX 250F | 18 | 22 | 3 |
| 22 | 418 | Erki Kahro | Yamaha YZ 250F | 24 | 19 | 2 |
| 23 | 50 | Kyle Peters | Honda CRF250R | 19 | 37 | 2 |
| 24 | 248 | Mitchell Oldenburg | Honda CRF250R | 20 | 21 | 1 |
| 25 | 452 | Sean Hackley, Jr. | KTM 250 SX-F | 34 | 20 | 1 |
| 26 | 424 | Derrick Barnaby | Honda CRF250R | 21 | 24 | 0 |
| 27 | 157 | Jacob Baumert | Kawasaki KX 250F | 23 | 23 | 0 |
| 28 | 244 | Ryan Zimmer | Honda CRF250R | 22 | 26 | 0 |
| 29 | 712 | Justin Starling | Honda CRF250R | 25 | 25 | 0 |
| 30 | 449 | Dakota Kessler | Honda CRF250R | 26 | 28 | 0 |
| 31 | 165 | James Roberts | Honda CRF250R | 28 | 29 | 0 |
| 32 | 598 | Luke Davie | Honda CRF250R | 32 | 27 | 0 |
| 33 | 240 | Bryce Stewart | Yamaha YZ 250F | 27 | 31 | 0 |
| 34 | 393 | Daniel Herrlein | Honda CRF250R | 33 | 30 | 0 |
| 35 | 491 | Demetri Angelo | KTM 250 SX-F | 30 | 32 | 0 |
| 36 | 373 | Drew Gosselaar | Honda CRF250R | 31 | 36 | 0 |
| 37 | 256 | Matas Inda | Kawasaki KX 250F | 36 | 35 | 0 |
| 38 | 19 | Will Hahn | Honda CRF250R | 38 | 39 | 0 |
| 39 | 176 | Joseph Savatgy | KTM 250 SX-F | 37 | 40 | 0 |
| 40 | 976 | Josh Greco | Honda CRF250R | 40 | 38 | 0 |
Rider Point Standings - 250MX Class ( Race 12 of 24 )


Ken Roczen - 265

Eli Tomac - 258

Blake Baggett - 223

Marvin Musquin - 222

Zach Osborne - 185

Jason Anderson - 161

Kyle Cunningham - 131

Jeremy Martin - 124

Justin Bogle - 122

Cooper Webb - 113

Manufacturer Cup Point Standings - 250MX Class ( Race 12 of 24 )


KTM - 274

Honda - 260

Kawasaki - 225

Yamaha - 178

Suzuki - 165

Overall Results - WMX Women's Class
| Pos. | # | Rider | Bike | M1 | M2 | Points |
| --- | --- | --- | --- | --- | --- | --- |
| 1 | 2 | Jessica Patterson | Yamaha YZ 250F | 1 | 1 | 50 |
| 2 | 28 | Mackenzie Tricker | Yamaha YZ 250F | 2 | 2 | 44 |
| 3 | 32 | Sara Pettersson | KTM 250 SX-F | 4 | 4 | 36 |
| 4 | 11 | Sayaka Kaneshiro | Honda CRF250R | 7 | 3 | 34 |
| 5 | 17 | Lindsey Palmer | Kawasaki KX 250F | 8 | 5 | 29 |
| 6 | 84 | Taylor Higgins | Honda CRF250R | 6 | 8 | 28 |
| 7 | 22 | Marissa Markelon | Yamaha YZ 250F | 5 | 12 | 25 |
| 8 | 9 | Sade Allender | Honda CRF250R | 12 | 7 | 23 |
| 9 | 13 | Brianna DeGray | Honda CRF250R | 10 | 9 | 23 |
| 10 | 10 | Amanda Brown | Honda CRF250R | 14 | 6 | 22 |
| 11 | 89 | Sarah Whitmore | KTM 250 SX-F | 9 | 11 | 22 |
| 12 | 254 | Jacqueline Strong | KTM 250 SX-F | 3 | 36 | 20 |
| 13 | 88 | April Zastrow | Honda CRF250R | 13 | 13 | 16 |
| 14 | 26 | Chelsea Newbold | Honda CRF250R | 15 | 14 | 13 |
| 15 | 55 | Kaylynn Kotlar | Honda CRF250R | 20 | 10 | 12 |
| 16 | 445 | Shelby Rolen | Yamaha YZ 250F | 11 | 20 | 11 |
| 17 | 152 | Eden Willow Netelkos | Honda CRF250R | 17 | 17 | 8 |
| 18 | 12 | Nykea Williams | Kawasaki KX 250F | 21 | 15 | 6 |
| 19 | 76 | Elicia Vallier | Honda CRF250R | 19 | 18 | 5 |
| 20 | 72 | Sonia Williams | Honda CRF250R | 16 | 22 | 5 |
| 21 | 94 | Karina Carrasquillo | Honda CRF250R | 29 | 16 | 5 |
| 22 | 43 | Abbrielle Tardelli | KTM 250 SX-F | 18 | 29 | 3 |
| 23 | 54 | Kayla Solheid | Kawasaki KX 250F | 24 | 19 | 2 |
| 24 | 53 | Tonya Mantsch | Kawasaki KX 250F | 26 | 21 | 0 |
| 25 | 30 | Rebecca Wright | Kawasaki KX 250F | 23 | 26 | 0 |
| 26 | 727 | LeeAnn Bange | Yamaha YZ 250F | 22 | 27 | 0 |
| 27 | 93 | Lecksi Winger | Suzuki RMZ 250 | 25 | 25 | 0 |
| 28 | 46 | Cortney Roewer | KTM 250 SX-F | 28 | 24 | 0 |
| 29 | 16 | Jennifer Mead | KTM 250 SX-F | 27 | 28 | 0 |
| 30 | 31 | Sydney Dickson | KTM 250 SX-F | 35 | 23 | 0 |
| 31 | 51 | Shayla Stephens | Honda CRF250R | 30 | 30 | 0 |
| 32 | 402 | Alexis Burns | KTM 250 SX-F | 33 | 31 | 0 |
| 33 | 63 | Kara Groves | Yamaha YZ 125 | 32 | 32 | 0 |
| 34 | 42 | Cady VanCura | KTM 250 SX-F | 31 | 34 | 0 |
| 35 | 232 | Tiffany Palacki | Suzuki RMZ 250 | 36 | 33 | 0 |
| 36 | 208 | Katelyn Crowley | Suzuki RMZ 250 | 37 | 35 | 0 |
| 37 | 78 | Jennifer Smith | Honda CRF250R | 34 | 38 | 0 |
| 38 | 39 | Jessie Wharton | Kawasaki KX 250F | 39 | 37 | 0 |
| 39 | 95 | Brinsley Dyess | Suzuki RMZ 250 | 38 | 39 | 0 |
Rider Point Standings - WMX Women's Class ( Race 6 of 6 )


Jessica Patterson - 122 / 2013 Champion

Sayaka Kaneshiro - 120

Taylor Higgins - 100

Mackenzie Tricker - 99

Sara Pettersson - 94

Jacqueline Strong - 81

Lindsey Palmer - 71

Amanda Brown - 66

Sade Allender - 64

Marissa Markelon - 55

Manufacturer Cup Point Standings - WMX Women's Class ( Race 6 of 6 )


Yamaha - 150

Honda - 121

KTM - 106

Kawasaki - 82

Suzuki - 0