Take A Look At The Dunlop Sportmax Q3 Motorcycle Tire
Chaparral Motorsports
|
June 30, 2013
[mageProductLink sku="331-0850" title=""]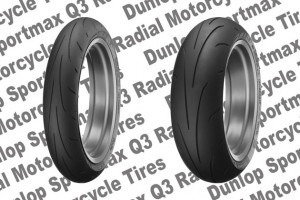 [/mageProductLink]
The latest motorcycle tire to make a splash in the world of motorsports is the Dunlop Sportmax Q3. Building on the success of its predecessors, the Q3 is a tire that's more than capable of providing a light, fast and quality riding experience.

Ideal for sport bikes, the [mageProductLink sku="331-0840" title="Dunlop Sportmax Q3 Front Tire"]front tire[/mageProductLink] is currently available in two sizes: 120/60-17 and 120/70-17. It incorporates Dunlop's new Carbon Fiber Technology, which puts carbon fiber reinforcements in the tire's sidewalls. The end result is a strong, lightweight motorcycle tire that is resistant to high temperatures while also offering a high level of quality.

Dunlop also used its Intuitive Response Profile design and Multi-Tread rubber compounds for the [mageProductLink sku="331-0850" title="Dunlop Sportmax Q3 Rear Tire"]rear tires[/mageProductLink], which significantly upgrades the steering and handling of the already-exemplary Dunlop brand. The structure and carcass of the tire have also been updated to give riders the most efficient experience possible.

A new tread design was created to provide a better performance in wet conditions. Although there are fewer grooves on the tires, they are longer in length, and these treads work with side grips to give riders responsive handling, braking and cornering in all situations.

Riders searching for a top-of-the-line sport bike tire don't have to look past the Dunlop Sportmax Q3, which is now on the market. If you need to know how to buy motorcycle tires, visit Chaparral Motorsports to find great deals on in-stock motorcycle tires.