Harley-Davidson World Ride Surpasses 10 Million Miles
Chaparral Motorsports
|
June 29, 2013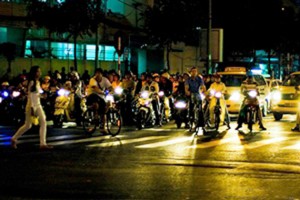 Motorcycle riders from around the world came together June 23 and 24 to celebrate the Harley-Davidson World Ride. The event, which began in 2008, was founded by the Harley Owners Group to celebrate the culture of motorsports and get thousands of riders to join forces for the cause.

According to Ultimate Motorcycling, participants collectively logged more than 10 million miles during the 2013 World Ride, surpassing the 2012 mark by more than 28 percent. In 2012, riders managed to travel 7,799,140 miles in total, which had been the record high for the event.

Miles were recorded using an online mileage accumulator, which tracked rider routes in real time and measured the distance as participants entered their information.

"Riding 10 million miles in two days is an impressive statistic, but this accomplishment truly represents the passion we share as a global family of riders," said Ken Knuteson, director of the Harley Owners Group, as quoted by Motorcycle.com.

The U.S. recorded the most miles, thanks to the participation of large groups, dealerships and individual riders. Brazilian motorcyclists logged the second-largest number of miles, closely followed by Mexico, India and Spain, the news source reports.