MotoGP's Jorge Lorenzo Breaks Collarbone In Crash
Chaparral Motorsports
|
June 28, 2013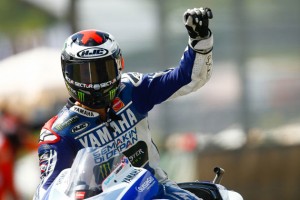 Defending MotoGP champion Jorge Lorenzo suffered a major setback in his quest for another motorsports title. The Yamaha rider crashed at high speed as he was practicing in the Netherlands in anticipation of this weekend's race at the Assen circuit.

The day started brightly for Lorenzo. He was the overall leader of the practice rounds as the competitors practiced on the dry track, but things took a turn for the worst when rains moved in during the afternoon. In the midst of his second test, he hit a wet patch of pavement and was thrown from the bike, eventually landing awkwardly on his left shoulder.

"Jorge, after an incredible free practice one, had a crash in the wet in the afternoon and he broke his collarbone," said team director Massimo Meregalli. "This is a real pity, as we were coming from two brilliant results and looking for a third ... We wish him the best - to come back as soon as possible and stronger than before."

According to Crash.net, Lorenzo will undergo surgery on his shoulder in Barcelona in the next few days. He has had issues with his collarbone in the past, but there's no telling if this injury will be worse because of it.