Thousands Come Together For 2013 Vespa World Days
Chaparral Motorsports
|
June 27, 2013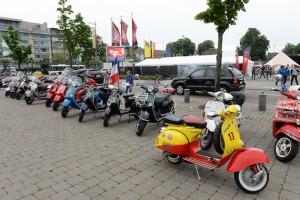 Scooters
may often get overlooked when it comes to the world of motorcycles, but these machines have a following that's just as dedicated and passionate as anyone else. This was on full display at the annual Vespa World Days celebration, which was held June 20-23 in Belgium.

According to Ultimate Motorcycling, more than 3,000 scooter owners gathered in Hasselt, Belgium, for the event. Together they took part in a number of activities, ranging from group rides and contests to browsing the motorcycle vendors and admiring new scooters.

The final day was also filled with galas and award ceremonies, which saw many riders walk away with special recognition for their commitment to the scooters. Hundreds of participants who entered into the Elegance Competition garnered awards for their scooters, while the six members of the Vespa Club of Sirmione were honored as the winners of the touring competition, the news source reports.

Although the event itself was exciting for all involved, one of the most important aspects is the return ride that many participants embark on to get back home. Outfitted with new pieces of riding gear and protective accessories, riders get a chance to enjoy the surrounding European scenery on their return journey.