2013 AMA Pro National Guard SuperBike Barber Results
Chaparral Motorsports
|
June 25, 2013
Josh Hayes Has Perfect Weekend... Again
[caption id="attachment_27264" align="alignright" width="200"]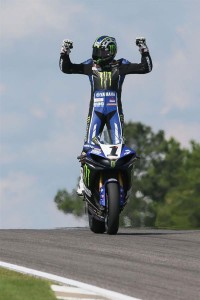 Josh Hayes swept to double wins in the AMA Pro SuperBike class.[/caption]

Josh Hayes swept to double wins in the AMA Pro SuperBike class at Alabama's Barber Motorsports Park on June 22-23. Aboard his Monster Energy/Graves/Yamaha YZF-R1, Hayes had a perfect weekend, winning the pole and both SuperBike races for the second event in a row. As a result, he passes teammate Josh Herrin in the standings, and now trails rival Martin Cardenas by just 10 points. For his part, Herrin took a fourth and a third for the weekend.

Yamaha roadracing team manager Tom Halverson added, "It was a fantastic weekend with Hayes, Herrin, Beaubier, and Gerloff all putting in superb performances, and Hayes coming from 48 points back after Daytona to within 10 points of the SuperBike lead two events later. Congratulations to the entire Monster Energy/Graves/Yamaha and Y.E.S./Monster Energy/Graves/Yamaha teams for working so hard to make it happen."

Hayes worked extra-hard to win Saturday's race one. After he and other racers jumped the start, Hayes let several riders by to reduce any penalty he might incur. But, he was assessed a five-second time penalty anyway, meaning that, to win the race, he had to reclaim the lead - while also building a margin of at least five seconds over any riders who hadn't been penalized. Incredibly, he moved from 13th place on corrected timing on lap one into sixth on lap three, and then into third by the fifth of 20 laps.

Hayes eventually took the lead at the halfway point, after which he battled rival Roger Hayden to the flag, ultimately winning by a mere 0.245 sec. In Sunday's race two, Hayes, Herrin, and Hayden all vied for the lead at different times, with Hayes prevailing to lead all but two laps and score his fourth consecutive victory. "It was a really hard race," he said. "It's a big testament to my Monster Energy/Graves/Yamaha team that I was able to get the win."

Source: Yamaha Motor Company

Double Podium For MJM Suzuki At Barber SBK
[caption id="attachment_27261" align="alignright" width="200"]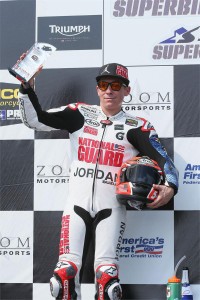 National Guard Jordan Suzuki's Roger Hayden raced his Jordan Suzuki GSX-R1000 to two podium positions.[/caption]

Michael Jordan Motorsports Suzuki celebrated a spectacular weekend at the AMA Pro National Guard Superbike Championships at Barber Motorsports Park in Birmingham as National Guard Jordan Suzuki's Roger Hayden raced his Jordan Suzuki GSX-R1000 to two podium positions.

The Barber race weekend saw National Guard Jordan Suzuki's Hayden increase his number of podiums this season to three. In Saturday's 21-lap race, Hayden got a good start and worked his way into second place. And in Sunday's race, he again got a good launch and put his head down to bring home another second-place result.

Said Hayden: "On Saturday, it was a pretty good race, although it's a little bittersweet to be that close to winning and then to lose it by just a little bit at the end. My start on Sunday wasn't as good so I had to come from a little further back. This was my best weekend so far in Superbike; challenging for the win in two races. I really want to thank the National Guard Jordan Suzuki team. They've been working hard and I've been working hard. Now we need to keep doing what we've been doing and come out of the gate hard at Mid-Ohio and be there the whole race."

Jordan Suzuki team mate Danny Eslick overcame a brief off-track excursion on Saturday to finish eighth. Then, on Sunday, he got a good start on his Jordan Suzuki GSX-R1000 and picked up the pace, running in fifth for almost 21 laps before eventually finishing sixth.

[caption id="attachment_27269" align="alignleft" width="300"]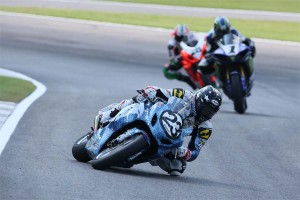 Danny Eslick overcame a brief off-track excursion on Saturday to finish eighth.[/caption]

"Sunday was definitely better than Saturday," said Eslick. "On Saturday, I got off to a good start but another rider had a big moment in front of me and I ran off the track. That put me back and I had to make my way back up to eighth. Sunday was good, I got an awesome start and I was right there with the lead pack. I tried to hold on but I wasn't comfortable with their pace. Then I ran around in fifth and had a little battle at the end so I ended up sixth. Now I'm looking forward to Mid-Ohio. I'm feeling good on the Jordan Suzuki GSX-R1000 and I've done well at Mid-Ohio in the past."

In the 2013 AMA Pro National Guard Superbike Championship series rider point standings, Hayden sits in fourth place and Eslick is sixth.

The Michael Jordan Motorsports team's next event of the 2013 AMA Pro National Guard Superbike Championship series is at Mid-Ohio Sports Car Course in Lexington, Ohio on July 12-14th.

Source: Team Suzuki

Yoshimura Suzuki Podiums At Barber SBK
[caption id="attachment_27260" align="alignright" width="300"]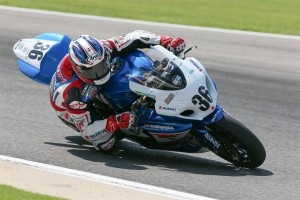 Martin Cardenas brought home a podium on Saturday.[/caption]

Yoshimura Suzuki Factory Racing's Martin Cardenas turned in two tremendous performances in the 2013 AMA Pro Superbike Championship third round at Barber Motorsports Park in Birmingham at the weekend, bringing home a podium on Saturday and a solid fourth-place finish on Sunday.

As a result, Cardenas continues to lead the overall championship points in the premier class and was one of four Suzuki racers who finished in the top 10 on both days.

On Saturday, Cardenas got a great start on his Yoshimura Suzuki GSX-R1000 and led a number of the race's 21 laps before eventually finishing third. On Sunday, he also got a good start and battled for a podium position for the entire race before finishing fourth.

"On Saturday, my race was a little bit tough," said Cardenas. "I had a good rhythm going on the Yoshimura Suzuki GSX-R1000, but I wasn't as fast as I wanted to be. I tried my best and just tried to finish in third and get some points. For Sunday, we changed a few things and we had some good speed at first, but from the middle to the end of the race, I had a hard time keeping the pace. Next we go to Mid-Ohio, and I like the layout of that track. I've had some good results there and I hope to come back stronger for that race."

[caption id="attachment_27266" align="alignleft" width="200"]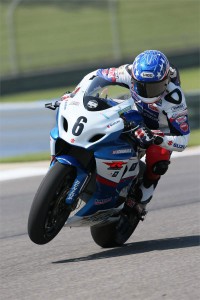 Chris Clark struggled at the Barber event.[/caption]

Yoshimura Suzuki team-mate Chris Clark struggled at the Barber event, never really finding his rhythm. On Saturday, he finished the race in 15th place and on Sunday he had to retire early from the event.

The Yoshimura Suzuki Factory Racing team's next event of the 2013 AMA Pro Superbike Championship series is at Mid-Ohio Sports Car Course in Lexington, Ohio on July 12-14th.

Source: Team Suzuki

Chris Fillmore Earns Top Five Finish At Barber Motorsports Park
[caption id="attachment_27271" align="alignright" width="300"]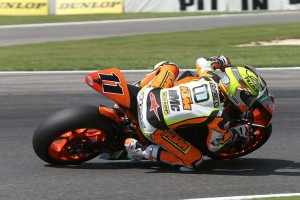 Chris Fillmore earned his first top five finish of the season - Photo: Brian J Nelson[/caption]

KTM/HMC Superbike Team rider Chris Fillmore earned his first top five finish of the 2013 AMA Pro SuperBike season at the third round of the series held at Barber Motorsports Park.

"I was really nervous going into this weekend's race," stated Fillmore. "I broke my hand here last year in the first few laps of practice so it is safe to say I had quite a bit of butterflies in my stomach heading into the practice sessions." Fillmore did not need to worry as both he and his teammate, Taylor Knapp, turned qualifying times inside the top ten, finishing the sessions 7th and 10th respectively.

Hours later Knapp suffered a mechanical during the warm-up lap of the first race and had to go into the pits for repair. He eventually started the race but was in dead last position at the end of the first lap. Meanwhile, Fillmore was quick to move himself up front.

"I was able to make a couple passes on the first lap to move myself into 7th position," remarked Fillmore. "After I secured 7th, I filed in behind Danny Eslick and was able to gain a position after he ran wide. From there, I trailed Larry Pegram and we played a game of cat and mouse through the checkered flag."

[caption id="attachment_27267" align="alignleft" width="300"]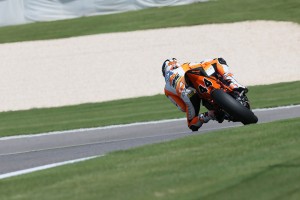 On Sunday Taylor Knapp walked away with his season best finish.[/caption]

It was Fillmore who would be credited with the 5th place position after Pegram was docked 5 seconds for jumping the start. Joining his teammate with an impressive ride was Knapp, who was able to come back from dead last to 13th by the race end despite his mechanical issue suffered on the warm-up lap.

On Sunday, both Fillmore and Knapp jumped off the line to mid-pack starts. The two quickly charged hard to move into the top ten. Fillmore mentioned, "The majority of the race was about a 5-man battle for 7th position. I was fortunate enough to make a great pass on Geoff May with a few laps remaining that pushed me ahead of him and allowed me to pull a small gap as we crossed the checkers. My team has been working really hard this year and it is great to finally get two good results for them." Knapp also walked away with his season best finish, earning 9th overall during Sunday's race.

Next Event: July 12-14, 2013 - Mid Ohio Sports Car Complex

Source: KTM North America

Chris Ulrich Improves His Pace At Barber
[caption id="attachment_27265" align="alignright" width="300"]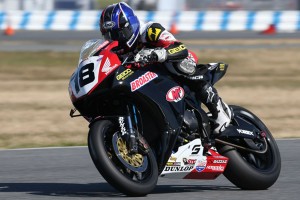 Chris Ulrich continued to up his pace aboard his team's CBR1000RR Superbike - Photo: Brian J Nelson[/caption]

M4 SportbikeTrackGear.com Racing's Chris Ulrich continued to up his pace aboard the team's Honda CBR1000RR Superbike despite continuing problems with electronics. The Californian posted a best time of 1:27.963 while fighting up from 14th to 12th, nearly four 10ths quicker than his best lap in Saturday's AMA Superbike race (1:28.360).

"We're chipping away at improving every aspect of the bike, from electronics to chassis," said Ulrich. "Developing a Superbike is a big challenge but we're making progress every time we get on the bike."

Team Hammer will next travel to Mid-Ohio Sports Car Course for Round 4 of the AMA Pro Road Racing series on July 12-14.

Source: Team Hammer

Josh Hayes Tops Roger Hayden In AMA Pro National Guard SuperBike Race 1 At Barber Motorsports Park
[caption id="attachment_27263" align="alignright" width="300"]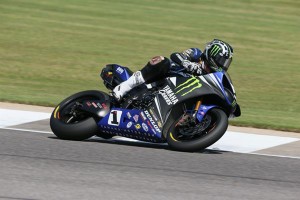 Josh Hayes continued to claw his way back into National Guard SuperBike championship contention.[/caption]

GEICO Motorcycle AMA Pro Road Racing superstar Josh Hayes continued to claw his way back into National Guard SuperBike championship contention with another standout performance today at Barber Motorsports Park. The defending triple champ claimed his third consecutive victory at the Triumph SuperBike Classic presented by America's First Federal Credit Union at Barber Motorsports Park in a wild contest on Saturday afternoon.

Hayes' 36th-career National Guard SuperBike race win came in anything but conventional fashion as he found himself forced to simultaneously overcome one rival on the timing boards and another one on track.

The start of the race led to a wild turn of events in the contest's opening stages, as Hayes, second qualifier Roger Hayden (National Guard Jordan Suzuki), Foremost Insurance Pegram Racing's Larry Pegram, M4 Sportbike TrackGear.com Racing's Chris Ulrich, and Neyra Racing's Huntley Nash all rolled forward ahead of the race's official start.

Hayes, who immediately let a number of his competitors by in an early attempt to avoid being penalized for his miscalculation, had to slash back past his Monster Energy Graves Yamaha teammate Josh Herrin and points leader Martin Cardenas (Yoshimura Suzuki Factory Racing) on track and then set after race leader Hayden.

[caption id="attachment_27273" align="alignleft" width="300"]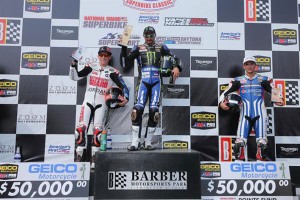 2013 AMA Pro National Guard SuperBike Barber 1 Winner's Podium[/caption]

Hayes dove up the inside of the Michael Jordan Motorsports pilot entering Turn 5 on lap 5 and was shown in the lead as they crossed the stripe to open lap 6. However, moments later, Hayes and Hayden were dropped to third and fourth as they, Pegram, Ulrich, and Nash were all hit with a five-second penalty for anticipating the start.

Soon enough, Hayes and Hayden's dogfight moved them back to the head of the charts as they broke free from the pack and easily eclipsed their penalties, displacing Cardenas to third and Herrin to fourth once again.

Hayden's challenge never withered, however, as he pressured Hayes to the very end. The Kentuckian closed to just 0.172 seconds back on the final lap and made an unsuccessful attempt to glide past up the inside on the race's final corner.

Hayes just held on by 0.245 seconds at the stripe. Aided by Hayden's second-place run, the Mississippian picked up another eleven points in the championship rankings. He now trails Cardenas, who finished third but faded to 13.170 seconds back (18.170 on track), by 23 points.

[caption id="attachment_27262" align="alignright" width="300"]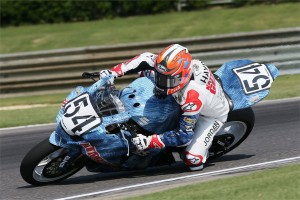 Roger Hayden's challenge never withered, as he pressured Hayes to the very end.[/caption]

After the race, Hayes said, "Oh man -- that was a really fast race. Like my season, I kind of made it a challenge for myself from the beginning. The light was held for a long time and I saw Rog creeping and I ended up creeping too. Once I got into the lead, I was kind of waiting to see how it would turn out. I figured something was coming -- I didn't know what. When I saw the '+5' on the board, I knew what was going on immediately. I said, 'okay, let's see what we can do,' and just tried to put together every lap as good as I could."

Runner-up Hayden said, "Pretty good race. It's a little bittersweet to be that close to actually beating Josh and him getting me just by a little bit there at the end. He was just a little bit better than I was today, so for tomorrow's we'll try to improve some.

"The start... I don't know what happened. The light was on forever and then I was just reading the '+5' board and it didn't come until the eighth or ninth lap. Then I saw on my board I was third, but then it finally went up to second, so I knew where the gap was behind me. And I saw Josh's name on the board too, so I knew I was pushing that hard just to win on track and not really get the win. I'm pretty happy -- the first two races haven't started out that good. I knew we were a lot better than we showed at Daytona and Road America. Hopefully this is a turnaround for my season."

Third-placed Cardenas admitted, "My race was a little bit tough. Physically, I think for everybody, but I thought I had a little bit better rhythm going into the race. But early on I found out that I wasn't as fast as these two guys. I tried my best and tried to stay as close as possible, but halfway through the race I lost a lot of time. I just tried to finish in third place and get some points. We'll think about a few things to try tomorrow and try to improve a little bit."

[caption id="attachment_27274" align="alignleft" width="300"]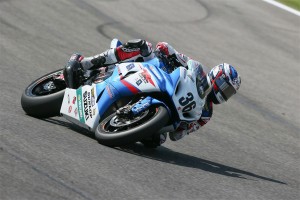 Martin Cardenas rounded out the podium with third.[/caption]

Herrin claimed a lonely fourth, followed by KTM/HMC's Chris Fillmore and the aforementioned Pegram (who was the only rider to actually lose a position in the final order due to his penalty).

Team Hero's Geoff May finished seventh aboard his EBR 1190RS with Jordan Suzuki's Danny Eslick charging back to eighth after dropping down to 14th following an early-race incident.

Motosport.com Motul Fly Racing David Anthony and Team AMSOIL/Hero EBR's Aaron Yates completed the top ten.

Hayes will attempt to further close the gap on Sunday by completing his second straight perfect points haul weekend, both this season and here at Barber Motorsports Park.

About GEICO Motorcycle AMA Pro Road Racing:
GEICO Motorcycle AMA Pro Road Racing is the premier motorcycle road racing series in North America and is universally regarded as one of the most competitive road racing organizations in the world. The 2013 schedule consists of nine rounds of competition on the country's finest road courses. The Series is comprised of four production-based classes: AMA Pro National Guard SuperBike, AMA Pro GoPro Daytona SportBike, AMA Pro Motorcycle-Superstore.com SuperSport and the AMA Pro Vance & Hines Harley-Davidson Series. Learn more about GEICO Motorcycle AMA Pro Road Racing at .
Source: AMA Pro Racing

Double Vision: Josh Hayes Tops Roger Hayden In Another Close AMA Pro National Guard SuperBike Shootout In Birmingham
[caption id="attachment_27272" align="alignright" width="300"]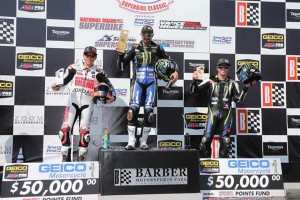 2013 AMA Pro National Guard SuperBike Barber 2 Winner's Podium[/caption]

Monster Energy Graves Yamaha's Josh Hayes once again had his hands full at Barber Motorsports Park on Sunday, and once again, he came through like a champion.

The reigning AMA Pro National Guard SuperBike king was pushed to the brink by National Guard Jordan Suzuki's Roger Hayden in a virtual repeat of Saturday's tense final-lap showdown to conclude the Triumph SuperBike Classic presented by America's First Federal Credit Union in epic fashion.

The race took shape in the early stages as a four-rider shootout with Hayes' teammate, Josh Herrin, powering into the lead at the start. Herrin hounded Hayes from second over the race's opening five laps after Hayes made an opening-lap pass while Hayden and Yoshimura Suzuki Factory Racing's Martin Cardenas stalked just behind the Yamaha duo.

Herrin sliced up the inside of Hayes entering 'Charlotte's Web' on lap 6 and led the next two laps, bunching the pack back up after it threatened to break apart. Hayes retook the lead on lap 8 and Herrin made a crucial mistake a pair of laps later. That allowed Hayden to snatch second and close in on Hayes' rear wheel, where he would remain for the remainder of the race.

[caption id="attachment_27259" align="alignleft" width="300"]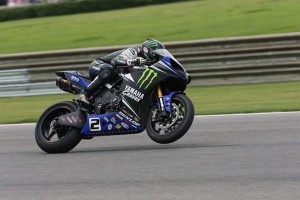 Josh Herrin fought hard for his third place finish.[/caption]

The Kentuckian was within striking distance on the contest's final lap, but that last circulation played out just as it had the day before, with the experienced triple champion never making a mistake or allowing his hungry rival an opportunity to find a way through into the lead.

Hayes launched off the final corner and beat Hayden to the stripe by a scant 0.221-second margin following 21-nailbiting laps.

A relieved Hayes said, "That was a really hard race. I was driving as hard as I could and trying to push it until everyone's tires were junk at the end so hopefully nobody could make any moves. I was trying to pick my lines smart so I didn't make any mistakes. It got pretty greasy and I had my share of mistakes still but fortunately I did it in spots where it wasn't easy to get by. Fortunately, it was enough. Rog rode an incredible weekend and Josh was riding really well at the beginning... It's a big testament to my team and a lot of hard work. Fortunately we have a lot of years of development in that machine and we can get to a good place pretty quickly. I really enjoyed the race -- it's fun having a close race and pushing hard all the way to the end. The last lap, for me, was as harrowing for me as lap 2. It was really fun, I really enjoyed it, and I'm really looking forward to going to Mid-Ohio."

"My start wasn't as good as yesterday," Hayden joked, referring to his Saturday jumpstart. "So I had to come from a little further back. You know, I just sat behind Josh the whole race but never got close enough to pass him. Sometimes he got a small gap but the last couple laps I was right on his back tire just trying to find a place to make a pass. I was starting to slide around a little bit and so was he. Every time I tried to get a good run on him the last two laps I could never get that little bit more I needed to take a shot at it."

[caption id="attachment_27270" align="alignright" width="300"]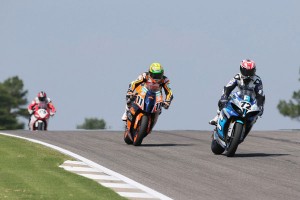 Chris Fillmore came out on top of a race-long, five-rider scrap for seventh.[/caption]

Herrin regrouped and successfully defended third from Colombian Cardenas, eventually escaping to secure the final spot on the podium some ten seconds behind the race for the win.

"It was good at the beginning -- as you can see, I still need to work on how fast I go once I get the lead," Herrin admitted. "I was trying my hardest. The middle of the race is what I need to work on. Both days I was decent in the beginning, seem to fall off in the middle, and then regroup at the end and seem to hold the gap to first. So at least I know I can ride good on the tires at the end of the race. Now I just need to go home and work on my fitness a little bit more... I can't wait until Mid-Ohio. Mid-Ohio is going to be the middle of the season and it's time to turn things around and prove that I can run up front the whole race."

Foremost Insurance Pegram Racing's Larry Pegram chased down Jordan Suzuki's Danny Eslick throughout the race, finally making his move to steal away fifth position on the final lap.

Meanwhile, KTM/HMC Racing's Chris Fillmore came out on top of a race-long, five-rider scrap for seventh. He edged Team Hero EBR's Geoff May, KTM teammate Taylor Knapp, Motosport.com Motul Fly Racing's David Anthony, and Team AMSOIL/Hero EBR's Aaron Yates for the spot.

Hayes' second consecutive perfect points haul weekend has thrust him right back into the AMA Pro National Guard SuperBike title fight. The Mississippian moved into second with his fourth win in six races and trails Cardenas by just ten points. He is now in position to take control of the championship lead at the next GEICO Motorcycle AMA Pro Road Racing event at Mid-Ohio with another weekend sweep.

Next Up
The 2013 GEICO Motorcycle AMA Pro Road Racing season will resume on July 12-14 at Mid-Ohio Sports Car Course in Lexington, Ohio for the Buckeye Superbike Weekend presented by Dunlop Tire.

This season's GEICO Motorcycle AMA Pro Road Racing action is being broadcast on CBS Sports Network as part of the CBS Sports Spectacular. Fans can find CBS Sports Network on their TV by using the channel finder at http://www.cbssportsnetwork.com/channel-finder.

In addition to the live broadcasts on CBS Sports Network, AMA Pro Live will be live streaming multiple channels of behind-the-scenes video of the weekend's activities alongside Live Timing & Scoring. AMA Pro Live puts fans in the director's chair, allowing them to choose from a variety of viewpoints including track cameras, paddock cameras and a press conference channel at http://www.amaprolive.com.

Source: AMA Pro Racing

Triumph SuperBike Classic SuperBike Overview And Point Standings
2013 AMA Pro National Guard SuperBike Barber Image Gallery (Click for full size images)


AMA Pro SuperBike Class Race 1 Results - Race Time: 30:17.118






























































































































































































| Pos. | # | Rider | Bike | Interval | Best Lap |
| --- | --- | --- | --- | --- | --- |
| 1 | 1 | Josh Hayes | Yamaha R1 | 21 Laps | 1:25.724 |
| 2 | 54 | Roger Hayden | Suzuki GSX-R1000 | 0.245 | 1:25.650 |
| 3 | 36 | Martin Cardenas | Suzuki GSX-R1000 | 13.170 | 1:26.202 |
| 4 | 2 | Josh Herrin | Yamaha R1 | 17.09 | 1:26.465 |
| 5 | 11 | Chris Fillmore | KTM RC8R | 28.734 | 1:27.232 |
| 6 | 72 | Larry Pegram | Yamaha R1 | 33.505 | 1:27.135 |
| 7 | 99 | Geoff May | EBR 1190RS | 34.376 | 1:27.304 |
| 8 | 23 | Danny Eslick | Suzuki GSX-R1000 | 40.471 | 1:27.187 |
| 9 | 25 | David Anthony | Suzuki GSX-R1000 | 41.091 | 1:27.647 |
| 10 | 20 | Aaron Yates | EBR 1190RS | 43.058 | 1:27.763 |
| 11 | 13 | Cory West | EBR 1190RS | 1:00.373 | 1:28.391 |
| 12 | 18 | Chris Ulrich | Honda CBR1000RR | 1:05.998 | 1:28.360 |
| 13 | 44 | Taylor Knapp | KTM RC8R | 1:07.336 | 1:28.420 |
| 14 | 68 | Dustin Dominguez | EBR 1190RS | 1:15.049 | 1:28.377 |
| 15 | 6 | Chris Clark | Suzuki GSX-R1000 | 1:16.349 | 1:29.287 |
| 16 | 34 | Danny Kelsey | Suzuki GSX-R1000 | 1:17.116 | 1:29.332 |
| 17 | 78 | Reese Wacker | Suzuki GSX-R1000 | 1:23.281 | 1:29.246 |
| 18 | 14 | Nico Ferreira | Kawasaki ZX-10 | 20 Laps | 1:29.592 |
| 19 | 269 | Johnny Rock Page | Suzuki GSX-R1000 | 32.982 | 1:31.252 |
| 20 | 75 | Huntley Nash | Kawasaki ZX-10 | 18 Laps | 1:28.775 |
| 21 | 28 | Ryan Kerr | Suzuki GSX-R1000 | 7 Laps | 1:30.062 |
| 22 | 55 | Justin Neyra | Kawasaki ZX-10 | 4 Laps | 1:31.982 |
AMA Pro SuperBike Class Race 2 Results - Race Time: 30:06.114
| Pos. | # | Rider | Bike | Interval | Best Time |
| --- | --- | --- | --- | --- | --- |
| 1 | 1 | Josh Hayes | Yamaha R1 | 21 Laps | 1:25.348 |
| 2 | 54 | Roger Hayden | Suzuki GSX-R1000 | 0.221 | 1:25.281 |
| 3 | 2 | Josh Herrin | Yamaha R1 | 10.280 | 1:25.359 |
| 4 | 36 | Martin Cardenas | Suzuki GSX-R1000 | 15.018 | 1:25.311 |
| 5 | 72 | Larry Pegram | Yamaha R1 | 27.641 | 1:26.692 |
| 6 | 23 | Danny Eslick | Suzuki GSX-R1000 | 28.014 | 1:25.894 |
| 7 | 11 | Chris Fillmore | KTM RC8R | 41.082 | 1:27.061 |
| 8 | 99 | Geoff May | EBR 1190RS | 41.509 | 1:27.345 |
| 9 | 44 | Taylor Knapp | KTM RC8R | 41.874 | 1:27.293 |
| 10 | 25 | David Anthony | Suzuki GSX-R1000 | 42.482 | 1:27.383 |
| 11 | 20 | Aaron Yates | EBR 1190RS | 42.668 | 1:27.317 |
| 12 | 18 | Chris Ulrich | Honda CBR1000RR | 59.698 | 1:27.963 |
| 13 | 13 | Cory West | EBR 1190RS | 1:04.362 | 1:27.676 |
| 14 | 78 | Reese Wacker | Suzuki GSX-R1000 | 1:16.747 | 1:28.690 |
| 15 | 34 | Danny Kelsey | Suzuki GSX-R1000 | 1:26.181 | 1:28.940 |
| 16 | 75 | Huntley Nash | Kawasaki ZX-10 | 20 Laps | 1:29.131 |
| 17 | 269 | Johnny Rock Page | Suzuki GSX-R1000 | 37.279 | 1:31.071 |
| 18 | 55 | Justin Neyra | Kawasaki ZX-10 | 46.590 | 1:31.393 |
| 19 | 68 | Dustin Dominguez | EBR 1190RS | 17 Laps | 1:31.613 |
| 20 | 6 | Chris Clark | Suzuki GSX-R1000 | 11 Laps | 1:28.851 |
| 21 | 14 | Nico Ferreira | Kawasaki ZX-10 | 8 Laps | 1:29.834 |
| 23 | 28 | Ryan Kerr | Suzuki GSX-R1000 | DNS | -no times- |
Rider Point Standings - SuperBike Class ( Race 6 of 15 )


Martin Cardenas - 144

Josh Hayes - 134

Josh Herrin - 131

Roger Hayden - 107

Larry Pegram - 106

Danny Eslick - 94

Chris Fillmore - 79

David Anthony - 70

Geoff May - 60

Chris Clark - 55