Pope Blesses Thousands Of Motorcycles In Vatican City
Chaparral Motorsports
|
June 19, 2013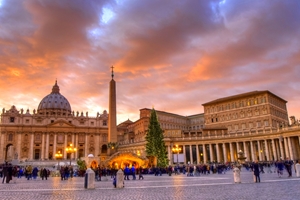 Motorcyclists from around the world got the experience of a lifetime when they rode through Vatican City June 17. Pope Francis blessed thousands of riders and their Harley-Davidson bikes as part of the manufacturer's 110th anniversary celebration.

"Our promise to our customers is to offer them once-in-a-lifetime experiences that few other brands can fulfill," said Mark-Hans Richer, the chief marketing officer at Harley-Davidson, after the event. "Having our customers treated to the blessing today fulfills that promise of epic adventures."

The pope hosted a special mass for the motorists, thanking them for participating in the event and blessing their rides during the event in Vatican City. He made his way through the crowd in St. Peter's Square in the back of an open-top jeep, The Huffington Post reports. However, if the pope ever wants to make the switch to motorcycles, he can use one of the two classic white Harley-Davidson bikes given to the Vatican police force from the American manufacturer.

The blessing was part of a four-day festival taking place in Rome. Live music and entertainment went hand-in-hand with cruiser gear giveaways and vendors, thrilling all of the participants who trekked to the event from across Europe.