Open Letter To Motorcyclists From Ride To Work Day
Chaparral Motorsports
|
June 14, 2013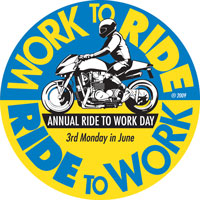 To: All Motorcycle and Scooter Riders - please forward

From: RideToWork.org

Subject: Annual Ride To Work Day is Monday!

This year's Ride to Work Day is Monday, June 17th. We hope you will ride to work and/or for your errands (or just for fun). And tell friends about riding. All rides on this day increase awareness about the societal benefits of riding. Your support and participation will help make a positive difference.

Ride and Promotion Ideas:



A group local breakfast or lunch gathering.

Arranging special parking at your workplace.

Offering people who've never been on a bike a ride.

Contacting a local newspaper, TV or Radio station news department.

Let work associates know you rode with these stickers, printed on adhesive paper... A sure way to create a buzz.

Ride to Work Day, a 501 c4 nonprofit organization, can be reached at:





PO Box 1072, Proctor, Minnesota, 55810 USA

218 722 9806




Ride to Work Day Mission Statement:
To advocate and support the use of motorcycles and scooters for transportation, and to provide information about transportation riding to the public.
Source: Ride To Work