Motorcycle Maniac: 2006 Honda RC51
Chaparral Motorsports
|
June 12, 2013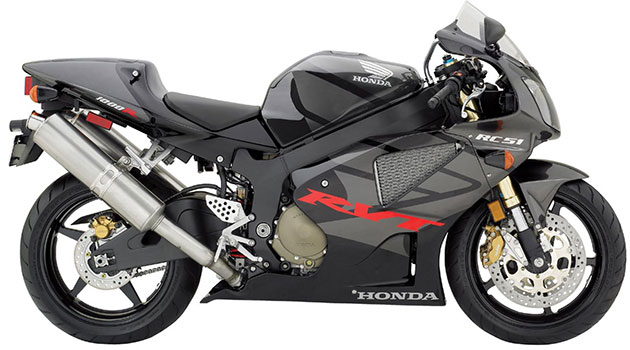 2006 Honda RC51: An Older Model And A Smart Investment
One of my favorite older bikes is the 2006 Honda RC51. I've ridden this machine several times throughout the past few years, and each time I'm reminded of what a solid bike it is. While I can't fault riders for being wary of older models, this Honda motorcycle has stood the test of time and should definitely be considered by those who want to invest in another bike.

Engine And Suspension
The 999cc, V-Twin, liquid-cooled engine was originally created for Superbike competition, so it offers more than enough oomph to satisfy your need for speed. You'll be able to hear the booming motor at work, too, as the muffler installed on the Honda bike is freer than some of its counterparts and lets the sound roar out.

Weighing in at 440 pounds, the Honda RC51 puts out 71 foot-pounds of torque and can reach 133 horsepower. The six-speed transmission allows you to expertly maneuver the bike through most situations, while the suspension type - inverted fork in the front and a twin-sided swing arm in the rear - can provide stability as you cross over any track.

Other Features
A 4.8-gallon gas tank holds enough fuel to get riders through a commute or an exciting day on the track. The chassis of the bike is excellent, in typical Honda fashion, and it's helped by a breaking system that features impressive stopping power. You'll be able to power through most situations without too much stress on you or the bike, and you can halt the machine on a dime while bypassing many side effects.

Final Thoughts - Ahead Of It's Time
Although some riders may be hesitant about hopping on an older model bike when there are more recent options available, it can actually provide a fun and affordable alternative to investing in a new model. The Honda RC51 was certainly ahead of its time in 2006, but you can easily upgrade it to 2013 standards by replacing a few motorcycle parts and updating the accessories. The bike even has a large underseat tool tray, so you can keep any gear you need to maintain the machine with you wherever you go.

When the Honda RC51 was first introduced, it was known as a bike that offered a great riding experience at a reasonable cost. That, combined with the opportunities for upgrading and its reputation for being a low-maintenance machine, makes this Honda motorcycle a smart choice for any rider.

2006 Honda RC51 Image Gallery
(Click for full size images)