2013 World Superbike Portimao Results
Chaparral Motorsports
|
June 11, 2013
Surprise Winners Take Over At Portimao
[caption id="attachment_26904" align="alignright" width="300"]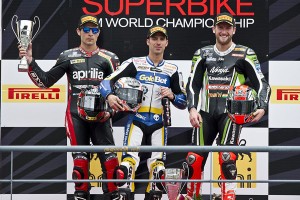 2013 World Superbike Portimao Race 1 Winner's Podium[/caption]

World Superbike took its competition to the Portimao circuit in Portugal, and there were a few surprises by the time all of the motorsports riders crossed the finish line.

In the first race, BMW's Marco Melandri narrowly edged out standings leader Sylvain Guintoli for the win. It took a nearly perfect finish for Melandri to beat out his competitor, and even then he only squeaked out the victory by a few thousandths of a second. Tom Sykes claimed third place after being outraced by Melandri and Guintoli in the final stretch.

While the first race went down to the wire, the second was over early. Aprilia's Eugene Laverty led from early on, gradually working up a gap large enough to keep him in first even when he encountered a motorcycle gear issue. He was followed by Guintoli and Jonathan Rea.

[caption id="attachment_26895" align="alignleft" width="300"]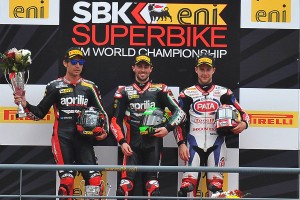 2013 World Superbike Portimao Race 2 Winner's Podium[/caption]

"The important thing is to always start off with sights set high and to strike back when hard luck strikes," Laverty said. "I was really trying hard for this win and I'm pleased to have been able to do it dominating from the first lap. I'm in the running for the championship even with a few too many races with no points, but we are growing race by race and I'm confident about the upcoming rounds."

The next round of the motorsports series will take place in Italy in three weeks.

World Superbike - Double For Aprilia At Portimao!
[caption id="attachment_26897" align="alignright" width="300"]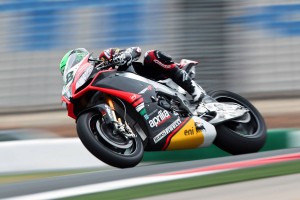 Eugene Laverty ran away from the first lap of Race 2.[/caption]



At Portimão Eugene Laverty Wins Race 2 Ahead Of Team Mate Sylvain Guintoli

Sylvain Guintoli Strengthens His Leadership In The Rider Championship Standings

Aprilia Dominates The Manufacturer Championship

An absolutely brilliant weekend for Aprilia as they take a fantastic double win on the Portuguese Portimão track: in Race 2 Eugene Laverty won ahead of his team mate Sylvain Guintoli, who strengthens his hold on the championship leadership, thanks in part to the second place he took in race 1. With this victory Laverty clinches third place in a world championship that is quickly becoming an Aprilia branded event. Only hard luck kept the spoils from being even richer. In fact, in Race 1 Laverty was held up by a technical problem while leading a race at a pace impossible for his rivals to match.

In a Race 1 full of surprises, Eugene Laverty took the lead in the sixth lap, widening the gap in front of the pack. Only a technical problem stopped his progress in the eleventh lap. The rest of the race was centred on Sylvain Guintoli's great comeback, skilfully looking after his tires during the first laps, keeping a consistent pace after the halfway point of the race until reaching the lead. A long battle with Melandri ended only under the chequered flag, with Sylvain overtaken by the rider from Ravenna by only 7 thousandths of a second.

[caption id="attachment_26896" align="alignleft" width="300"]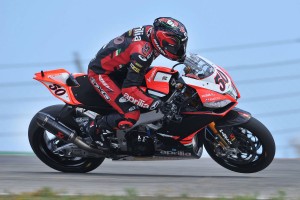 Sylvain Guintoli strengthened his lead in the rider championship standings.[/caption]

The script for Race 2 had Eugene Laverty running away from the first lap, highly motivated to redeem himself and supported well by his RSV4. His pace soon overcame Rea's tenaciousness, while Sykes, hindered by repeated technical problems which had begun during the warm-up lap, was forced to withdraw. Another clever race by Guintoli, careful and focused on race distance, so much that he overtook Melandri first and then Rea with surgical passes. The pair of official RSV4s crossed the finished line alone, with Laverty ahead of Guintoli.

After this weekend the rider standings have Guintoli widening the gap up front, with 28 points over Sykes and 39 ahead of team mate Laverty. Aprilia continues to dominate the Manufacturer standings with a 42 point advantage in front of BMW, 44 ahead of Kawasaki, 141 over Honda, 149 above Suzuki and 171 in front of Ducati.

Eugene Laverty:
"Race 1 seems to be cursed for us this year, especially on tracks like this one and Aragon where I had the right pace to take a double win. In any case I'm not one to complain. The important thing is to always start off with sights set high and to strike back when hard luck strikes. I was really trying hard for this win and I'm pleased to have been able to do it dominating from the first to last lap. I'm in the running for the Championship even with a few too many races with no points, but we are growing race by race and I'm confident about the upcoming rounds".
Sylvain Guintoli:
"In Race 1 I started off cautiously, trying to look after the tires. This strategy helped me fight down to the last thousandths. It was a shame to have victory slip through my fingers, but I'm pleased with the way I managed the race. I had a few indecisions at the beginning of Race 1 but I quickly found my pace to finish the race well. After overtaking Rea I pushed to widen the gap, even risking a bit in the last turn, but unfortunately everything went well and we are leaving Portimão with some important spoils for the Championship".
Source: Aprilia Racing

Marco Melandri Wins In Portimao
[caption id="attachment_26901" align="alignright" width="300"]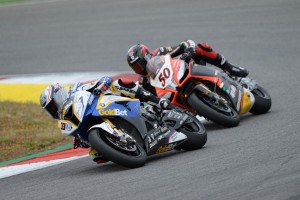 Marco Melandri celebrated victory in the first race at Portimão.[/caption]

BMW Motorrad added another circuit to the list of tracks it was victorious at in the FIM Superbike World Championship. The BMW Motorrad GoldBet SBK Team and factory rider, Marco Melandri, celebrated victory in the first race at Portimão. It was Marco´s second and the team´s fourth victory of the season. In race two, Marco struggled with rear tire wear issues and finished 12th. His team-mate Chaz Davies finished a difficult first race in sixth place. For race two, he and his crew improved the set-up of the BMW S 1000 RR which meant Chaz felt more comfortable and finished fifth. After six rounds of the 2013 season, Marco is fourth in the riders championship with 156 points, directly followed by Chaz who is fifth with 133 points. In the Manufacturers´ classification, BMW climbed back up to second place with 211 points.

Race one was an exciting thriller. After starting from fourth place on the grid, Marco improved to second soon after the start, right behind leader Tom Sykes. He dropped back to third place on lap three when Eugene Laverty overtook him. Halfway through the race, Laverty was forced to retire, and almost simultaneously, Marco took the lead from Sykes. Over the next few laps, Sykes was pushing from the back and the gap to Sylvain Guintoli in third declined. Entering lap 17, Sykes passed Marco with a close maneuver and the Italian BMW factory rider had to take evasive action and leave the track to avoid a collision. As a consequence, he dropped back to third but began to catch up straight away. On lap 19 of 22, Marco overtook Sykes and Guintoli to take the lead, however the Frenchman fought back successfully. Entering the final lap, Marco retook the lead. It was hard work for Marco to defend it, but in the end he crossed the finish line with an advantage of 0.007 seconds in front of Guintoli - the fourth closest finish ever in the history of the Superbike World Championship. Chaz, who started from 12th place, lost two positions at the start and had to fight battles in the middle field during the beginning stages of the race. Over the course of the race he gained positions as his race pace was close to the leaders, but he was too far back to fight for the podium and he finished in sixth place.

[caption id="attachment_26900" align="alignleft" width="300"]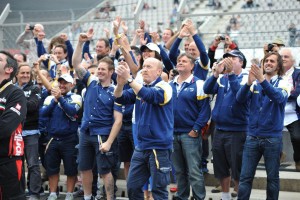 BMW Motorrad GoldBet SBK Team[/caption]

In race two, Marco experienced excessive wear on his rear tire from the very beginning. During the early laps he was able to hold third position, but from the eighth lap onwards he started to drop back. Without the correct level of grip, he was unable to fight back against his competitors and lost positions and after 22 tough laps he finished 12th. Meanwhile Chaz was feeling a lot better on his RR in comparison to race one. He made a good start and improved from 12th to eighth soon after the start of the race. He overtook Davide Giugliano on lap three to take seventh place and then fought a long battle with Giugliano and Carlos Checa. On lap 12, he improved to sixth place by passing the struggling Marco, and on the penultimate lap Chaz overtook Checa to secure fifth place before the chequered flag.

In the fourth race of the 2013 FIM Superstock 1000 Cup, Sylvain Barrier from the BMW Motorrad GoldBet STK Team celebrated his second win of the season and retook the lead in the Rider´s classification. After his heavy crash in yesterday´s qualifying session, the team worked all night to repair the BMW HP4 and their hard work was well rewarded. Today, Sylvain once more proved the potential of the new bike by dominating most of the race. His team-mate Greg Gildenhuys defied the pain caused by his fractured left heel and collected important points finishing 12th.

Marco Melandri:
"To win in race one was not easy because at the beginning I was struggling a lot with the traction but after ten laps this improved and it was easier for me so I got closer to the front again. When I was leading, it was very difficult, because it was very windy so it was hard to stay in front. When Tom passed me, he closed the line. Maybe he thought he was in front of me but he just pushed me out of the track. When I came back, I did not have any plan so I just pushed as much as I could. I tried to overtake Tom very quickly because Sylvain was very fast and tried to pull away. When I caught Guintoli I took the opportunity to pass him. The last lap is very difficult to explain, it was just very close and I pushed as much as I could. I am so happy and thank you to everyone at BMW. In race two, I could certainly have been on the podium but instead the rear tire began to vibrate from lap two onwards. From lap three I started losing grip and then the tire deteriorated. As a consequence the whole bike started to vibrate and it was difficult to ride. I did the best I could do in that situation. Now I am looking forward to Imola."
Chaz Davies:
"Race one was kind of frustrating. My start was not particularly good and for the first few laps I was in the wrong company and I lost a lot of time. It did not ruin my race but it did not allow me to finish in a position that we were capable of. In the middle of the race, my pace was not too far off the guys in front so it would have been nice to have gone away with them. In the closing stages, we had a drop of performance as we started to lack a little bit of grip, also in the front where we were using the harder front tire for stability purposes. For race two, we took a couple of gambles as honestly we did not have a lot to lose. We changed the front and the rear tire and also changed the suspension a little bit. And in fact race two was much better than the first. I was much happier with the bike even if I did not quite have the grip that I wanted, especially on the first two laps. But then I found some grip from lap three onwards. Again, we have learnt something a little bit too late which is frustrating but in general we showed a better performance in race two, even if it not was good enough. So I would say that I am `semi-happy´."
Andrea Buzzoni (General Manager BMW Motorrad WSBK):
"The day started very well with the victory in the Superstock class and it bettered itself thanks to the fantastic performance of Marco in race one, where he won by a fraction. In race two, due to a problem with the rear tire, Marco couldn't finish better than 12th place but still gained four points. We are quite disappointed with this result because Marco was able to be on the podium but the circumstances did not allow him to do his best. Chaz had a tough Saturday with the crash, which had some physical consequences. Nevertheless he had two great races: he was sixth in race one and fifth in race two, very good results given the position he started from. In the Superstock class, Sylvain took the lead in the riders´ ranking with today´s victory while Greg, despite his fractured foot, gave his best and gained his first points"
Andrea Dosoli (Technical Director BMW Motorrad GoldBet SBK Team):
"Today was a day of mixed emotions for us. For BMW it was nice to win two of three races. Firstly, the Superstock team was successful with Sylvain and then we won the first of the Superbike races with Marco. The job done by all the guys after Donington has paid off as we improved the bike and we were able to give Marco a more competitive package that he used in the best possible way. We must congratulate him for what he has done. It was a good decision to test after Donington. Even if we have seen during the races that we are still missing some stability and that we need to further improve for the future, overall I must say that at least with Marco the package was quite competitive. Chaz had to pay the price for his grid position. In race one, he lost time when he had to overtake other riders. In race two, he was more confident from the beginning and he was able to catch up the guys in front of him. Fifth place is a good result when starting from 12th on the grid. Also with him we have to work on the machine. We have to improve his feeling with the RR and to make sure that in Imola he will be able to show his potential. Race two for Marco we would prefer to forget. We experienced unexpected severe wear on the rear tire and now we have to analyse the hardware and the data in order to understand the reason of these not common issues."
Source: BMW Motorrad GoldBet SBK Team

Tom Sykes Up And Then Down As Loris Baz Scores Strongly
[caption id="attachment_26903" align="alignright" width="300"]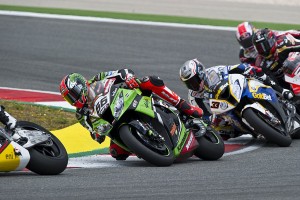 Tom Sykes scored third in race one at Portimao.[/caption]

Tom Sykes scored third in race one at Portimao but then failed to score in the second as his KRT team-mate Loris Baz put in two impressive results, taking his Ninja ZX-10R to a fifth and a fourth place.

In a bizarre raceday for Sykes and his team he hung on well inside the leading three in race one, and did so for the whole race, only losing out in the final two laps to finish third. When he realized he could not quite match the pace of Marco Melandri and Sylvain Guintoli he eased up right at the end to make sure of a good top-three finish.

His luck was to change in race two when he clipped a kerb on his sighting lap at turn one, fell heavily, and was lucky to be able to restart. Tom made it back to pitlane, his team made running repairs and he lined up for the real race start in pitlane itself. Tom then found an issue with a broken sensor for the electronics system, damaged in the crash, and came back into pitlane. After this was fixed he going again to try out his new settings.

Not classified in race two as he finished seven laps down, Sykes nonetheless scored the new lap record of 1'42.475 as his team had made improvements in the bike set-up between race one and race two before Tom's fall.

[caption id="attachment_26905" align="alignleft" width="300"]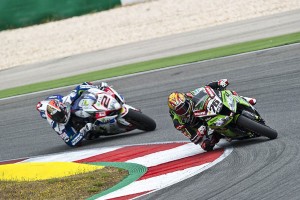 Loris Baz put in two impressive results, taking his Ninja ZX-10R to a fifth and a fourth place.[/caption]

For Baz both races were fruitful, as he was only 12 seconds from the winner's overall race time in race one, and an assured fifth, despite not having a perfect race set-up on his machine. In race two he went one better in fourth place - his second best finish of the year - as he also found a happier set-up in the second outing.

Despite his race two mishap Sykes is still second in the championship fight, although 28 points behind leader Sylvain Guintoli. Baz improved his championship prospects with his Portimao performances. He is now only 14 points behind fifth place after six rounds.

Federico Sandi (Kawasaki Team Pedercini) and his team-mate Alex Lundh each scored SBK points at this tough and technical circuit, with Sandi tenth in race one and then 13th in race two, while Alex Lundh was a retiree from the opener but 14th in race two.

Jeremy Guarnoni was third the Portimao Superstock 1000 FIM Cup race on his MRS Kawasaki Ninja ZX-10R, with Leandro Mercado (Team Pedercini) fourth. In the points Guarnoni is top Kawasaki rider, fourth, and only ten points behind the leader with four rounds of ten completed.

Tom Sykes:
"I expected the first race to be just as close as it was, and obviously the guys who finished first and second were riding really strongly, but I was struggling a little bit with race performance. But we made a good podium and scored good points. Portimao is not one of my strongest circuits and still we could fight for the win. In race two the fall was my fault because in turn one on my out lap I ran over the kerbstone on the inside. The piece of kerbstone looked quite flat but in the last moment I realised it was a big high kerb and it chucked me over the front of the bike. The bike flipped, landed on me and it was a big crash. It hurt my right leg and gave me a headache. We had made improvements on the bike for race two and we proved that was the case because we went on to break the lap record. I was just riding to the limits of the bike in each race. This is my worst circuit but in both races we raced to the limit of the package and it felt easier to do this record lap time in race two. I feel I have let a few people down but I do not want to be too hard on myself as it is the first mistake I have made for a long time."
Loris Baz:
"Race two was a good one and I made a good start like I did in race one. I tried to go with Sylvain Guintoli but I could not follow him. I pushed in the race but when I saw Sylvain going away I dropped the pace a little. Top five is always our target but I think we could have made an even better result than fifth in race one. I lost only one position early on in that race but I felt that the bike did not have the same feeling with the rear as we had in practice and when I passed Carlos Checa I could not push like I wanted. In race two Melandri had a problem and I caught him fast so that was a good race for me. Overall two positive races and we made up points to Chaz Davies in table. If you look where we started on Friday we made a big improvement on raceday."
Source: Kawasaki Racing Team

Jonathan Rea Maintains Remarkable Portimao Podium Run
[caption id="attachment_26907" align="alignright" width="300"]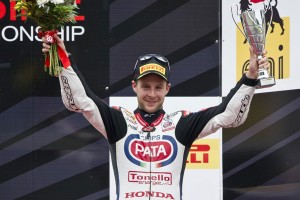 Jonathan Rea took his seventh career podium finish at Portimao.[/caption]

Pata Honda rider Jonathan Rea took his seventh career podium finish at Portimao in Portugal today by taking third place in race two of the sixth-round World Superbike championship event.

The first 22-lap race was won by Marco Melandri after 26-year-old Rea retired on lap nine with a technical problem. On the same lap, his Pata Honda team-mate, Leon Haslam, also retired - a result of the injury he sustained in a practice crash at Assen in The Netherlands at the end of April.

Starting from 14th place on the grid, Haslam had battled up to tenth before pulling into the pits in discomfort, unable to ride his Honda CBR1000RR in the way he wanted. The 30-year-old opted to withdraw from race two to concentrate on improving his fitness for the next round at Imola in Italy in three weeks.

[caption id="attachment_26908" align="alignleft" width="300"]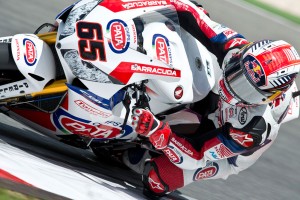 Jonathan Rea took third place, maintaining his record of at least one podium finish every year since 2009 - Photo: Graeme Brown[/caption]

Starting from the front row of the grid, Rea got a superb start to race two and, from second place, closely tracked eventual race winner, Eugene Laverty, until half race distance when his rear tire performance began to fall off.

Rea was passed by Sylvain Guintoli but held on to take third place, his seventh podium finish at the 4.592km Autodromo Internacional do Algarve, to maintain his record of at least one podium finish every year since his full World Superbike debut in 2009.

Jonathan Rea - DNF and 3rd
It's been a frustrating weekend, yet again, but we have a podium to take away from it and I'm quite happy to get back into the podium way. I set a really good pace in the first part of race two and the bike felt really good but, as soon as the grip dropped, the electronics were playing havoc. I can't turn the traction control up because I slow down even more and, if I turn it off, the bike becomes unrideable. We're just waiting for some more input, but it hasn't come yet, which is frustrating. Race one was also disappointing because we're just having too many mechanical problems this year. It was frustrating to go through that when I was fighting in the top five and two good circuits for us have now been and gone and we haven't been able to capitalise. Imola is another strong circuit for us, so hopefully we can be back up here again. I want to thank Chris [Pike - crew chief] and everyone who keeps digging deep and working hard, and all the fans for their support, which means a lot at the moment when we're finding it tough.
Leon Haslam - DNF and DNS
A tough weekend, really, when I've been struggling with power in the leg. The knee bend was pretty good, but I just struggled in race one with fatigue in the rest of my body. I couldn't use my leg properly, so the manhandling of the bike that's needed round here was done pretty much using my upper body. You don't realise how much you use your legs on the bike until you can't use one of them! It's a little frustrating, but I got eight or nine laps in before I was completely done, and I managed to pass a few people, like Leon Camier, who finished fourth. We've made progress from Donington and we have another three weeks until Imola. We've also been keeping up to speed on the electronics, which will be useful in the races to come. We haven't made many chassis changes because a lot of the problems are from me not being able to push through the pegs. I just need to get a bit more strength back in the leg.
Pieter Breddels - Technical Co-ordinator
Leon went out in race one and was immediately quite aggressive, getting up into the top ten. Eventually he dropped positions again and finally had to come in. He's not in a good condition yet and needs to recover some more but I'm quite sure that in Imola we can have another go at it. Jonathan was in fifth position when he had another mechanical problem and this is not good. I can only apologise again for the problem he had with the bike because this is not how things should be. Luckily in race two he was able to get a podium after fighting for the lead and then for second place. That gives us something positive to finish the weekend, but we still need to understand the problems we've had lately, and work on them. We can look forward to Imola but, for sure, we have work to do.
Source: Team Pata Honda

Leon Camier Gets FIXI Crescent Suzuki's Best Result
[caption id="attachment_26890" align="alignright" width="300"]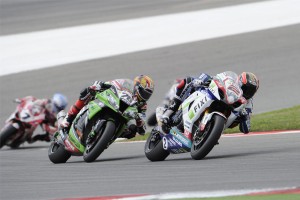 Leon Camier fought his way to fourth place during the first race.[/caption]

FIXI Crescent Suzuki's Leon Camier fought his way to fourth place during today's first race at the eni FIM Superbike World Championship event at Portimao in Portugal; his and the team's best result of the year so far.

Starting from 13th and on the fifth-row of the grid, Camier was down in 15th place at the end of the first circulation after an incident with another rider forced him off the track. He began his fight up the field and passed many riders as he moved into the top 10 on lap five with a double overtaking maneuver on the brakes at the end of the start/ finish straight. Camier continued his progression through the pack and after Jonathan Rea and race-leader Eugene Laverty were both forced to retire with bike problems, Camier moved up to fourth place by the end of lap 11. He held this position for the remainder of the race and recorded consistent times that saw him finish only just over nine-seconds behind eventual race winner Marco Melandri. Camier's result was his and FIXI Crescent Suzuki's best result of the season so far and shows the race potential of the Yoshimura-powered Suzuki GSX-R1000. Unfortunately for Camier, he didn't fare as well in race two when a simple mechanical issue on lap 12 caused the Englishman to retire from the race as he was making progress through the field and was closing on the fight for sixth place.

[caption id="attachment_26889" align="alignleft" width="300"]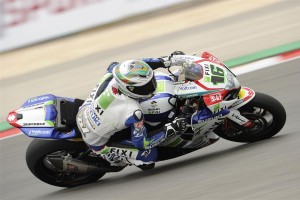 Jules Cluzel had two very impressive performances as he brought his Suzuki home comfortably inside the top-10 in both races.[/caption]

Jules Cluzel had two very impressive performances today as he brought his FIXI Crescent Suzuki home comfortably inside the top-10 in both races. Starting from the middle of the third row, Cluzel was ninth at the end of lap one in the first race and struggled to find a rhythm early on as he was relegated to 12th, but the Frenchman re-grouped and made his way back up to ninth on lap 11; a position he held until the 20th lap when he passed Carlos Checa to move into eighth and hold that place until the chequered flag. In race two Cluzel's team made some setting changes to help the rider and his performance and lap-times improved as he held a consistent pace throughout. He gave chase to race-one winner Melandri and passed the Italian on lap 14 to move up to seventh, after which the FIXI Crescent Suzuki man was under pressure from Davide Giugliano, but Cluzel managed to put some space between him and the Aprilia and brought his machine home in a creditable and impressive seventh.

Both of today's races were held in cloudy conditions with track temperatures reaching a high of 27°C during the first race. Melandri took victory in race one by one of the smallest margins in Superbike history as he led Championship leader Sylvain Guintoli over the line by just 0.007 seconds. Race two saw Laverty make amends for his race one retirement by racing to the win ahead of his team-mate Guintoli.

FIXI Crescent Suzuki will now head back to the UK before it prepares to travel to the next round of the series, which is scheduled for Imola in Italy on Sunday June 30th.

Leon Camier:
"I got an ok start in the first race and made a bit of progress, but as I went past Haslam on the inside - and was well past him! - he let the brake off in the turn and punted into me. I lost some time and dropped back some places and had the job of trying to catch-up and get through the field, so from 15th to fourth is a pretty-good result. The bike felt good, I felt like I could pass really well; and the speed of the FIXI Crescent Suzuki has definitely improved. This showed on the straight because I could exit on the last turn and keep the momentum going so I could pass at the end of the straight, which I haven't been able to do before, so I was really happy about that. At the start of the second race I had a problem with the electronics and the bike didn't pull away as it should. I made a few places up, but didn't feel quite as strong as I did in the first race, but I kept pushing and I was getting in a good rhythm when a problem with the bike didn't allow me to continue. I was hoping that I could have made up some more places, because I could see the group in front coming back to me, so I think that fourth or fifth was achievable, but we will never know now!"
Jules Cluzel:
"I'm pleased to have finished both races inside the top-10. The first one was really hard and in the early part of the race I had very little feeling from the rear tire and I nearly high-sided a few times in the first two laps. After this I tried to come back step-by-step and at the end my pace was not so bad and I finished eighth. In the second race we tried to improve the setting and I think we found something because the first 10-laps - when I was behind Leon - I was able to follow him and my pace was better than the first race. I think I was faster in every lap and that was a good step forward. I would still like more grip on the rear and I need to do more laps on a used tire to learn more about how it works at the end of the race. It's been a good weekend and we have made some steps; now we will go to Italy and carry on working there to go further forward."
Paul Denning - Team Manager:
"We've made some positive steps forward this weekend and Leon's performance in the first race; coming from 15th at the end of the first lap to fourth at the end - and not losing any time at all to the leaders over the last 12 laps of the race - is a very encouraging sign for the future. A very simple gear-linkage failure in race two was disappointing for everybody involved and robbed us of what looked like a top-six place.

"Portimao has been a challenging circuit for Jules in his first ride on the GSX-R here, but he rode two solid races, particularly in the second race when we tried a setting which will hopefully give us a more solid base to work from for the next rounds.

"The bike and Leon were strong last year in Imola and we will be going there with high hopes to turn the improved potential from this weekend into better race results."
Source: Team Suzuki

A Positive Result For Team SBK Ducati Alstare And Carlos Checa In Race 2 At Portimao
[caption id="attachment_26892" align="alignright" width="300"]
Carlos Checa closed race two in sixth position.[/caption]

The sixth round of the 2013 World Superbike championship brought a solid result for Team SBK Ducati Alstare and rider Carlos Checa today at the Portimao circuit, with the Spanish rider closing race two in sixth position.

Race 1
Race one began under cloudy skies (air 18°C, track 27°C). Carlos, starting from seventh on the grid, immediately gained a position to place himself in the chasing group together with Baz and Camier. He was able to maintain a strong pace during the initial stages, lapping with similar times to the leaders. At the mid-race point Checa was lying seventh, a position that he held until three laps from the end when a drop in the level of grip caused him to lose a couple of positions. The Spaniard thus crossed the line in ninth position. Ayrton Badovini, tenth on the grid, unfortunately lost a few positions in the first laps but then climbed back up to tenth position towards mid-race. Having maintained this position for the entire second half of the race, the Italian rider was unfortunately forced to retire during the penultimate lap due to a technical problem regarding the fuel line.

Race 2
Conditions were similar for the second race. Carlos made another strong start, positioning himself sixth through the first turns. Lapping with a much faster pace than in race one, the Ducati Alstare rider was able to hold fifth position from mid-race right up until the penultimate lap when Davies, at an advantage as far as top speed is concerned, was able to sneak past along the straightway. Carlos crossed the line in final sixth position, a demonstration of improvement both in terms of his physical condition and regarding the chassis. Ayrton also got away well, fighting with Cluzel through the first laps and lying tenth by mid-race. In the final stages he was able to make up another two places to close the race in eighth position.

Carlos Checa:
"In race 1 I was able to keep pace with those ahead of me for the first six or seven laps. From mid-race on I started to gradually lose some grip and that, combined with a tired left shoulder in the final stages, unfortunately prevented me from maintaining seventh position to the line. We made small changes before race 2 and as a result the bike was much easier to ride, especially when it came to changing direction. It was the first time I was able to maintain a good pace for the entire race and I'm very happy with the result. I want to thank my entire team that has worked so hard every weekend up until now, I appreciate all that they are doing - this sixth position motivates us to continue to improve in the next races."
Ayrton Badovini:
"The DNF in race one was pretty frustrating of course. In race 2 we used the bike in a different configuration but I had more trouble with rear grip. Now we need to start working in preparation for Imola where I hope to be able to score better results. My compliments go to Carlos who completed a very strong second race today."
Francis Batta, Team Manager:
"Today was a positive day; the result in race 2 shows us that Carlos' physical condition has improved thanks to the physiotherapy treatment he has been receiving both in Barcelona and at the Clinica Mobile. The bike is also responding well to recent developments and we'll continue to work tirelessly towards the podium."
Source: Ducati Alstare

Portimao Overview And Point Standings
2013 World Superbike Portimao Image Gallery (Click for full size images)


World Superbike Results - Race 1


















































































































































| Pos. | Rider | Team | Bike | Time |
| --- | --- | --- | --- | --- |
| 1 | Marco Melandri | BMW Motorrad GoldBet SBK | BMW S 1000 RR | 38'12.447 |
| 2 | Sylvain Guintoli | Aprilia Racing Team | Aprilia RSV4 Factory | 38'12.454 |
| 3 | Tom Sykes | Kawasaki Racing Team | Kawasaki ZX-10R | 38'16.671 |
| 4 | Leon Camier | Fixi Crescent Suzuki | Suzuki GSX-R1000 | 38'21.926 |
| 5 | Loris Baz | Kawasaki Racing Team | Kawasaki ZX-10R | 38'24.504 |
| 6 | Chaz Davies | BMW Motorrad GoldBet SBK | BMW S 1000 RR | 38'29.057 |
| 7 | Michel Fabrizio | Red Devils Roma | Aprilia RSV4 Factory | 38'33.797 |
| 8 | Jules Cluzel | Fixi Crescent Suzuki | Suzuki GSX-R1000 | 38'34.784 |
| 9 | Carlos Checa | Team Ducati Alstare | Ducati 1199 Panigale R | 38'36.109 |
| 10 | Federico Sandi | Team Pedercini | Kawasaki ZX-10R | 39'39.442 |
| 11 | Vittorio Iannuzzo | Grillini Dentalmatic SBK | BMW S 1000 RR | 39'39.566 |
| 12 | Ivan Clementi | HTM Racing | BMW S 1000 RR | 39'41.543 |
| 13 | Max Neukirchner | MR-Racing | Ducati 1199 Panigale R | 38'36.153 |
| RT | Ayrton Badovini | Team Ducati Alstare | Ducati 1199 Panigale R | 33'35.596 |
| RT | Eugene Laverty | Aprilia Racing Team | Aprilia RSV4 Factory | 19'02.014 |
| RT | Leon Haslam | Pata Honda World Superbike | Honda CBR1000RR | 16'03.234 |
| RT | Jonathan Rea | Pata Honda World Superbike | Honda CBR1000RR | 13'51.476 |
| RT | Alexander Lundh | Team Pedercini | Kawasaki ZX-10R | 10'48.699 |
| RT | Davide Giugliano | Althea Racing | Aprilia RSV4 Factory | 8'43.052 |
World Superbike Results - Race 2
| Pos. | Rider | Team | Bike | Time |
| --- | --- | --- | --- | --- |
| 1 | Eugene Laverty | Aprilia Racing Team | Aprilia RSV4 Factory | 38'02.051 |
| 2 | Sylvain Guintoli | Aprilia Racing Team | Aprilia RSV4 Factory | 38'06.158 |
| 3 | Jonathan Rea | Pata Honda World Superbike | Honda CBR1000RR | 38'07.904 |
| 4 | Loris Baz | Kawasaki Racing Team | Kawasaki ZX-10R | 38'17.357 |
| 5 | Chaz Davies | BMW Motorrad GoldBet SBK | BMW S 1000 RR | 38'19.603 |
| 6 | Carlos Checa | Team Ducati Alstare | Ducati 1199 Panigale R | 38'20.417 |
| 7 | Jules Cluzel | Fixi Crescent Suzuki | Suzuki GSX-R1000 | 38'31.443 |
| 8 | Ayrton Badovini | Team Ducati Alstare | Ducati 1199 Panigale R | 38'40.410 |
| 9 | Davide Giugliano | Althea Racing | Aprilia RSV4 Factory | 38'41.372 |
| 10 | Michel Fabrizio | Red Devils Roma | Aprilia RSV4 Factory | 38'46.654 |
| 11 | Max Neukirchner | MR-Racing | Ducati 1199 Panigale R | 38'47.390 |
| 12 | Marco Melandri | BMW Motorrad GoldBet SBK | BMW S 1000 RR | 38'47.480 |
| 13 | Federico Sandi | Team Pedercini | Kawasaki ZX-10R | 39'18.361 |
| 14 | Alexander Lundh | Team Pedercini | Kawasaki ZX-10R | 39'18.426 |
| 15 | Vittorio Iannuzzo | Grillini Dentalmatic SBK | BMW S 1000 RR | 39'20.354 |
| 16 | Ivan Clementi | HTM Racing | BMW S 1000 RR | 39'26.310 |
| NC | Tom Sykes | Kawasaki Racing Team | Kawasaki ZX-10R | 38'22.688 |
| RT | Leon Camier | Fixi Crescent Suzuki | Suzuki GSX-R1000 | 19'11.662 |
World Superbike Rider Point Standings ( Race 12 of 30 )


Sylvain Guintoli - 213

Tom Sykes - 185

Eugene Laverty - 174

Marco Melandri - 156

Chaz Davies - 133

Loris Baz - 119

Jonathan Rea - 105

Michel Fabrizio - 101

Davide Giugliano - 79

Jules Cluzel - 72

World Superbike Manufacturer Point Standings ( Race 12 of 30 )


Aprilia - 253

BMW - 211

Kawasaki - 209

Honda - 112

Suzuki - 104

Ducati - 82