2013 AMA Motocross High Point Results
Chaparral Motorsports
|
June 10, 2013
Ryan Villopoto Gets Back To His Winning Ways
[caption id="attachment_26828" align="alignright" width="300"]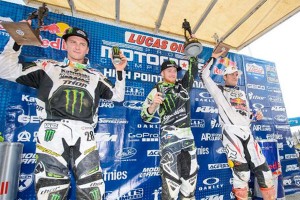 2013 AMA Motocross High Point Winner's Podium - Photo: Simon Cudby[/caption]

Ryan Villopoto rebounded from an off-week by sweeping the motocross races at the High Point Raceway in Mt. Morris, PA. The Kawasaki rider, who has won seven of the eight races in the motorsports series so far, claimed victory in each of the two events to bounce back from a rare third-place finish last week.

Villopoto was challenged by rival Ryan Dungey throughout the race. Dungey started in the middle of the pack before eventually passing competitors in an effort to chase down the leader, but Villopoto managed to hold him off in the final laps.

The second moto was much of the same, as Villopoto quickly worked his way up to the front and maintained a stranglehold on the lead throughout the race. Dungey once again finished second, and Mike Alessi came in third.

"I'm really looking forward to the Budds Creek track next round," said Villopoto, as quoted by Ultimate Motorcycling. "We have some time to regroup next week with the weekend off, we have some little things to fine tune and we'll keep plugging away this season."

[caption id="attachment_26844" align="alignleft" width="300"]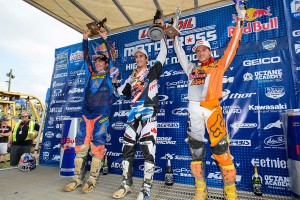 2013 AMA Motocross High Point 250MX Winner's Podium - Photo: Simon Cudby[/caption]

With the victories, Villopoto took the overall win on the day and is now 16 points ahead of Dungey, who finished second overall at High Point, in the standings.

Ken Roczen and his KTM teammate Marvin Musquin traded first place finishes to take the top two overall spots on the 250MX podium. Musquin claimed his first career 250 Class moto win along with his second consecutive overall this season. Eli Tomac took third overall, having finished 3rd and 4th. Zach Osborne went struggled in the first moto, but his 3rd place finish in the second was enough to secure fourth overall, while reigning champion Blake Baggett rounded out the top five overall.

After several weeks off, the Women's Motocross Triple Crown returned to an exciting race at High Point. With a commanding win in both motos, Six-time WMX Champion Jessica Patterson secured her first overall win of the season. Japanese rider Sayaka Kaneshiro took a pair of second place finishes for second overall while retaining the series points lead. Rookie Taylor Higgins rounded out the overall podium and is tied with Patterson for second in the rider standings. The next, and final, round for the Women's Class will be at the Moto-X 338 National in Southwick, Massachusetts on Saturday, June 29.

Ryan Villopoto And Tyla Rattray Join Each Other On The Podium At High Point
[caption id="attachment_26825" align="alignright" width="300"]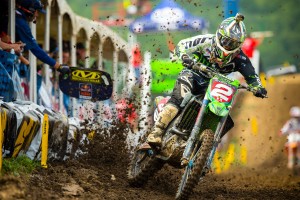 Ryan Villopoto rebounded from an off-week by sweeping the motocross races at the High Point Raceway.[/caption]

Round 4 of the Lucas Oil Pro Motocross Championship brought Monster Energy Kawasaki to the 37th High Point National in Mt. Morris, Penn. Monster Energy Kawasaki's Ryan Villopoto acted fast to take the lead in the first moto and led every lap on his way to his third moto sweep of the season. Monster Energy/Pro Circuit/Kawasaki's Tyla Rattray scored his first professional 450 class podium after a consistent 4-4 moto result, while Jake Weimer finished ninth overall. In the 250 class, Blake Baggett kept himself in the title hunt by finishing fifth, while his teammates Martin Davalos, Justin Hill, and local native Darryn Durham finished 12th through 14th, respectively.

Bouncing Back
Villopoto returned to his winning ways at High Point by running away from the field in both motos. The 2011 champion has won seven of eight motos this season, all of which by large margins. His third overall win extends his points lead to 16 over the stacked field in the 450 class. Villopoto ran away with the first moto to win by nearly 17 seconds, while in the second moto he had to earn it. He jumped into third place early and battled with past champions Ryan Dungey and James Stewart, ultimately taking control of the race by the halfway point but not without some aggression.

"I wouldn't consider it dirty, but it was closer than I anticipated," said Villopoto when asked about his pass on defending champion Dungey. "I was jumping the uphill triple and grabbing the inside and banking off the end of the rut, while he was coming across the rut. It was close, but that's racing and you have to act fast racing these guys or else they can get away."

[caption id="attachment_26845" align="alignleft" width="300"]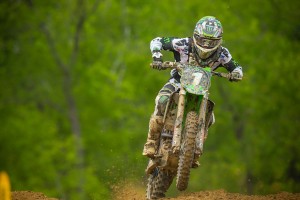 Blake Baggett's lap time on his KX250F was one of the fastest segment times of anyone.[/caption]

On the Pole
Following two days of rain leading up to Saturday in Mt. Morris, the track was soft and sloppy when qualifying practice began. Lap times gradually improved as the track took form and lines developed. Both Villopoto and Baggett were able to put their Kawasaki's on the pole to earn the Oakley Bomb award as fastest qualifier, edging out the competition by nearly a second and a half and half a second respectively. Baggett's lap time on his KX250F was so impressive he had one of the fastest segment times of anyone amongst the 250 and 450 class.

"It took a little while to figure the track out," said Baggett. "I was constantly looking for the dry lines and trying to avoid the mud. The clay base is really hard and all the good dirt on top was just getting pushed off. There were multiple lines, but only one really fast one."

Momentum
After consistent top-10 finishes at the first three rounds, Rattray had a breakout ride at High Point. The former World Champion felt comfortable on the European designed track and grabbed two great starts on his KX450F to get him up front early. Rattray has been progressively improving his Kawasaki and after achieving his first professional 450 class podium, has found a suspension setting that suits him.

"You can't just jump up to the 450 and expect it to be easy," said Rattray on his transition from the 250 class. "The larger 450 machines are a lot to handle and it takes time and testing to find a setting that allows you to use that much power. These big bikes will beat you up if you're not comfortable."

[caption id="attachment_26826" align="alignright" width="300"]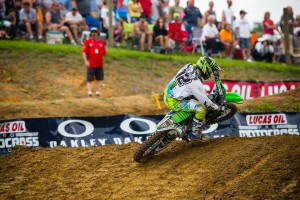 Jake Weimer had his best performance of the season thus far at High Point finishing 8-9 for ninth overall.[/caption]

Road Trip
Weimer had his best performance of the season thus far at High Point finishing 8-9 for ninth overall. Like Rattray, Monster Energy Kawasaki has been working, testing, and continually improving the KX450F for Weimer and Villopoto, allowing them to improve each week. With next weekend off, Weimer is packing up for a road trip to ride some new tracks around Florida and Georgia to stay fresh on various types of tracks and break up his regular routine.

"This weekend was another step in the right direction," said Weimer. "I'm battling with guys who have already seen the podium this year and I know I can be up there as well. It's a never ending progression."

Homework

[caption id="attachment_26847" align="alignleft" width="300"]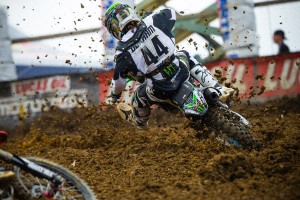 Darryn Durham was in position for his best finish of the season until a crash ended his second moto.[/caption]

The competition in the 250 class is as deep as the 450 class, if not deeper. Battles can be found on every section of the track from the front-runners all the way through the top-20. Local Pennsylvania native Durham had a strong showing in the first moto and was in position for his best finish of the season until a crash punctured his radiator ultimately ending his second moto. Healed from his Hangtown crash, Durham is excited about the week off, as he will finally be able to get back to riding during the week. Also excited for the break is Davalos, who will be spending the week at home in Cairo, Ga., and hopes to return with improved speed and confidence.

"Racing at High Point is always exciting," said hometown hero Durham. "Having my family and friends here for support is a nice welcoming, but I'm bummed I had the crash in the second moto. I'm going to get back to work over the next two weeks and will be back to 100-percent health come Budds Creek."

Rest Week
With one third of the season complete, the Lucas Oil Pro Motocross Championship takes a week off. Racing will resume with Round 5 at Budds Creek Raceway in Maryland on June 22, 2013.

Source: Kawasaki Racing

Ryan Dungey Finishes 2nd Overall At High Point
[caption id="attachment_26829" align="alignright" width="200"]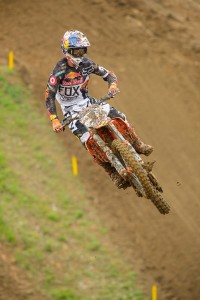 Ryan Dungey's 2-2 finishes helped him maintain his 2nd place position in the point standings - Photo: Simon Cudby[/caption]

Red Bull KTM Factory rider Ryan Dungey finished 2nd overall in the 450 Motocross class after earning 2-2 moto finishes at the fourth round of the Lucas Oil Pro Motocross Championship Series held at High Point Raceway.

Dungey started the first moto in 6th position. In one lap, he was able to move around two riders climbing up to 4th position. A lap later he passed into 3rd and began to close the gap on the 2nd place ride of Justin Barcia. A few laps later, Dungey had caught Barcia and made the pass to move into the runner-up position. He continued to click off fast times and was able to secure 2nd place when the checkers came out.

Dungey nearly earned the holeshot in the second moto running neck and neck with Ryan Villopoto and Josh Grant as they entered the first corner. He ended up coming out in 3rd place as they made their way to the first jump. After lead changes in the first lap, Dungey found himself trailing James Stewart and Grant as they began the second lap. Dungey was able to pass Grant on the third lap and began to pressure Stewart for the lead. It soon became a three rider battle for the lead position as Villopoto came into the mix. The three riders raced side by side for the next two laps before Stewart pulled off with a bike problem allowing Villopoto to take the lead while Dungey moved to 2nd. Once again, Dungey held his position and put together a solid moto to finish 2nd overall. His 2-2 finishes earned him 2nd overall for the day and helped him maintain his 2nd place position in the point standings.

"I let Villopoto get away from me a little bit at the end of the moto. I am really focusing on trying to close that gap and battle for race wins. My bike ran really good today, I just have some more work to do. I am happy with our progress and am looking forward to being able to battle for that lead position at the next race," stated Dungey.

Next Event: Mechanicsville, MD - June 22, 2013

Source: KTM North America

Rockstar Energy Racing Highpoint Motocross National Race Report
[caption id="attachment_26842" align="alignright" width="300"]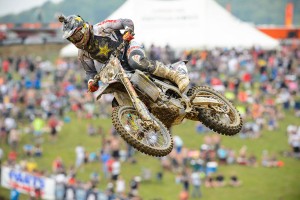 Ryan Sipes had two consecutive rounds he just wanted to put behind him - Photo: Simon Cudby[/caption]

Rockstar Energy Racing had to deal with inclement weather for the first time during this outdoor season. Historic Highpoint Raceway experienced sever thunderstorms the day prior to the National. The crew did an excellent job sealing the track overnight so the water would run off the racing surface and not soak in. There was no doubt that practice was very muddy but it really came around by the time racing ensued. The reward for the excess precipitation however made for some great racing. As they tilled the corners throughout the day it created a plethora of ruts allowing numerous possibilities for passes in front of the enthusiastic viewers. You can always bank on fans being all in with their cheering at this race!

After starting out the season riding incredibly at Hangtown, Ryan Sipes had two consecutive rounds he just wanted to put behind him. He rode amazing on Saturday at Mt. Morris. In the first moto he was running 5th and making up ground on Tyla Rattray for 4th. He had an unfortunate fall in a corner that dropped him a few positions. He got up in front of Trey Canard and motored on. Trey paced him for the entire rest of the moto and made up no ground. In the second moto his start was not as good as the first, but he rode equally as well. He moved forward all the way to 6th, this time with Justin Barcia in tow.

In similar fashion to moto 1, Barcia was unable to catch Ryan. Both of those opponents have finished near the front all season, including multiple finishes in the top 3. While Sipes' current goal is still to finish in the top 5, he now knows if everything fall into place, he could find himself with his first ever 450 class podium. One noteworthy point as Ryan continues to improve, is his focus. While in the beginning of the season he had a sort of mental fatigue showing up for a brief few minutes mid moto, it was evident in Pennsylvania that he had remedied that issue.

Ryan Sipes:
"I felt like it was a solid weekend. I'm proud of my finishes. I felt like I got decent starts, at least close to the top ten and just worked my way up. I would have liked to have gotten 5th in the first moto but I had a little tip over. I'm happy to rebound and get a decent finish because I had a bad two weeks In Colorado and Tennessee."
[caption id="attachment_26839" align="alignleft" width="300"]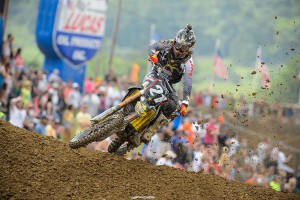 Jason Anderson's 7th overall for the day did not show on paper just how good he rode - Photo: Simon Cudby[/caption]

Jason Anderson's day did not show on paper just how good he rode. In the first moto he looked as if he was progressing towards his best finish of the year. He made a pass into 5th and was clearly making up ground on the top three in the process. Moments after making the move, he was hit hard by Zach Osborne in a very precarious location and was sent sprawling to the ground. He lost a lot of positions, but one thing about the Jason Anderson of 2013, he never, ever gives up. He rode great to finish in 12th position, although his performance should have rewarded him with a much higher result.

The second moto was quite simply a war. It was an engagement with himself and five other riders. They all swapped positions several times. Jason could have finished anywhere from 3rd to 8th. By race's end, the cards held a 7th for Anderson. One thing was for certain though, he was battling with championship contenders the whole way and he beat Blake Baggett straight up. The speed is there without a doubt.

Jason Anderson:
"Highpoint was alright. I had a kind of crappy first moto and second moto I ended up 7th. I was battling up near the front basically the whole time. I just gotta figure things out, head into the break, enjoy it a little and go to Budds Creek and see how it goes."
[caption id="attachment_26843" align="alignright" width="300"]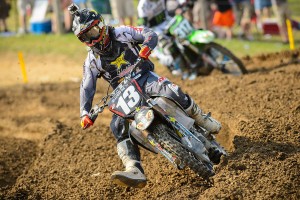 Blake Wharton is looking towards the break where he can spend the time working on the things he needs to improve - Photo: Simon Cudby[/caption]

Blake Wharton just simply had an off day. It started out great in the first practice with a qualifying time on par with the rest of the top guys. Things started to go awry as early as the second practice. Blake's fast time in the second go around was not as good as the first, even though the track had improved. He struggled in the first moto but still made a vast improvement in moto 2.

The upcoming break will be very good for Blake. He can spend the time, not resting, but working on the things he needs to improve and return to the consistency he has experienced in prior races. Every rider has a day here and there where things just don't go according to plan.

Blake Wharton:
"I don't really have a lot to say after this race. I think the track really came around the last moto. I think it was as good as a track has been this year. It was gnarly. Pretty good considering it got a lot of rain. It usually dries up pretty quick though cause it's on a hillside. I didn't have a great weekend to say the least. I struggled a little bit with my starts but I was close. I just couldn't get around that turn one or two spots better. It was like you just missed a good start because of those spots. I just rode average really. This next weekend is off then we're heading into Budds Creek. Just gonna keep riding and trying to improve."
[caption id="attachment_26840" align="alignleft" width="300"]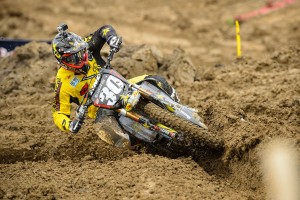 Nico Izzi was very fast as the day began, until disaster struck in the closing laps of practice - Photo: Simon Cudby[/caption]

Nico Izzi was very fast as the day began. In the first qualifying session he finished with a stellar 3rd fastest lap time. The second practice was more of the same until disaster struck in the closing laps. Nico was putting in what he thought was his best time and was railing one of the many fast ruts on the PA course. He caught his toe on a neighboring rut and twisted his recently injured knee. He will see the doctor on Monday and is trying to stay positive. Izzi and the team hope the prognosis will be positive and he will only be out a couple weeks. He has worked extremely hard to get back on the bike and was just returning to form.

The team will spend the weekend off testing and finding ways to improve the entire program as they always do, before heading to Budds Creek in Maryland in two weeks. Sipes will be able to hold his head high and know that his future holds some very positive finishes. Anderson will do the same and come back swinging for better results. Wharton will look to learn from the past weekend and build towards a more successful race day. Izzi will hope for a good doctor visit and be back on the track as soon as possible.

Source: Rockstar Energy Racing

James Stewart Positive Despite High Point MX Low
[caption id="attachment_26859" align="alignright" width="300"]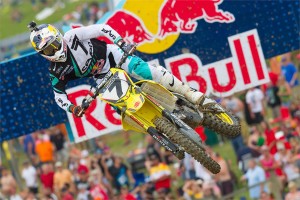 Although James Stewart was in spectacular form, some unfortunate events forced him to retire early from both races.[/caption]

Yoshimura Suzuki Factory Racing's James Stewart suffered more than his fair share of bad luck at round four of the 2013 AMA Pro Motocross Championships at High Point Raceway in Mt. Morris on Saturday afternoon.

Although Stewart was in spectacular form on his Yoshimura Suzuki RM-Z450 and led the first several laps of the second moto, some unfortunate events forced him to retire early from both races.

In the first moto, the Yoshimura Suzuki rider overcame a bad start and fought his way into the top 10. Unfortunately, a small tip-over after the first couple of laps sent him back a few positions and in the process he lost all of his tear-offs. Then, after working his way back into the top 10, he had to remove his mud-covered goggles near the end of the moto. On the final lap, he took a rock to the eye and was unable to finish the race. In the second moto, Stewart took the lead within the first few turns and was laying down blisteringly-hot laps when he came over a jump and discovered his front rotor was broken and was forced to, once again, retire from the race prematurely.

Said Stewart: "In the second moto, I got a pretty good jump and passed a bunch of people. I went to the lead but then I came up on the finish-line jump and I don't know if I clipped something, but I went in the air and my front tyre started sticking. I looked down and the rotor was broken. This weekend... it's just been one thing after the other. In the first moto on the last lap, I got hit in the eye with a rock and it knocked me dizzy and I didn't finish. It was just a bummer. But I've got to give it up to the Yoshimura Suzuki team; I feel like this was the first time we actually raced all year. I was able to make my way around those guys, and even though I made a few mistakes, I felt like I had a lot more in me. Now we'll use some of this momentum and come back strong for Budds Creek."

Yoshimura Suzuki Factory Racing's next race is round five of the 2013 AMA Pro Motocross Championships on Saturday, June 22nd at the Budds Creek National in Mechanicsville.



Source: Team Suzuki

Marvin Musquin And Ken Roczen Top Podium At High Point Raceway
[caption id="attachment_26831" align="alignright" width="300"]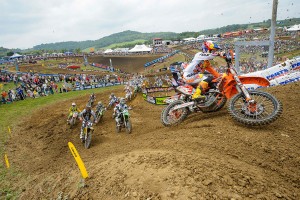 Ken Roczen rode a great race leading every lap to take the moto win - Photo: Simon Cudby[/caption]

Red Bull KTM Factory Team riders Marvin Musquin and Ken Roczen topped the podium in the 250 Motocross class splitting moto wins at the fourth round of the Lucas Oil Pro Motocross Championship Series held at High Point Raceway.

It was Roczen who leaped out to the early lead at the start of the first moto. Roczen rode a great race leading every lap to take the moto win. His teammate, Musquin, came from a 6th place start to finish 2nd in the moto right behind his teammate.

The two Red Bull KTM teammates would find themselves in a battle for the lead once more as they lined up for the second moto. It was Musquin who nailed the holeshot while Roczen made the best of a bad jump off the line to come around in 5th place. Roczen quickly set to work to try and reel in his teammate. Roczen passed approximately one rider a lap until he had finally moved into 2nd place. He pressured his teammate for the entire race while Musquin remained strong against his charge to continue to lead. At the end of the moto it was Musquin who held on leading every lap to take his first career moto win and his second overall of the season. Roczen held on for 2nd place for 2nd overall on the day.

"It feels really good to get my first moto win," remarked Musquin. "I have had won overall events but never a moto win until today. It was also great to battle with my teammate and have both of us represent our team on the top of the podium. I hope we can continue to battle for this championship throughout the season."

Next Event: Mechanicsville, MD - June 22, 2013

Source: KTM North America

Joey Savatgy Earns Career Best Moto Finish At High Point Raceway
[caption id="attachment_26838" align="alignright" width="300"]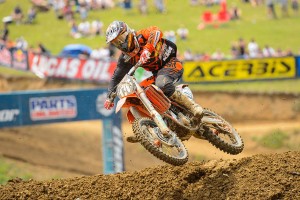 Joey Savatgy had his career best moto finish when he crossed the line in 5th place - Photo: Simon Cudby[/caption]

FMF/Orange Brigade/KTM rider Joey Savatgy had his career best moto finish when he crossed the line in 5th overall for the second moto at the fourth round of the Lucas Oil Pro Motocross Championship Series.

Savatgy struggled from a poor start in the first moto and came around the first lap in mid-pack. Shortly into the moto he encountered a front brake issue which cost him a few positions. Despite the mechanical issue he was still able to charge forward to 13th position by the moto end.

His luck would turn around in the second moto where he jumped out to a great start. He was sitting in 4th position as the riders came around the first corner. He continued to battle inside the top five for the first half of the race just seconds behind the lead riders. Savatgy never sat worse than fifth position and even moved up to battle Zach Osborne for 3rd place around the halfway mark of the race. Unfortunately, Savatgy suffered a small crash and lost a few seconds to Osborne. In the final laps of the race, he dropped one position to Eli Tomac which placed him 5th. He continued to push forward and held off a hard charge from Jeremy Martin in the final laps of the race to cross the line in 5th for his best career moto finish.

Savatgy's 13-5 finishes earned him 9th overall for the day. "I am so excited to finish a moto in the top five. It has been my goal all season. I know that is where I belong and I was finally able to help myself get there by getting a good start. My team has been amazing this year and I am excited to finally give them a result we have been hoping for," stated Savatgy.

Next Event: Mechanicsville, MD - June 22, 2013

Source: KTM North America

High Point Overview And Point Standings
2013 AMA Pro Motocross High Point Image Gallery (Click for full size images)


Overall Results - 450MX Class























































































































































































































































































































































































| Pos. | # | Rider | Bike | M1 | M2 | Points |
| --- | --- | --- | --- | --- | --- | --- |
| 1 | 2 | Ryan Villopoto | Kawasaki KX 450F | 1 | 1 | 50 |
| 2 | 1 | Ryan Dungey | KTM 450 SX-F Factory Edition | 2 | 2 | 44 |
| 3 | 28 | Tyla Rattray | Kawasaki KX 450F | 4 | 4 | 36 |
| 4 | 51 | Justin Barcia | Honda CRF450R | 3 | 7 | 34 |
| 5 | 800 | Mike Alessi | Suzuki RMZ 450 | 10 | 3 | 31 |
| 6 | 41 | Trey Canard | Honda CRF450R | 7 | 5 | 30 |
| 7 | 35 | Ryan Sipes | Suzuki RMZ 450 | 6 | 6 | 30 |
| 8 | 33 | Josh Grant | Yamaha YZ 450F | 5 | 8 | 29 |
| 9 | 12 | Jake Weimer | Kawasaki KX 450F | 8 | 9 | 25 |
| 10 | 20 | Broc Tickle | Suzuki RMZ 450 | 11 | 11 | 20 |
| 11 | 49 | Phil Nicoletti | Yamaha YZ 450F | 9 | 14 | 19 |
| 12 | 32 | Malcolm Stewart | Honda CRF450R | 12 | 12 | 18 |
| 13 | 10 | Justin Brayton | Yamaha YZ 450F | 15 | 10 | 17 |
| 14 | 22 | Chad Reed | Honda CRF450R | 14 | 13 | 15 |
| 15 | 42 | Vince Friese | KTM 450 SX-F | 17 | 15 | 10 |
| 16 | 29 | Andrew Short | KTM 450 SX-F Factory Edition | 13 | 39 | 8 |
| 17 | 27 | Nicholas Wey | Kawasaki KX 450F | 19 | 17 | 6 |
| 18 | 57 | Ben LaMay | Yamaha YZ 450F | 25 | 16 | 5 |
| 19 | 7 | James Stewart | Suzuki RMZ 450 | 16 | 36 | 5 |
| 20 | 73 | AJ Catanzaro | Kawasaki KX 450F | 28 | 18 | 3 |
| 21 | 83 | Austin Howell | Suzuki RMZ 450 | 18 | 35 | 3 |
| 22 | 548 | Broc Schmelyun | Kawasaki KX 450F | 21 | 19 | 2 |
| 23 | 26 | Michael Byrne | KTM 450 SX-F Factory Edition | 20 | 25 | 1 |
| 24 | 90 | Jacob Hayes | Kawasaki KX 450F | 33 | 20 | 1 |
| 25 | 63 | Derek Anderson | Kawasaki KX 450F | 24 | 21 | 0 |
| 26 | 595 | Evgeny Mikhaylov | Suzuki RMZ 450 | 27 | 24 | 0 |
| 27 | 206 | Travis Sewell | Yamaha YZ 450F | 23 | 27 | 0 |
| 28 | 621 | Vann Martin | Kawasaki KX 450F | 26 | 26 | 0 |
| 29 | 48 | Cole Thompson | Honda CRF450R | 34 | 22 | 0 |
| 30 | 672 | Seth Rarick | KTM 450 SX-F | 29 | 29 | 0 |
| 31 | 95 | Tevin Tapia | Suzuki RMZ 450 | 30 | 31 | 0 |
| 32 | 54 | Les Smith | KTM 450 SX-F Factory Edition | 22 | 38 | 0 |
| 33 | 84 | Chris Blose | Yamaha YZ 450F | 40 | 23 | 0 |
| 34 | 515 | Michael Sottile | Honda CRF450R | 32 | 30 | 0 |
| 35 | 181 | Dustin Pipes | Suzuki RMZ 450 | 36 | 28 | 0 |
| 36 | 285 | Tony Archer | Kawasaki KX 450F | 31 | 34 | 0 |
| 37 | 606 | Ronnie Stewart | Suzuki RMZ 450 | 38 | 32 | 0 |
| 38 | 224 | Heath Harrison | Kawasaki KX 450F | 37 | 33 | 0 |
| 39 | 945 | Michael Stryker | KTM 450 SX-F | 35 | 37 | 0 |
| 40 | 310 | Shane Durham | Kawasaki KX 450F | 39 | 40 | 0 |
Rider Point Standings - 450MX Class ( Race 8 of 24 )


Ryan Villopoto - 193

Ryan Dungey - 177

Justin Barcia - 148

Trey Canard - 120

Mike Alessi - 116

James Stewart - 104

Tyla Rattray - 95

Ryan Sipes - 79

Jake Weimer - 69

Broc Tickle - 67

Manufacturer Cup Point Standings - 450MX Class ( Race 8 of 24 )


Kawasaki - 193

KTM - 177

Honda - 154

Suzuki - 145

Yamaha - 85

Overall Results - 250MX Class
| Pos. | # | Rider | Bike | M1 | M2 | Points |
| --- | --- | --- | --- | --- | --- | --- |
| 1 | 25 | Marvin Musquin | KTM 250 SX-F | 2 | 1 | 47 |
| 2 | 94 | Ken Roczen | KTM 250 SX-F | 1 | 2 | 47 |
| 3 | 17 | Eli Tomac | Honda CRF250R | 3 | 4 | 38 |
| 4 | 338 | Zach Osborne | Honda CRF250R | 10 | 3 | 31 |
| 5 | 1 | Blake Baggett | Kawasaki KX 250F | 4 | 8 | 31 |
| 6 | 34 | Justin Bogle | Honda CRF250R | 5 | 9 | 28 |
| 7 | 77 | Jeremy Martin | Yamaha YZ 250F | 9 | 6 | 27 |
| 8 | 175 | Cooper Webb | Yamaha YZ 250F | 6 | 11 | 25 |
| 9 | 176 | Joey Savatgy | KTM 250 SX-F | 13 | 5 | 24 |
| 10 | 21 | Jason Anderson | Suzuki RMZ 250 | 12 | 7 | 23 |
| 11 | 38 | Kyle Cunningham | Yamaha YZ 250F | 7 | 16 | 19 |
| 12 | 40 | Martin Davalos | Kawasaki KX 250F | 14 | 10 | 18 |
| 13 | 317 | Justin Hill | Kawasaki KX 250F | 11 | 13 | 18 |
| 14 | 44 | Darryn Durham | Kawasaki KX 250F | 8 | 34 | 13 |
| 15 | 13 | Blake Wharton | Suzuki RMZ 250 | 35 | 12 | 9 |
| 16 | 50 | Kyle Peters | Honda CRF250R | 16 | 18 | 8 |
| 17 | 194 | Jackson Richardson | Honda CRF250R | 18 | 17 | 7 |
| 18 | 43 | Cole Seely | Honda CRF250R | 34 | 14 | 7 |
| 19 | 396 | Dillan Epstein | Kawasaki KX 250F | 23 | 15 | 6 |
| 20 | 37 | Alex Martin | Yamaha YZ 250 | 15 | 36 | 6 |
| 21 | 712 | Justin Starling | Honda CRF250R | 17 | 21 | 4 |
| 22 | 244 | Ryan Zimmer | Honda CRF250R | 20 | 19 | 3 |
| 23 | 248 | Mitchell Oldenburg | Honda CRF250R | 19 | 24 | 2 |
| 24 | 556 | Brady Kiesel | Yamaha YZ 250F | 37 | 20 | 1 |
| 25 | 266 | Jesse Wentland | KTM 250 SX-F | 21 | 22 | 0 |
| 26 | 412 | Levi Kilbarger | Honda CRF250R | 22 | 23 | 0 |
| 27 | 256 | Matas Inda | Kawasaki KX 250F | 26 | 27 | 0 |
| 28 | 736 | Daniel Lippman | Suzuki RMZ 250 | 25 | 28 | 0 |
| 29 | 449 | Dakota Kessler | Honda CRF250R | 28 | 26 | 0 |
| 30 | 393 | Daniel Herrlein | Honda CRF250R | 32 | 25 | 0 |
| 31 | 876 | Sunny Drake | Kawasaki KX 250F | 30 | 30 | 0 |
| 32 | 631 | Ignacio Pazos | Honda CRF250R | 31 | 32 | 0 |
| 33 | 531 | Todd Krieg | KTM 250 SX-F | 27 | 35 | 0 |
| 34 | 452 | Sean Hackley, Jr. | KTM 250 SX-F | 24 | 38 | 0 |
| 35 | 87 | Lance Vincent | KTM 250 SX-F | 36 | 29 | 0 |
| 36 | 581 | Kyle Bitterman | Honda CRF250R | 33 | 33 | 0 |
| 37 | 329 | Chad Gores | Honda CRF250R | 29 | 40 | 0 |
| 38 | 731 | Steve Roman | Suzuki RMZ 250 | 39 | 31 | 0 |
| 39 | 71 | Zackery Freeberg | Honda CRF250R | 40 | 37 | 0 |
| 40 | 70 | Tommy Weeck | Honda CRF250R | 38 | 39 | 0 |
Rider Point Standings - 250MX Class ( Race 8 of 24 )


Ken Roczen - 185

Eli Tomac - 170

Marvin Musquin - 163

Blake Baggett - 141

Zach Osborne - 127

Jason Anderson - 100

Cooper Webb - 90

Justin Bogle - 89

Jeremy Martin - 88

Kyle Cunningham - 81

Manufacturer Cup Point Standings - 250MX Class ( Race 8 of 24 )


KTM - 192

Honda - 172

Kawasaki - 143

Yamaha - 122

Suzuki - 104

Overall Results - WMX Women's Class
| Pos. | # | Rider | Bike | M1 | M2 | Points |
| --- | --- | --- | --- | --- | --- | --- |
| 1 | 2 | Jessica Patterson | Yamaha YZ 250F | 1 | 1 | 50 |
| 2 | 11 | Sayaka Kaneshiro | Honda CRF250R | 2 | 2 | 44 |
| 3 | 84 | Taylor Higgins | Honda CRF250R | 5 | 3 | 36 |
| 4 | 32 | Sara Pettersson | KTM 250 SX-F | 6 | 4 | 33 |
| 5 | 22 | Marissa Markelon | KTM 250 SX-F | 7 | 5 | 30 |
| 6 | 254 | Jacqueline Strong | KTM 250 SX-F | 4 | 9 | 30 |
| 7 | 9 | Sade Allender | Honda CRF250R | 9 | 7 | 26 |
| 8 | 10 | Amanda Brown | Honda CRF250R | 8 | 8 | 26 |
| 9 | 17 | Lindsey Palmer | Kawasaki KX 250F | 11 | 6 | 25 |
| 10 | 445 | Shelby Rolen | Yamaha YZ 250F | 10 | 11 | 21 |
| 11 | 28 | Mackenzie Tricker | Yamaha YZ 250F | 3 | 30 | 20 |
| 12 | 26 | Chelsea Newbold | Honda CRF250R | 14 | 10 | 18 |
| 13 | 54 | Kayla Solheid | Kawasaki KX 250F | 15 | 12 | 15 |
| 14 | 55 | Kaylynn Kotlar | Honda CRF250R | 12 | 15 | 15 |
| 15 | 88 | April Zastrow | Honda CRF250R | 13 | 16 | 13 |
| 16 | 39 | Jessie Wharton | Kawasaki KX 250F | 17 | 14 | 11 |
| 17 | 31 | Sydney Dickson | KTM 250 SX-F | 21 | 13 | 8 |
| 18 | 12 | Grace Majkowski | Yamaha YZ 250 | 18 | 17 | 7 |
| 19 | 43 | Abbrielle Tardelli | KTM 250 SX-F | 19 | 18 | 5 |
| 20 | 53 | Tonya Mantsch | Kawasaki KX 250F | 16 | 22 | 5 |
| 21 | 46 | Cortney Roewer | KTM 250 SX-F | 24 | 19 | 2 |
| 22 | 212 | Jessica Frosch | Kawasaki KX 250F | 20 | 24 | 1 |
| 23 | 208 | Katelyn Crowley | Honda CRF250R | 26 | 20 | 1 |
| 24 | 94 | Karina Carrasquillo | Honda CRF250R | 28 | 21 | 0 |
| 25 | 51 | Shayla Stephens | Honda CRF250R | 25 | 23 | 0 |
| 26 | 727 | LeeAnn Bange | Yamaha YZ 250F | 23 | 25 | 0 |
| 27 | 30 | Rebecca Wright | Kawasaki KX 250F | 29 | 26 | 0 |
| 28 | 63 | Kara Groves | Yamaha YZ 125 | 27 | 27 | 0 |
| 29 | 72 | Sonia Williams | Honda CRF250R | 22 | 33 | 0 |
| 30 | 42 | Cady VanCura | KTM 250 SX-F | 30 | 28 | 0 |
| 31 | 95 | Brinsley Dyess | Suzuki RMZ 250 | 31 | 29 | 0 |
| 32 | 294 | Shelby Ward | Kawasaki KX 250F | 33 | 31 | 0 |
| 33 | 125 | Heather Lockwood | Kawasaki KX 250F | 32 | 32 | 0 |
Rider Point Standings - WMX Women's Class ( Race 4 of 6 )


Sayaka Kaneshiro - 86

Jessica Patterson - 72

Taylor Higgins - 72

Jacqueline Strong - 61

Sara Pettersson - 58

Mackenzie Tricker - 55

Courtney Duncan - 50

Amanda Brown - 44

Lindsey Palmer - 42

Sade Allender - 41

Manufacturer Cup Point Standings - WMX Women's Class ( Race 4 of 6 )


Yamaha - 100

Honda - 86

KTM - 68

Kawasaki - 53

Suzuki - 0