John Hopkins Re-Joins FIXI Crescent Suzuki For TT
Chaparral Motorsports
|
May 31, 2013
[caption id="attachment_26604" align="alignright" width="300"]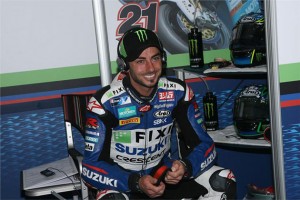 John Hopkins To Promote Rider Safety At Isle Of Man TT[/caption]

John Hopkins will be re-united with a FIXI Crescent Suzuki GSX-R1000 at the Isle of Man TT races this weekend - but won't be competing this time as he joins in with the Mad Sunday Pit-Stop.

"Hopper" will be heading to the Isle of Man to do some ambassador work for his main personal sponsor Monster Energy to promote rider safety and encourage motorcyclists to ride responsibly and within their limits. Hopkins will join the thousands that take to the TT course on Mad Sunday and he will ride a road-legal Suzuki GSX-R1000 in FIXI Crescent Suzuki livery at a safe and comfortable pace, on what will be the first time he has ridden a motorcycle since his recent operation.

Hopkins was forced to take a break from competitive motorcycle racing for the whole of 2013 in an attempt to regain full fitness. The former MotoGP star injured his hip in a crash at Monza in Italy just over a year ago and although he continued to race for the rest of the season with the FIXI Crescent Suzuki team in World Superbikes, Hopkins was never at 100% and took the decision to take a break and get his health in first-class condition before considering a return to racing. He recently underwent hip surgery to repair the damage and is making a good recovery.

John Hopkins:
"This is a great opportunity and a really big treat for me to visit the Isle of Man and get out there and ride with all the fans on Mad Sunday. I'll basically try and advocate rider safety and how you can ride fast, but still be within your limits and that of the bike, and have a great time out on the road - which isn't my natural style so that should be interesting! I cannot wait to get back on a bike after the hip operation, but I'll certainly be taking things steady and being pretty cautious out there!

"I want to say a big thank-you to Paul Denning and the guys at FIXI Crescent Suzuki for sorting out a bike for me to ride. There is benefit for me to get a bike from the guys at Crescent, because I get to ride a bike I know has been maintained and prepared 100%, as well as riding a bike I'm already familiar with which makes me feel a lot safer. Hopefully one day I'll be back on a Suzuki on the track, but for now we'll have to wait and see what happens!

"I also want to say a huge thanks to Monster Energy for sponsoring the event and having me along to be a part of it. The TT is something I've always looked up to my whole life and one that I cannot wait to experience, so it is thanks to them that I can now finally be involved with something that I grew up hearing stories about!"
Source: Team Suzuki