Weekend Warrior: 2013 Yamaha Grizzly 700 FI Auto 4x4
Chaparral Motorsports
|
May 26, 2013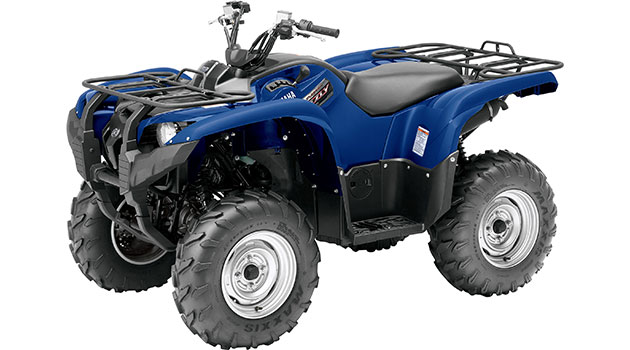 2013 Yamaha Grizzly 700: The Latest And Strongest Of The Yamaha Line
Anyone who knows me is aware that I'm extremely picky about my ATVs. I like my toys to be the best off-road vehicles I can get my hands on, so I tend to test out a lot of rides whenever I can, constantly comparing a new machine to others I've tried out. Because the Yamaha Grizzly ATVs are among the most popular selections in the world of four-wheel machines, many riders are drawn to the lineup, and you should definitely consider some of the offerings if you're shopping around for a new ATV.

I've looked at the Grizzly 700 SE before, but this was the first chance I had to jump on the 2013 Yamaha Grizzly 700 FI Auto. 4x4. At first glance the machines are quiet similar, but there are enough differences to give any potential buyer some pause. Now that I've gotten a chance to test drive them both, along with many others, I can confidently say I'm pretty impressed with the Grizzly 700.

Power And Framework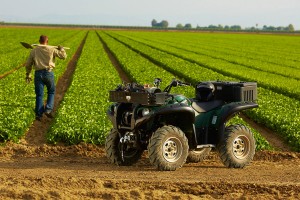 The single-cylinder, four-stroke engine on the Grizzly 700 produces plenty of power with its 686cc displacement - the strongest engine on any Grizzly machine. You get high horsepower and low-rev torque, and if you wish to do some heavy-duty towing, the ATV can handle up to 1,300 pounds on the center-mounted trailer hitch. Vibrations on the machine are reduced thanks to a balancer shaft and rubber-damper engine mounts, so you can enjoy every bit of the motor and five-position Ultramatic transmission.

One of the first things I noticed about the chassis of the 2013 Yamaha Grizzly 700 was the ground clearance. WideArc A-arms and a 35.6-inch seat height give you enough lift to remain comfortably above the trails. Any objects that do get kicked up are deflected by a front bumper and CV joint guards, or you can take advantage of the responsive steering to quickly maneuver out of the way of obstacles.

Other Features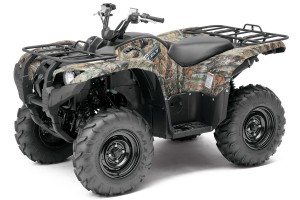 As soon as I got in the swing of riding, I was particularly pleased with the LCD instrument display. You get information on fuel-injection, a fuel gauge, speedometer, odometer, clock and more, all of which can be accessed on one streamlined screen.

Another available option to consider is the Electronic Power Steering available on the Grizzly 700 FI EPS, which makes the steering even more responsive and the whole ATV easier to handle.

Final Thoughts
The 2013 Yamaha Grizzly 700 is available in hunter green, steel blue, and camouflage paint jobs, which go perfectly with the steel cargo racks and scratch-resistant, textured fenders. The single seat is comfortable and contoured to fit most riders, so you'll feel good enough to ride for as long as the 5.3-gallon gas tank can take you. With all the power and maneuverability available in this utility machine, it is great for both work and play.

2013 Yamaha Grizzly 700 Image Gallery
(Click for full size images)