The Dirt Bike Guy: 2013 Beta 250RR 2-Stroke
Chaparral Motorsports
|
May 25, 2013
2013 Beta 250RR 2-Stroke: A Dirt Bike That's Lightweight And Ready To Go
Despite all of the time I spend on dirt bikes, I rarely come across the Beta brand of motorcycles. That all changed recently, as I got the chance to test out the 2013 Beta 250RR - and I left with a pretty distinct impression of the dirt bike. It's the culmination of more than two years of development and planning, and the end result is a machine that is on the cutting edge of technology and design.

Two-Stroke Engine And Lightweight Frame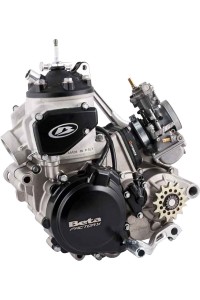 At the heart of the dirt bike is a two-stroke, liquid-cooled engine. The Beta machine is available with 250cc and 300cc displacements, so you can choose the level of power you're looking for depending on your needs. No matter which model you go with, you can take advantage of the six-speed transmission to harness the energy and handle on any kind of terrain. While the output may not seem like much, the low weight of the machine - it has a dry weight of 223 pounds - means that you don't need much power to really get moving when you're on the trails.

The frame of the bike was created with off-roading in mind. Weight reduction was achieved thanks to new materials, such as a lighter steel chassis, special inner tubes and revamped wheels. It also was made to seamlessly work with the different qualities of the motorcycle, allowing you to get the most out of the 2-gallon gas tank. Like many Beta bikes, the 250RR is easy to control regardless of the terrain you're crossing. With the help of the two-stroke engine, you're also able to maximize torque without the threat of stalling, so it's an ideal machine for beginners who want to get accustomed to riding before investing in more powerful dirt bikes.

Stable Ride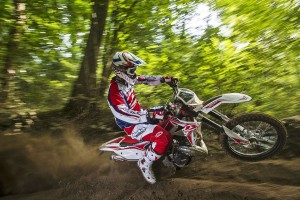 Although many aspects of the machine have changed drastically, some of the dirt bike parts are the same as Beta's 4T range, including the swingarm, wheels, brakes and general bodywork. The suspensions were altered, however, to provide a more stable riding experience for motorists. A 48 mm Sachs USD fork controls the front, while the rear is an all-new aluminum body shock with an adjustable rebound.

Final Thoughts
Each model of the 2013 Beta 250RR is assembled and tested by the brand in-house, so you can be sure your bike is up to snuff. Just don your newest dirt bike gear and get ready to hit the trails.

2013 Beta 250RR 2-Stroke Image Gallery
(Click for full size images)