American Motorcyclist Association Honors Fallen Veterans
Chaparral Motorsports
|
May 24, 2013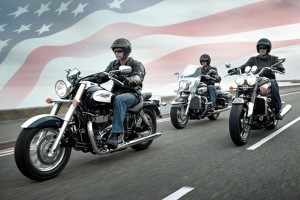 The American Motorcyclist Association expresses its deepest gratitude to the families and friends of loved ones who have given the ultimate sacrifice in service to the United States, and honors their memories on Memorial Day, Monday, May 27.

"Motorcyclists everywhere salute the sacrifices of America's armed forces and the U.S. citizens who have perished in service to our country," said Rob Dingman, president and CEO of the largest member-based motorcycling organization in the country. "We know that the very freedoms we enjoy, including the freedom to ride and travel freely throughout this great nation, are defended daily by Americans who have devoted their lives to protecting our principles, and many have made the ultimate sacrifice in that defense."

The Memorial Day Weekend is one of the busiest travel periods of the year, and motorcyclists will be on the road as well, participating in AMA-sanctioned events, memorial parades, freedom rides and traveling to visit family and friends.

"We ask motorists everywhere to be aware of motorcycles when they are driving this weekend," Dingman said. "Motorcycling is a mainstream activity enjoyed by millions of Americans.

"If you don't ride, chances are very good that a friend, family member or co-worker you know will be riding this weekend, and we urge extra caution because so many people will be on our highways during this holiday period," he said.

About the American Motorcyclist Association
Founded in 1924, the AMA is a not-for-profit member-based association whose mission is to promote the motorcycle lifestyle and protect the future of motorcycling. As the world's largest motorcycling rights and event sanctioning organization, the AMA advocates for riders' interests at all levels of government and sanctions thousands of competition and recreational events every year. The AMA also provides money-saving discounts on products and services for its members. Through the AMA Motorcycle Hall of Fame in Pickerington, Ohio, the AMA honors the heroes and heritage of motorcycling. For more information, visit www.americanmotorcyclist.com.