Yamaha Racing Endures A Race Of Attrition In Le Mans
Chaparral Motorsports
|
May 21, 2013
Jorge Lorenzo And Valentino Rossi Endure A Race Of Attrition In Le Mans
[caption id="attachment_26329" align="alignright" width="300"]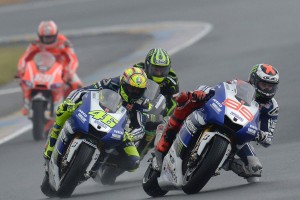 Jorge Lorenzo and Valentino Rossi endured a nightmare race in the Monster Energy Grand Prix de France.[/caption]

Yamaha Factory Racing riders Jorge Lorenzo and Valentino Rossi endured a nightmare race today in the Monster Energy Grand Prix de France. Having enjoyed a dry track for both practice and qualifying the riders had to contend with full wet conditions to start today's race. Lorenzo started from second on the grid and was able to hold behind race leader Andrea Dovizioso initially until passed by Dani Pedrosa with 26 laps to go. As the laps wound down the reigning World Champion gradually dropped position, fighting a wet but slowly drying track with a less than optimum set up. Lorenzo eventually crossed the line in seventh place to claim nine Championship points that keep him in third position in the overall standings.

Rossi made a strong start form eighth on the grid and had moved up to fourth position by the second lap after some swift passes. The Italian was able to find a good race pace and was able to hold on in fourth with the potential to fight for the podium until a strange low side crash with 11 laps remaining of the race. Ross remounted and re-joined, nursing his damaged Yamaha YZR-M1 home in 12th position to take four Championship points and sit in fifth in the overall standings.

Jorge Lorenzo, 7th
"In the beginning of the race the bike was not the same as warm up but not so bad and I could follow Andrea and Dani. I was losing a lot in some areas of the track but recovering in others. Then after three or four laps the bike got worse and I got problems everywhere. In the braking because in the middle of the corner I didn't trust the rear tire and in acceleration because the rear was spinning so much I lost nearly half a second compared to the others. Races are like this sometimes; last year I won by 20 seconds with a very good bike and this year was completely the opposite. I couldn't do much more without crashing."
Valentino Rossi, 12th
"Unfortunately we lost a good chance to get a good result today, I think we had the potential to arrive with the first three and arrive on the podium. I had a good pace and I was fast and I could fight with the other guys. In that corner, I didn't arrive too fast and didn't feel any mistake but I felt a bump and lost the front, so it's a pity because we lose points and especially the chance to try to make a good podium here. Anyway, it can happen and the important thing is that today we were fast so we will see next week."
Wilco Zeelenberg - Yamaha Factory Racing Team Manager
"A very difficult race. Finally Jorge was missing a lot of feeling on corner entry and little feeling with the tires so no confidence to lean the bike. If you don't feel safe and the bike slides then it's difficult to finish races like this. We will concentrate on what the problem is because we can't give an answer now. The most important thing today was not to crash. To lose a lot of points is of course a drama, so we need to focus now and catch up for the rest of the season."
Massimo Meregalli - Yamaha Factory Racing Team Director
"Unfortunately it has been a race under our estimation. We have been very competitive up to the race in every condition, dry and wet; unfortunately we missed the most important part of the weekend. We lost a potential podium with Valentino after a great start to the race with some good overtakes. We are still checking Jorge's data to really understand what didn't work. It is almost impossible to judge what it is at this point but we will know more soon. This weekend is now done so we will now focus to prepare for our 'home' race in the best way possible."
Cal Crutchlow Claims Heroic Career Best Result In Le Mans
[caption id="attachment_26330" align="alignright" width="300"]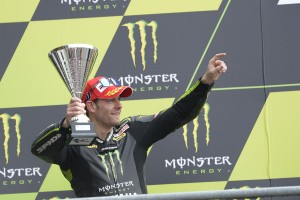 Cal Crutchlow produced the ride of his MotoGP career in Le Mans to claim a heroic podium.[/caption]

Cal Crutchlow produced the ride of his MotoGP career in Le Mans today to claim a heroic podium in the home race of the Monster Yamaha Tech 3 Team. Just 24 hours after a heavy practice crash left him with a fracture in his right leg, the British rider showed amazing skill, concentration and courage to finish second in a 28-lap race run in the toughest conditions imaginable. Crutchlow was the lead Yamaha rider home at the end of a race that started on a perilously slippery and wet surface after heavy rain fell in the build-up. Visibility and calculating grip levels were major early challenges but Crutchlow quickly gained his confidence and he sliced through the field with some outstanding overtakes. The 27-year-old stormed through from seventh to second with measured moves on reigning World Champion Jorge Lorenzo, Valentino Rossi and Andrea Dovizioso, an impressive feat considering how tough it was to master constantly changing conditions and grip levels on a rapidly drying track. Crutchlow's career best MotoGP result and first rostrum of 2013 was secured on lap 24 when he attacked former Tech 3 teammate Dovizioso and today's outstanding performance moved the former World Supersport Champion into fourth place in the World Championship standings with four of 18 rounds completed.

A career best MotoGP result to date was also being hailed on the other side of the Monster Yamaha Tech 3 Team garage after Bradley Smith raced his YZR-M1 to a determined ninth position. The slippery track surface had an immediate impact on Smith's race. He suffered a big rear tire slide while accelerating off the line and it was only the lightning reflexes of the 22-year-old that saved him from a fall. He dropped right to the back of the field but despite only having very limited experience of the YZR-M1 in wet conditions, Smith's recent attempts to smoothen his riding style proved vital this afternoon. Smith quickly established a fast rhythm and as his confidence grew he was able to deliver a fantastic fight back into the top 10. His rousing recovery to ninth moves him to the brink of the top 10 in the World Championship classification on 17 points.

Cal Crutchlow, 2nd
"I'm really happy to get my best ever result in MotoGP and the whole team did an incredible job and deserves this result. We showed our fast pace in the dry, we showed our pace in the wet and I think everybody is aware we are not here through luck. It's even better and more important because this is the home race for Tech 3 and Monster Energy sponsors the event. So to be the best and only Yamaha on the podium feels really good. My start was not the best and it took me a bit of time to get temperature into the tires. But once I managed that I felt really comfortable. When I saw Andrea and Dani opening a small gap to Valentino I had to make a move because I was afraid they would be too far ahead to try and catch later in the race. And when I saw Marquez recovering time on my pit board I had to pass Andrea otherwise he might have caught both of us during the last laps. I'm really happy with how things went, especially after the crash yesterday. The wet track obviously put less stress on my body but it was tough riding injured in such tough conditions. From now on I just hope we can be injury free and go to Mugello to put on the same show as we did here today."
Bradley Smith 9th
"Today was a really good learning experience. I'd hardly ridden the YZR-M1 in the rain before, so to get 28 laps under my belt in really tricky conditions was obviously an experience that taught me a lot. During the race I was able to ride a lot smoother and I hope I can carry over something from this experience to the dry in the future. I'm a little bit disappointed with the start of the race. I had a problem with the clutch in the warm up but we were sure it was just because this was my first start in the wet but apparently it was not. But after the first 10 laps to the end of the race I had a very good pace and I'm happy with the improvement made during the whole weekend with ninth position in qualifying and also ninth in the race. That's my best MotoGP result and gives my confidence another lift, so now I'm really looking forward to going to Mugello, which is a track I can't wait to ride a MotoGP bike on. Congratulations also to Cal. He rode an awesome race and in an important race for Tech 3 and Monster Energy it was great to see both of us having such a positive result."
Source: www.yamaha-racing.com

2013 MotoGP France Results
| Pos. | Rider | Bike | Country | Time/Gap |
| --- | --- | --- | --- | --- |
| 1 | Dani Pedrosa | Honda | ESP | 49'17.707 |
| 2 | Cal Crutchlow | Yamaha | GBR | 0'04.863 |
| 3 | Marc Marquez | Honda | ESP | 0'06.949 |
| 4 | Andrea Dovizioso | Ducati | ITA | 0'10.087 |
| 5 | Nicky Hayden | Ducati | USA | 0'18.471 |
| 6 | Alvaro Bautista | Honda | ESP | 0'23.561 |
| 7 | Jorge Lorenzo | Yamaha | ESP | 0'27.961 |
| 8 | Michele Pirro | Ducati | ITA | 0'40.775 |
| 9 | Bradley Smith | Yamaha | GBR | 0'41.407 |
| 10 | Stefan Bradl | Honda | GER | 1'00.995 |
| 11 | Andrea Iannone | Ducati | ITA | 1'05.110 |
| 12 | Valentino Rossi | Yamaha | ITA | 1'16.368 |
| 13 | Aleix Espargaro | ART | ESP | 1'24.200 |
| 14 | Danilo Petrucci | Ioda-Suter | ITA | 1'25.726 |
| 15 | Karel Abraham | ART | CZE | 1'32.111 |
MotoGP World Standings
Rider Standings After Race 4 of 18


Daniel Pedrosa - 83

Marc Marquez - 77

Jorge Lorenzo - 66

Cal Crutchlow - 55

Valentino Rossi - 47

Andrea Dovizioso - 39

Alvaro Bautista - 38

Nicky Hayden - 35

Aleix Espargaro - 20

Andrea Iannone - 18