Bonnier Corp Buys Multiple Motorcycle Magazine Brands
Chaparral Motorsports
|
May 21, 2013
Bonnier Corp. Builds On Dominance In Motorcycle Market - Acquires Multiple Brands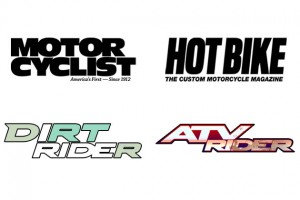 Bonnier Corp. has expanded its presence as the pre-eminent publisher in the men's market and the motorcycle market, acquiring nine motorcycle brands from Source Interlink Media.

Under the deal, Bonnier acquires Motorcyclist, Sport Rider, Dirt Rider, Motorcycle Cruiser, Hot Bike, Baggers, Super Streetbike, Street Chopper and ATV Rider.

"The acquisition supports Bonnier's strategy to be focused in vertical enthusiast interest media," said CEO Dave Freygang. "We believe in going deep into selected verticals, and it's essential that our brands be in a leadership position within those verticals. Since the acquisition of Cycle World in 2011, we've realized that the opportunities within the motorcycle market are significant."

Bonnier will now own the top two motorcycle brands in the industry: Cycle World and Motorcyclist. Along with the other motorcycle titles, the collection will form the Bonnier Motorcycle Group, which will become the largest motorcycle-enthusiast media group in the world.

Bonnier Corp. Executive Vice President Eric Zinczenko said, "Our new portfolio of motorcycle brands positions us to serve every segment of the motorcycle community and reach the largest aggregate of motorcycle enthusiast consumers possible. Our unwavering commitment to motorcycles and our industry partners continues.

"The new Bonnier Motorcycle Group's audience demographics complement those of our existing men's titles. This will allow our company to approach our advertising base with even more scale and deeper integrated offerings."

Highlights of the newly acquired brands include:


Motorcyclist, the flagship title of the group, covers all facets of motorcycling. It includes sportbikes, cruisers, tourers, adventure bikes and standards, with significant details on parts and accessories and the experience of owning and caring for motorcycles.

Sport Rider is the largest brand catering to high-performance sport bikes.

Dirt Rider is the largest off-road motorcycle magazine delivering high-quality, informative and entertaining coverage of all forms of off-road motorcycle recreation.

Motorcycle Cruiser is the only brand dedicated exclusively to real-world cruising.

Hot Bike focuses on the Harley-Davidson experience. Readers get the latest tips and techniques to turn their bikes into customized dream machines.

Baggers covers the hottest custom creations, current-model road tests, in-depth technical installations, theory articles, national rallies and touring stories.

Super Streetbike is the largest brand devoted to the rapidly growing custom sport-bike market.

Street Chopper covers the lifestyle of readers living on the road and in the garage.

ATV Rider features the many ways that enthusiasts can enjoy ATV riding.

Financial terms of the transaction were not disclosed.

About Bonnier Corp.
Bonnier Corp. (www.bonniercorp.com) is one of the largest consumer-publishing groups in the U.S. and is the leading media company serving passionate, highly engaged audiences, through magazines, events, digital media and leading-edge products. Bonnier Corp. is the U.S. division of the Bonnier Group (www.bonnier.com), an international media group active in television, newspapers, magazines, movies, books and digital media.
Source: Bonnier Corp.