Honda Reveals New 125cc Urban Bike
Chaparral Motorsports
|
May 17, 2013
[caption id="attachment_26248" align="alignright" width="300"]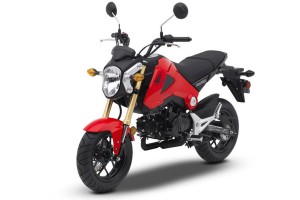 2014 Honda Grom[/caption]

Honda has recently announced its new 2014 lineup, and one of the most talked about additions is the Grom, a 125cc machine targeted at new riders in an urban setting. With a curb weight of just 225 pounds, a 12-inch wheelbase and low seat height, the Grom aims to provide an affordable alternative to large cruisers or expensive street bikes.

This entry-level bike is being touted as a fun and stylish way to enter the world of motorcycling. While the new Grom features simplified riding, it has some of the same features as a full-sized street bike.

At first look the new urban ride seems for small, however it is street legal - and for those who want to bring someone along for the ride, the seat can support a passenger. It will start selling in the U.S. in August for about $3,000, and will be available in red/black and an all black color scheme.