AMA Opens Registration For 2013 Champions Banquet
Chaparral Motorsports
|
May 15, 2013
American Motorcyclist Association Opens Registration For Banquet Honoring 2013 Champions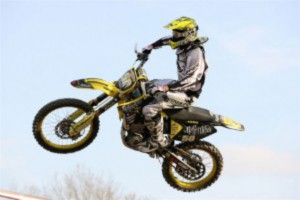 The American Motorcyclist Association has opened registration for the 2013 AMA Championship Banquet. This year's AMA national champions in motorcycle and all-terrain vehicle competition will be honored Jan. 18, 2014, at the Aladdin Shrine Center in Columbus, Ohio.

"One feature that makes AMA-sanctioned competition stand out is the diversity of our disciplines," said AMA Vice President of Operations Jeff Massey. "From the woods to the ice to near-vertical assents to tracks on a range of surfaces, AMA racers compete everywhere. And that variety is on display for all to see at the annual AMA Championship Banquet."

The event honors the top three national championship finishers in disciplines ranging from land-speed racing to motocross to woods racing and everything in between. The banquet includes dinner, door prizes, refreshments and a bike show.

Class champions will receive medals and No. 1 plates at the banquet, while second- and third-place finishers will also receive awards. The winners of special annual awards, such as the AMA Grand Championship Athlete of the Year and the AMA National Championship Athlete of the Year awards, will be announced as well.




"The annual championship banquet is also when we highlight the good works of our best and hardest-working clubs and promoters," Massey said. "We will recognize AMA organizers from competition and recreational road and off-road events, as well as those who excelled in media coverage and as ambassadors of the sport."

Columbus' Aladdin Shrine Center, located a short distance from the expansive Easton Town Center shopping complex and only 20 minutes from AMA headquarters and the AMA Motorcycle Hall of Fame, offers free parking, easy access to Interstate 270 and is a short drive from Port Columbus International Airport.

For more information about AMA National Championship events and series, see www.americanmotorcyclist.com > Racing.

About the American Motorcyclist Association
Founded in 1924, the AMA is a not-for-profit member-based association whose mission is to promote the motorcycle lifestyle and protect the future of motorcycling. As the world's largest motorcycling rights and event sanctioning organization, the AMA advocates for riders' interests at all levels of government and sanctions thousands of competition and recreational events every year. The AMA also provides money-saving discounts on products and services for its members. Through the AMA Motorcycle Hall of Fame in Pickerington, Ohio, the AMA honors the heroes and heritage of motorcycling. For more information, visit www.americanmotorcyclist.com.