2013 World Superbike Monza Results
Chaparral Motorsports
|
May 13, 2013
World Superbike Crowns Two Winners At Monza
[caption id="attachment_26151" align="alignright" width="300"]
Marco Melandri, Tom Sykes, and Eugene Laverty take the first race's podium.[/caption]

The World Superbike motorsports series headed to the Monza circuit in Italy for its fourth round of the year. A doubleheader event provided plenty of chances for riders to claim a bit of glory, but the same three competitors took spots on the podium in each race.

In race one, BMW's Marco Melandri battled back from technical issues to overtake Eugene Laverty and Tom Sykes, who were leading the pack, in the final lap. The three crossed the finish line at almost the exact same time, but Melandri managed to inch ahead by less than a hundredth of a second for the win.

Melandri, Laverty and Sykes got quickly out of the gate in the second race, setting up another showdown. Laverty eventually outmaneuvered the two other competitors in the final two laps and held on for the win. He narrowly beat out the BMW rider, who finished in second place, while Kawasaki's Sykes was a bit behind in third.

"It was an unbelievable day for me," Melandri said. "To finish first and second here in Monza is just awesome, and it feels great after we had a difficult start to the season ... Now I am confident because I feel that the feeling with the bike is coming back."

Laverty's win puts the Aprilia RSV4 Factory rider in second place in the overall standings, behind Sylvain Guintoli. Sykes sits in third and Melandri in fourth.

One Win, One Second Place For Marco Melandri On The RR In Monza
[caption id="attachment_26147" align="alignright" width="300"]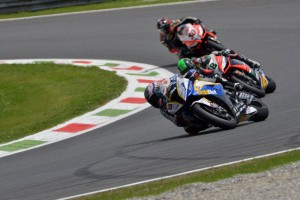 Marco Melandri rode his BMW S 1000 RR to victory in race one.[/caption]

The BMW Motorrad GoldBet SBK Team is back on winning ways. Factory rider Marco Melandri rode his BMW S 1000 RR to victory in race one today and in race two, Marco was once again one of the front runners and finished second, claiming the fastest race lap. His team-mate Chaz Davies finished fifth in the first race, but crashed out of race two, once again, lying in fifth. The "Autodromo Nazionale di Monza" hosted the fourth round of the 2013 FIM Superbike World Championship. In the Riders' Classification, Marco climbed to fourth with 96 points. Chaz is fifth with 94 points. In the Manufacturers' classification, BMW lies in second with 144 points.

Race one, which was recorded as the fastest average speed World Superbike race ever, was a breathtaking thriller from the start flag until the finish line. Marco, who started from fifth, pushed forward from the word go and took second position on lap two. Until the chequered flag, he fought an exciting battle with Eugene Laverty, Sylvain Guintoli and Tom Sykes. Positions between the four changed all the time. On lap 11, Marco took the lead but slipped back to third on lap 15. The battle continued and reached its climax on the final lap. Marco took the lead but lost it a few corners later, however he did not give up the fight. With a brilliant maneuver he regained first place with only a few hundred metres to go and defended his lead until the chequered flag. In a photo finish, he had an advantage of just 0.085 seconds to Sykes in second place and 0.107 seconds to Laverty in third. Chaz, who started from ninth, also gained several positions in the early stages of the race. He was involved in a battle with Jonathan Rea and Davide Giugliano and soon took fifth place, a position he successfully kept until the finish of the race.

[caption id="attachment_26150" align="alignleft" width="200"]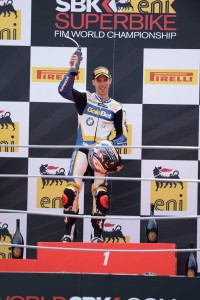 The BMW Motorrad GoldBet SBK Team is back on winning ways.[/caption]

Race two saw the same four protagonists, but this time the quartet did not change positions as much, they instead seemed to wait for the closing stages to start their final battle for victory. Marco was in third place for the majority of the race, and on the penultimate lap he started his charge forward and overtook Guintoli for second place. Laverty however defended his lead up until the finish line, winning the race with an advantage of 0.143 seconds ahead of Marco. Chaz had a more difficult race than race one. In the early stages, he again improved to fifth, but then went wide in the chicane and dropped back to eighth. The Welshman fought his way back to fifth, but a crash on lap 12 ended his hopes of another top result.

The BMW Motorrad GoldBet STK Team had a more than unlucky day. The race of the FIM Superstock 1000 Cup ended prematurely for both riders after Sylvain Barrier and Greg Gildenhuys were involved in a heavy crash in the first corner which involved a number of motorcycles. Both had to be taken to the Medical Center to be assessed. Sylvain luckily escaped unhurt, Greg was suspected to have fractured his right leg, but further examinations showed that he fortunately just twisted his ankle.

Marco Melandri

"It was an unbelievable day for me. To finish first and second here in Monza is just awesome and it feels great after we had a difficult start to the season. Race one was unbelievable. I knew that my race pace was quite good, even if we struggled a bit in qualifying. When we started, I knew that it would be very tough until the last corner. When Eugene passed me on the last lap, I thought it would be impossible to pass him back again, because he was very good in the turns and he was pulling away. But in the last corner I was quite close, I knew that I could go a little bit faster than the others and so I overtook him and, even though I was a little bit wide, I kept full throttle until the finish line. Until the chequered flag, I was talking to my RR, telling her 'go, go, go' - that was incredible.

In the middle of race two I was a little bit faster than the two guys in front of me, but I could not try to pass. But when Sylvain made a little mistake, I overtook him and then tried to catch Eugene, but he was a bit too far away. Anyway, I was also very happy with second place. Now I am confident because I feel that the feeling with the bike is coming back. I can brake and go into corners aggressively, it is my riding style. I am sure that from now on we can fight with the top guys at every race. Thanks a lot to my team because they are working so hard and I am sure our championship will start now. And I also want to say 'Grazie' to the many fans who came here today. It was just awesome to see the grandstands."
Chaz Davies
"Race one was a fun race but not ideal. It was fun to battle with Jonathan and Davide, but there is no need to fight around here because the front group goes away too quickly and you lose everything, especially in the slipstream which is very important. You have to take a few tenths every lap in the slipstream. I was quite happy with my pace in the middle of the race, I could see that I was closing a little bit on the front group but in the end it was not possible to catch them. I would have liked to see how the race would have ended if I would have been able to go with them. In race two I lost time fighting with Davide again. It was fun, but it cost me half a second a lap to the top group. I thought I could close the gap and was pushing to fight for the race win and not to finish fifth. In the end I was pushing too hard and lost the front. Obviously I am disappointed to crash, but I am happy because we improved the bike step by step and were going in the right direction."
Andrea Buzzoni (General Manager BMW Motorrad WSBK)
"After a dramatic weekend in Assen we came to Monza with many new ideas for Marco, ideas that have worked well since Friday. Thanks to the work the race and R&D team have done after Assen, as Marco feels comfortable and is able to show his talent. In both races he was perfect in terms of performance and race management. We're really happy he finally got back the right feeling with the bike, which allows him to go as fast as he did here in Monza. Now we have to keep up this level of performance for the future races. We have many ideas so we are really confident. I want to thank his crew for their work in Saturday's Superpole, as they did a perfect job in a short amount of time and allowed him to compete the session, so well done. Unfortunately, because of the crash on Friday, Chaz started to work on the settings later. The set-up was defined today after race one. Chaz is aware of his capability and power, and it showed in race two when he tried to close the gap to the front riders to fight for the win but unfortunately he crashed. We have to appreciate the consciousness and commitment he showed. In race one he gained a fifth place which is important for gaining points towards the championship. The championship is still long, so we have to keep working.

The Superstock race unfortunately had a dramatic start with Sylvain and Greg crashing on the first lap. Sylvain was OK, Greg had a bad impact but luckily he suffered a minor injury. We leave with empty hands but this has had no dramatic impact on the overall standings. Let's restart at the next race."
Andrea Dosoli (Technical Director BMW Motorrad GoldBet SBK Team)
"In Monza we were finally rewarded for all the hard work we have done with Marco. We have lost races due to some unlucky situations and small technical issues. All the guys have been working very hard and it was obvious from the first practice session here in Monza that Marco was confident with his bike. It was great to see him smile again. Today's two races confirmed what we had seen since Friday and we are all happy. We must congratulate him and his crew for their work. We have seen that our RR is quite competitive on this track, even if, as we expected, our competitors are very strong. For Chaz, it was not an easy weekend. He had a crash on Friday but then working with his crew he improved his feeling for the bike step by step. Even if his starting position was not the best, he was catching up, especially in race two. In the middle of the race he was really fast but unfortunately he hit the bumps with the front and lost the opportunity to fight with the top group. But he proved that he was going at a good speed. So again, a big thank you to all the guys."
Source: BMW Motorrad Goldbet SBK Team

World Superbike 2013 - The Races At Monza
Aprilia Wins At Monza - Eugene Laverty Wins Race 2The Two Aprilia Riders Lead In The Championship Standings: Sylvain Guintoli Out Front, Followed By Teammate Eugene LavertyAprilia Leads The Manufacturer World Championship
[caption id="attachment_26149" align="alignright" width="200"]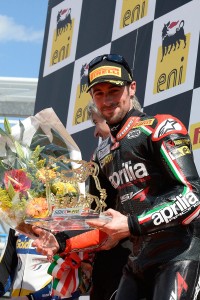 Eugene Laverty is now lying in second place in the championship.[/caption]

Aprilia Racing was the star player at Monza in the fourth World SBK round and finished the Italian weekend with its two standard bearers, Guintoli and Laverty, respectively in first and second place for the championship standings. Aprilia strengthens its hold on the Manufacturer World Championship lead (172 points) in front of BMW (144), Kawasaki (127), Honda (78), Suzuki (68) and Ducati (52).

In both races the four riders - Laverty, Guintoli, Melandri and Sykes - left the others behind, leap frogging in and out of the lead several times, battling down to the last turn for victory. In the first race, after a spectacular flying finish and after having led the race for a large portion of the time, the two Aprilia riders finished in third (Laverty) and fourth place (Guintoli) behind Melandri and Sykes.

The second, extremely fast race, which ended with an average speed of more than 201 kph, followed the same script with the quartet running away at the front. The Aprilia riders stayed in the lead: first Laverty for seven laps and then Guintoli in the next eight and then Laverty again, taking the lead in the last two laps to then defend down to the wire and win in front of Melandri, Sykes and Guintoli. This is a result that is enriched by the presence of all four RSV4s in the top six places (Fabrizio fifth, Giugliano sixth).

With this victory, the third of the season after the one in Phillip Island and the last round at Assen, Eugene Laverty is now lying in second place in the championship which is led by his team mate, Sylvain Guintoli. The French Aprilia Racing rider was a protagonist today, leading in both races. The double fourth place finishes are not a complete satisfaction for him, but they are important results for championship points.

Eugene Laverty

"This was a great day for me. After the podium in Race 1 it was nice to end the weekend with a victory. Especially since I was a bit disappointed because I had a shot at the top step of the podium in the first race as well if I had managed the end differently. We showed that we can be fast and consistent on two very different tracks like Assen and Monza. My RSV4 did extremely well for me. On this track the speed and balance of the bike in braking are essential. The points situation is excellent if you consider the double dnf in Aragon, but I've already left those difficulties behind and I count on doing well at the next round in Donington as well. Even though it will be an 'almost' home round, it has never been a particularly favourable track for me, but I think this year I've got everything in order to bridge this gap as well".
Sylvain Guintoli

"What an exciting weekend! In Race 1 I felt like I was really fast until the halfway point and then my feeling dropped, so the fourth place finish was the most I could get. In the second race I had a better pace. The others were struggling a lot more to overtake me but in the last two laps I wasn't able to keep Eugene and Melandri's pace. The decision that was taken after Sykes' manoeuvre seemed obvious to me immediately, now we have to wait. For sure my Team deserved the podium after working so hard. For the championship every single point is going to be really important".
Source: Aprilia Racing

Tom Sykes Takes Two Podiums And The Lap Record At Monza
[caption id="attachment_26155" align="alignright" width="300"]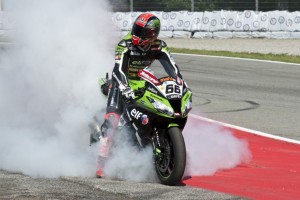 Tom Sykes left the Monza race weekend with a second and a third place finish.[/caption]

KRT rider Tom Sykes left the Monza race weekend with a second and a third place finish, new track and race lap records and third place in the championship after two blistering displays of fast riding.

Loris Baz (Kawasaki Racing Team) could not find his ideal set-up in the races and finished with two strong top ten finishes, so he is still sixth place in the overall standings.

Sykes was so close to the win in the first race that the gap at the flag was only 0.085 seconds and he was delighted to be able to race hard right to the end on his Ninja ZX-10R. A last lap manoeuvre on an inside line at the classic Parabolica final corner took him past Eugene Laverty but not quite to the win itself.

In race two he had to fight hard all the way and scored a third place, only 0.725 seconds from the win. Tom's new lap record is 1'42.229 seconds, set on lap five in the first race. In the championship Tom is third, on 119 points, 18 points off the lead.

[caption id="attachment_26156" align="alignleft" width="300"]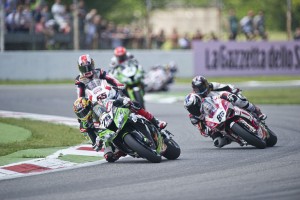 Loris Baz was seventh in race one, improving on his qualifying position.[/caption]

Baz was seventh in race one, improving on his qualifying position of 11th, as he gathered more important points. In race two he had to start from the very back after he stalled his machine on the line but battled through to finish eighth.

Fabrizio Lai (Kawasaki Team Pedercini) and Federico Sandi (Kawasaki Team Pedercini) each scored points in race one, Lai for 13th and Sandi for 15th.

The Superstock 1000 FIM Cup race delivered a 1-2 for Kawasaki Ninja ZX-10R riders, with Lorenzo Savadori (Team Pedercini Kawasaki) winning by 0.402 seconds from Jeremy Guarnoni (MRS Kawasaki). No fewer than six of the bikes in the top nine places were Kawasakis. Guarnoni is fourth overall in the championship, only eight points from the leader.

Tom Sykes
"Today I put it all out there for everybody to see. I could not give any more. Race one was a great race, a great battle although I was like a sitting duck at the back for a time. I was waiting to see where those guys were strong, and they have some speed, so I used that to my advantage and it led to a very exciting last lap. I tried to lead after lap 15 and pull a gap but it was not to be, because they reeled me straight back in. The last lap was great, it was almost a third to first run from the last corner, but I did not want to do anything stupid, so to have the Kawasaki working like that here makes me very motivated. Monza was going to be one of the most challenging circuits we would visit this season but we have come away with pole position, a new circuit record, a lap record and two podiums, so I am happy!"
Loris Baz
"We knew it was going to be a hard raceday for us but in race two we understood a lot and I think we know which direction we have to go at this track. I am confident for the next races and on from here with sixth place in the championship. The bike stalled on the grid when I put it through first gear so I think I did not give enough gas, so I had to start from pitlane, I think I could have been sixth maybe in that race and not eighth, as I was not pushing at the end. Some other riders did not score."
Source: Kawasaki Racing Team

Fighting Performance By Leon Camier At Monza
[caption id="attachment_26157" align="alignright" width="300"]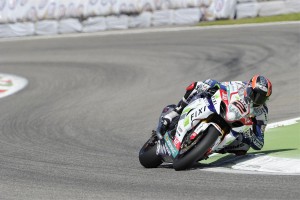 Leon Camier rode to a determined and extremely impressive seventh place.[/caption]

FIXI Crescent Suzuki's Leon Camier rode to a determined and extremely impressive seventh place in today's second eni FIM Superbike World Championship race at Monza in Italy.

Starting from eighth on the grid, Camier held that position over the first three laps and kept in contention with the leading group. As the race wore on the Englishman pushed on through the field and was up to sixth by lap-six. He then got involved in a battle with Davide Giugliano and Michel Fabrizio over the rest of the race, before Camier crossed the finishing line seventh to confirm his comeback to fitness, equal his best result of the season so far; and move into the top-10 in the championship. Jules Cluzel had a second race to forget as he crashed on the second lap and ended his weekend early. He was mainly uninjured in the accident - he lost the nail on his little finger - but was very disappointed with the outcome of the race. The victory in the second event was taken by Eugene Laverty on an Aprilia.

Race one saw both Camier and Cluzel get solid starts and maintain positions in the top-10, before a mistake on lap five cost one of the FIXI Suzuki racers dearly. Cluzel missed his braking point going into the first chicane and went straight on and into the run off zone. He quickly re-joined the race - after losing five places - but was then further penalized with a ride-through penalty for not taking the correct line through the run-off area. Cluzel came into the pit-lane two laps later to take his penalty and re-joined the race in last place, fought to try and catch up to the closest riders but was unable to bridge the gap and had to settle for 17th position, his first non-scoring finish of the season so far.

[caption id="attachment_26158" align="alignleft" width="300"]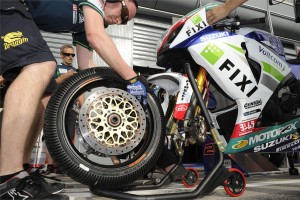 Leon Camier 2013 World Superbike Monza - Pits[/caption]

Camier fared better than his team-mate in the first event, as he pushed hard on the demanding and fast 5,777m Italian circuit to bring his Yoshimura-powered Suzuki GSX-R home in ninth place, despite struggling with braking issues for the majority of the race. The race was won by local hero Marco Melandri, after a dramatic final few laps involving the Italian, Tom Sykes and Laverty which saw the trio swap places regularly, before Melandri came out on top with Sykes and Laverty coming home in second and third respectively.

FIXI Crescent Suzuki now heads back to the UK for its first home race of the season, as the European round of the WSBK championship with be held at Donington Park in England on Sunday May 26th.

Leon Camier:
"I had a pretty good start in the second race and got past Jules on the first lap. I then tried to get in a rhythm and not lose the tow. It took me a lap or two to get the feel and confidence in the brakes because we'd made a change to them for the second race. They felt ok, not as good in performance, but more consistent, so at least I could race with them. The set-up of the bike also worked better and let me do a bit more in the race, but I think the results today are what we can expect at this track. Yoshimura and the Crescent team have done a great job and the engine performance is in a different world to last year, but I don't think we could have done much more here."
Jules Cluzel:

"I made a mistake in the first race and had to do a ride-through. I think this was a bit harsh because I had already lost 10-seconds and so for me there was no chance of any points. In the second race we worked a lot on the bike and made some changes to help with the traction, but I lost the rear for the first time in four races and crashed. I think I made a mistake, but the bike set-up was completely new and with a different feeling because we changed quite a lot. Maybe I need to adapt more before going for fast laps, so we will need to learn from this. I got zero points this weekend, but I am already looking to get to the next race, because this one was not the best for me."
Paul Denning - Team Manager:
"First and foremost the whole team is very relieved that Jules is largely uninjured after what looked like a very nasty accident in the second race. Race-day just didn't pan out in the way we were hoping for with Jules. He had a great pace in race one before running on at the chicane, and then the ride-through destroyed any opportunity to see what he could have done. After settling in calmly on lap one of the second race, the crash put an end to his day. I have to be honest and say we are struggling between us - the team and Jules - to fully understand the best way to get him comfortable on the GSX-R for all conditions and circuits. There is still some significant work to do to find the right base, but that said, he's an inspiring racer and we're sure he'll bounce back strongly at Donington.

"For Monza I think Leon had a pretty good day! We struggled with a braking problem in the first race, but in race two the bike was a lot closer to the others. In the end we only got beaten by a factory Kawasaki, a factory BMW and the Aprilias, which on a track like this is no shame. The engine performance is night-and-day better than 2012, thanks for which I have to give to our guys at Crescent and our partners at Yoshimura Japan, who are working so hard for us. Apart from the last four or five laps - where we ran out of grip - Leon's pace was on a par with the front group. We are coming in to some tracks that will suit the bike, such as Donington and Portimao. Leon's really done well there before and we're positive of further progress towards the podium."
Source: Team Suzuki

Disappointment For Pata Honda In Monza
[caption id="attachment_26153" align="alignright" width="300"]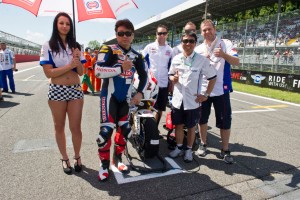 Kosuke Akiyoshi finished 14th in race one - Photo: Graeme Brown[/caption]

The Pata Honda World Superbike team endured a difficult fourth-round event at the Autodromo Nationale di Monza in Italy today with only a handful of points to show after some positive development steps with the CBR1000RR Fireblade.

In race one at the historic 5.777km circuit just north of Milan, Jonathan Rea enjoyed a superb start from the second row of the grid but, on the second lap, a missed gear on the exit of Monza's infamous first chicane dropped him down the order.

In a bid to get back on terms, the 26-year-old from Northern Ireland ran on at the same corner eight laps later and clipped a safety bale, for which he was awarded a penalty and ordered to drop two places. Rea made those two places back over the last three laps to finish eighth at the flag.

In race two, clutch problems forced his retirement early in the race as his stand-in team-mate, Kosuke Akiyoshi, who earlier finished 14th in race one, crashed out unhurt at turn eight.

Jonathan Rea - 8th and DNF

It's been a tough day and I don't feel like we got what we deserved today. It was clear I had pace all weekend but, unfortunately, in a race situation, while I had pace by myself, when I tried to capitalize on my strengths in the race, I couldn't run the same corner speed. It made it difficult to pass people and that was upsetting my already good entry speed by braking too late. So in race one I learned a lot but in race two, again I made a good start, but straight away I had some problem with the bike. I thought maybe I should adjust the clutch but, to be honest, the guys are still looking into it and investigating because I don't think that's the only problem. It's hard to say we can leave here with our heads held high. When I'm on my own I'm actually enjoying riding the bike and we've made massive gains, but it's hard to stomach an eighth place from a weekend. But, we move on to Donington - I'll try and keep my head up and remain positive like the rest of the guys and hopefully come back stronger.
Kosuke Akiyoshi - 14th and DNF
During the weekend we improved the bike step-by-step. We did it in stages - first engine brake, then traction control. We made some small changes to the chassis which gave a good feeling but in race one it wasn't correct. In race two it was a lot better, with the tires as well. The lap time was improving but I crashed in turn eight when the rear tire span out because I was a bit faster. Engine braking, chassis and the mapping was all good. With some more time on the bike, I think I could make more progress. It has been a good experience and I enjoyed working with this team.
Pieter Breddels - Technical Co-ordinator
In race one Akiyoshi-san got into the points with 14th and Jonathan got eighth after missing a chicane and not returning to the track in the correct way. He had to drop two places and fight back so eight was the maximum. We didn't have a lot of luck in race two either, with Akiyoshi-san crashing out of the race and Jonathan had some technical problems with the bike. All in all it's been a weekend to forget for the Superbikes, however, I would like to say a big thank you to Akiyoshi-san for replacing Leon Haslam at such short notice. His feedback has been very accurate and useful and I hope we can work together again. But, for now, we're happy to pack up and head for Donington!
Source: Team Pata Honda

Monza Overview And Point Standings
2013 World Superbike Monza Image Gallery (Click for full size images)


World Superbike Results - Race 1











































































































































| Pos. | Rider | Team | Bike | Time |
| --- | --- | --- | --- | --- |
| 1 | Marco Melandri | BMW Motorrad GoldBet SBK | BMW S1000 RR | 30'54.925 |
| 2 | Tom Sykes | Kawasaki Racing Team | Kawasaki ZX-10R | 30'55.010 |
| 3 | Eugene Laverty | Aprilia Racing Team | Aprilia RSV4 Factory | 30'55.032 |
| 4 | Sylvain Guintoli | Aprilia Racing Team | Aprilia RSV4 Factory | 30'56.769 |
| 5 | Chaz Davies | BMW Motorrad GoldBet SBK | BMW S1000 RR | 31'02.554 |
| 6 | Michel Fabrizio | Red Devils Roma | Aprilia RSV4 Factory | 31'03.332 |
| 7 | Loris Baz | Kawasaki Racing Team | Kawasaki ZX-10R | 31'10.480 |
| 8 | Jonathan Rea | Pata Honda World Superbike | Honda CBR1000RR | 31'11.390 |
| 9 | Leon Camier | Fixi Crescent Suzuki | Suzuki GSX-R1000 | 31'11.593 |
| 10 | Davide Giugliano | Althea Racing | Aprilia RSV4 Factory | 31'21.745 |
| 11 | Ayrton Badovini | Team Ducati Alstare | Ducati 1199 Panigale R | 31'33.833 |
| 12 | Max Neukirchner | MR-Racing | Ducati 1199 Panigale R | 31'33.876 |
| 13 | Fabrizio Lai | Team Pedercini | Kawasaki ZX-10R | 31'47.713 |
| 14 | Kosuke Akiyoshi | Pata Honda World Superbike | Honda CBR1000RR | 31'50.814 |
| 15 | Federico Sandi | Team Pedercini | Kawasaki ZX-10R | 31'50.931 |
| 16 | Mark Aitchison | Team Effenbert Liberty Racing | Ducati 1098R | 31'51.752 |
| 17 | Jules Cluzel | Fixi Crescent Suzuki | Suzuki GSX-R1000 | 31'54.470 |
| DNF | Vittorio Iannuzzo | Grillini Dentalmatic SBK | BMW S1000 RR | 14'33.976 |
World Superbike Results - Race 2
| Pos. | Rider | Team | Bike | Time |
| --- | --- | --- | --- | --- |
| 1 | Eugene Laverty | Aprilia Racing Team | Aprilia RSV4 Factory | 30'59.653 |
| 2 | Marco Melandri | BMW Motorrad GoldBet SBK | BMW S1000 RR | 30'59.796 |
| 3 | Tom Sykes | Kawasaki Racing Team | Kawasaki ZX-10R | 31'00.378 |
| 4 | Sylvain Guintoli | Aprilia Racing Team | Aprilia RSV4 Factory | 31'01.272 |
| 5 | Michel Fabrizio | Red Devils Roma | Aprilia RSV4 Factory | 31'09.618 |
| 6 | Davide Giugliano | Althea Racing | Aprilia RSV4 Factory | 31'09.719 |
| 7 | Leon Camier | Fixi Crescent Suzuki | Suzuki GSX-R1000 | 31'11.894 |
| 8 | Loris Baz | Kawasaki Racing Team | Kawasaki ZX-10R | 31'29.424 |
| 9 | Ayrton Badovini | Team Ducati Alstare | Ducati 1199 Panigale R | 31'34.658 |
| 10 | Max Neukirchner | MR-Racing | Ducati 1199 Panigale R | 31'41.410 |
| 11 | Fabrizio Lai | Team Pedercini | Kawasaki ZX-10R | 31'52.232 |
| 12 | Vittorio Iannuzzo | Grillini Dentalmatic SBK | BMW S1000 RR | 32'28.425 |
| 13 | Federico Sandi | Team Pedercini | Kawasaki ZX-10R | 31'06.572 |
| DNF | Chaz Davies | BMW Motorrad GoldBet SBK | BMW S1000 RR | 19'01.771 |
| DNF | Jonathan Rea | Pata Honda World Superbike | Honda CBR1000RR | 11'20.596 |
| DNF | Kosuke Akiyoshi | Pata Honda World Superbike | Honda CBR1000RR | 7'06.643 |
| DNF | Mark Aitchison | Team Effenbert Liberty Racing | Ducati 1098R | 5'31.798 |
| DNF | Jules Cluzel | Fixi Crescent Suzuki | Suzuki GSX-R1000 | 1'47.465 |
World Superbike Rider Point Standings( Race 8 of 30 )


Sylvain Guintoli - 137

Eugene Laverty - 124

Tom Sykes - 119

Marco Melandri - 96

Chaz Davies - 94

Loris Baz - 75

Michel Fabrizio - 74

Jonathan Rea - 71

Davide Giugliano - 49

Leon Camier - 46

World Superbike Manufacturer Point Standings( Race 8 of 30 )


Aprilia - 172

BMW - 144

Kawasaki - 130

Honda - 78

Suzuki - 68

Ducati - 52