2013 AMA Pro Flat Track Stockton Half Mile Results
Chaparral Motorsports
|
May 13, 2013
Sammy Halbert Proves Knee Not An Issue With Stockton Half-Mile Victory
[caption id="attachment_26135" align="alignright" width="200"]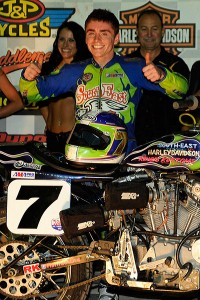 Sammy Halbert pulled away with five laps remaining to clinch his first victory of the young season - Photo: Dave Hoenig[/caption]

Saturday night's AMA Pro Flat Track presented by J&P Cycles Grand National Championship Main Event displayed an old-fashioned dogfight between Sammy Halbert (Graham, Wash.) and Brad Baker. Two of the sport's finest riders went neck and neck for the majority of the race and it was Halbert who pulled away with five laps remaining to clinch his first motorsports victory of the young season.

"It was just an awesome race," said an ecstatic Halbert. "Coming off my knee surgery, it's been a long road of rehab. I'm still not quite 100% healthy but my bike certainly was 100% perfect tonight. I want to say thanks to the California crowd who came out and supported me. It's always fun racing in this state. My team and I really got a good win here and it's definitely something to build off of."

After having missed the 2013 AMA Pro Flat Track presented by J&P Cycles season opening rounds at Daytona back in March due to a knee surgery, Halbert needed a strong performance tonight to help himself make up ground in the point standings. Starting from pole position, Halbert got the holeshot and the lead but found himself handlebar-to-handlebar with Baker almost immediately. After flip-flopping leads seemingly almost every other lap, it was Halbert who managed to break loose on the 20th lap and open up his biggest lead of the night, and eventually winning by almost a full second over Baker.

So far in 2013, Baker is no stranger to finishing in second place, as the Dryad, Wash. product has been runner-up in all three main events this season.

[caption id="attachment_26136" align="alignleft" width="300"]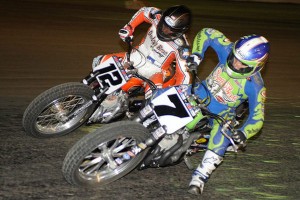 Sammy Halbert was the victor of an old-fashioned dogfight with Brad Baker - Photo: Dave Hoenig[/caption]

The most shocking and disappointing headline of the night was Jared Mees (Clio, Mich.) and his 16th place finish in the main event. After claiming victory in Heat 2 as well as the Dash for Cash, Mees skidded off the groove early on and found himself in dead last for the majority of the race. The defending Grand National Champion surely had his hopes set a lot higher and will have to rebound in two weeks when the series heads to Springfield, Illi. for the Springfield Mile.

Henry Wiles (Winn, Mich.) started third on the grid and that's exactly where he would finish to secure the final spot on the podium. Jake Johnson (Coatesville, NJ) and Robert Pearson (Chillicothe, Ill.) would go on to round out the top five.

AMA Pro J&P Cycles Pro Singles


[caption id="attachment_26134" align="alignright" width="300"]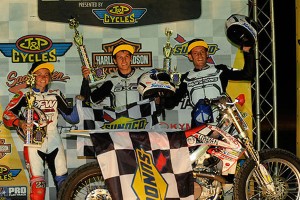 Wyatt Maguire, Shayna Texter, and Kyle Johnson on the winner's podium - Photo: Dave Hoenig[/caption]

Wyatt Maguire ripped the lead from Shayna Texter (Willow Street, Penn.) early on and went on to clinch his first career main event victory. Maguire, a Mead, Wash. product, looked sharper than ever Saturday night as he put himself in a completely different area code than his competitors for the majority of the race, winning by more than four full seconds.

"It was definitely tough getting through the field but we ended up changing gears and it helped a lot," said Maguire. "It feels incredible to pull off my first ever victory here in Stockton. I need to thank my family and all of my sponsors, without them I would never have the opportunity to experience something like this. I also want to thank the crowd for coming out; it's truly a pleasure racing so close to my hometown."

Though Texter saw her early lead diminish to Maguire early on, the female phenomenon wouldn't go on to surrender any more ground as she cruised to an impressive second place finish. After a strong 2012 campaign and a very solid start to this season, it's evident that Texter has more than what it takes to hang with the guys in the male-dominated sport.

"It feels incredible to pull off my first ever victory here in Stockton." - Wyatt Maguire
Perhaps one of the biggest headlines regarding the J&P Cycles Pro Singles Main Event was the strong performance of Kyle Johnson. The Twin Lakes, Mich. product put himself on the map during Round 1 at Daytona with a surprising win and followed that performance up with a third place finish at the Stockton Half-Mile here tonight, proving he's here to stay and should be considered a top contender in the already talent-heavy class. Rodney Spencer Jr. (San Martin, Calif.) and Cole Frederickson rounded out the top five as their efforts were valiant but simply not enough to overtake Johnson for the final podium spot.

Next up, the stars of AMA Pro Flat Track presented by J&P Cycles head to Springfield, Illi. for the legendary Springfield Mile on May 26. Please visit http://www.illinoismda.com/ for tickets and more information.

Source: AMA Pro Racing

Wyatt Maguire's Comfortable California Cruise Lands Him In Winner's Circle
[caption id="attachment_26139" align="alignright" width="200"]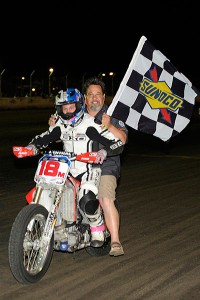 Wyatt Maguire erased a so-so start to the season with a big win Saturday night - Photo: Dave Hoenig[/caption]

The long layoff from the start of the Pro Flack Track season certainly didn't bother J&P Cycles Pro Singles rider Wyatt Maguire, who erased a so-so start to the season with a big win Saturday night at the Stockton Half-Mile at San Joaquin County Fairgrounds.

"It's been so long since we rode last," Maguire said of the two-month layoff. "At first it didn't really feel like a Grand National event because we were all just trying to get back to the feel of things again."

It didn't take Maguire very long to knock off the rust and pick up some Motorcycle-Superstore.com Bell Helmet bonus money in the winner's circle. He said it was helpful that his team didn't have to do much to his bike to make it quick.

"The bike was hooking up really well right out of the trailer," Maguire said. "We made just one change all night, which was adding one tooth for the main. We played around a little with air pressure at the beginning of the night but that's about it.

"You usually don't get to unload and pretty much have everything set up perfectly right from the start so I was able to get comfortable right away."

Maguire did have to work for his win after getting shuffled back at the start of the main event.

[caption id="attachment_26138" align="alignleft" width="300"]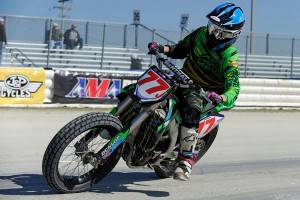 Kyle Johnson followed his Daytona victory with a third place finish in Stockton - Photo: Dave Hoenig[/caption]

"I had kind of a crummy start," Maguire said. "We were all bunched up in Turns 1 and 2, which isn't ideal. When we got to Turn 3 I was probably about fifth so I started to ride the outside and managed to pick up a few spots.

"After that I started to move my line down and passed the other two guys. Then once I got up front I did my best to stay smooth, keep my head down and two-wheel all the way round the track."

With the victory, Maguire moved into a tie for the Pro Singles lead with fellow Motorcycle-Superstore.com Bell Helmet rider and Daytona winner Kyle Johnson, who finished third on the night.

Up next for the riders in the AMA Pro Flack Track Series presented by J&P Cycles, is a May 26 date with the Springfield Mile at the Illinois State Fairgrounds in Springfield, Ill.

Source: AMA Pro Racing

Stockton Half Mile Overview And Point Standings
2013 AMA Pro Flat Track Grand National Championship Stockton Image Gallery (Click for full size images)


Overall Results: GNC Expert Twins - Race Time: 7:51.080






























































































































































| Pos. | # | Rider | Bike | Interval | Best Lap |
| --- | --- | --- | --- | --- | --- |
| 1 | 7 | Sammy Halbert | Harley-Davidson | 25 Laps | 0:19.433 |
| 2 | 12 | Brad Baker | Harley-Davidson | 0.961 | 0:19.396 |
| 3 | 17 | Henry Wiles | Harley-Davidson | 4.710 | 0:19.550 |
| 4 | 5 | Jake Johnson | Harley-Davidson | 4.969 | 0:19.574 |
| 5 | 27 | Robert Pearson | Harley-Davidson | 5.312 | 0:19.665 |
| 6 | 44 | Brandon Robinson | Kawasaki EX650 | 11.224 | 0:19.861 |
| 7 | 2 | Kenny Coolbeth, Jr. | Harley-Davidson | 11.526 | 0:19.731 |
| 8 | 73 | Doug Lawrence | Harley-Davidson | 12.135 | 0:19.652 |
| 9 | 23 | Jeffrey Carver Jr. | Harley-Davidson | 12.402 | 0:19.876 |
| 10 | 91 | Michael Martin | Triumph Bonneville | 12.747 | 0:19.868 |
| 11 | 80 | Stevie Bonsey | Harley-Davidson | 13.172 | 0:19.708 |
| 12 | 42 | Bryan Smith | Kawasaki EX650 | 14.580 | 0:19.858 |
| 13 | 10 | Johnny Lewis | Triumph Bonneville | 16.452 | 0:20.030 |
| 14 | 98 | Kayl Kolkman | Harley-Davidson | 20.770 | 0:20.005 |
| 15 | 14 | Briar Bauman | Suzuki SV1000 | 24 Laps | 0:20.208 |
| 16 | 1 | Jared Mees | Harley-Davidson | 0.196 | 0:20.326 |
| 17 | 32 | Shawn Baer | Kawasaki EX650 | 9 Laps | 0:20.408 |
| 18 | 31 | Daniel Ingram | Harley-Davidson | 4.189 | 0:20.613 |
Rider Point Standings - GNC Expert Twins ( Race 1 of 11 )


Sammy Halbert - 27

Brad Baker - 22

Henry Wiles - 19

Jake Johnson - 15

Robert Pearson - 15

Brandon Robinson - 13

Kenny Coolbeth, Jr. - 12

Doug Lawrence - 11

Jeffrey Carver Jr. - 10

Michael Martin - 9

Rider Point Standings - GNC Expert Singles ( Race 2 of 4 )


Brandon Robinson - 42

Mikey Rush - 37

Jake Johnson - 30

Henry Wiles - 28

Brad Baker - 26

Jared Mees - 25

Matt Weidman - 25

Kenny Coolbeth, Jr. - 23

Jethro Halbert - 22

Bryan Smith - 19

2013 AMA Pro Grand National Championship Standings ( Race 3 of 15 )


Brandon Robinson - 55

Brad Baker - 48

Henry Wiles - 47

Jake Johnson - 45

Mikey Rush - 37

Kenny Coolbeth, Jr. - 35

Jared Mees - 33

Robert Pearson - 33

Sammy Halbert - 27

Bryan Smith - 26

Overall Results: Pro Singles - Race Time: 5:00.418
| Pos. | # | Rider | Bike | Interval | Best Lap |
| --- | --- | --- | --- | --- | --- |
| 1 | 18M | Wyatt Maguire | Yamaha YZ 450F | 16 Laps | 0:19.708 |
| 2 | 25A | Shayna Texter | Honda CRF450R | 4.616 | 0:20.142 |
| 3 | 77J | Kyle Johnson | Kawasaki KX450F | 6.585 | 0:20.269 |
| 4 | 74Z | Rodney Spencer Jr. | Honda CRF450R | 6.658 | 0:20.314 |
| 5 | 51M | Cole Frederickson | Honda CRF450R | 7.145 | 0:20.197 |
| 6 | 38M | Hunter Taylor | Honda CRF450R | 7.180 | 0:20.205 |
| 7 | 30Z | Bronson Bauman | Honda CRF450R | 7.227 | 0:20.268 |
| 8 | 99Y | Ryan Kearns | Honda CRF450R | 7.781 | 0:20.275 |
| 9 | 94B | Ryan Wells | Honda CRF450R | 8.347 | 0:20.301 |
| 10 | 1 | Stephen Vanderkuur | Honda CRF450R | 8.596 | 0:20.148 |
| 11 | 66Y | Dominic Colindres | Honda CRF450R | 9.011 | 0:20.263 |
| 12 | 93J | Danny Koelsch | Honda CRF450R | 9.150 | 0:20.319 |
| 13 | 54Z | Michael Inderbitzin | Honda CRF450R | 9.749 | 0:20.364 |
| 14 | 51Y | Nate Wait | Honda CRF450R | 12.453 | 0:20.564 |
| 15 | 44E | Nick Armstrong | Honda CRF450R | 15.004 | 0:20.725 |
| 16 | 24F | J.R. Addison | Honda CRF450R | 15.448 | 0:20.737 |
| 17 | 92Y | Casey Yarrow | Honda CRF450R | 16.719 | 0:20.830 |
| 18 | 95Z | Austin Scaggs | Honda CRF450R | 4 Laps | 0:21.407 |
Rider Point Standings - Pro Singles ( Race 3 of 14 )


Kyle Johnson - 48

Wyatt Maguire - 48

Ryan Wells - 42

Rodney Spencer Jr. - 40

Jake Constantine - 34

Mike Poe - 33

Hunter Taylor - 31

Jason Isennock - 27

Dominic Colindres - 26

Shayna Texter - 25