Harley-Davidson To Celebrate World Ride Day In June
Chaparral Motorsports
|
May 9, 2013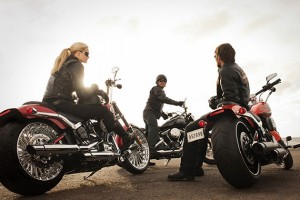 Fans of Harley-Davidson are invited to come together June 23 and 24 to honor 2013 World Ride Day. The manufacturer created the festivities as a way to recognize its faithful riders and legendary motorcycle gear, and this year's summer event will be part of the 110th anniversary of the brand and the 30th anniversary of the Harley Owners Group.

While the event is organized by the Harley Owners Group, anyone can participate in the fun, Motorcycle.com reports.

"Harley-Davidson is celebrating two big anniversaries this year, and the World Ride is a great way for riders around the world to celebrate them with us," said Ken Knuteson, director of the Harley Owners Group. "For these two days in June, our members will join together to celebrate 110 years of great riding and share the special bond that unites all Harley riders."

Last year, thousands of people in 66 countries participated in World Ride Day. Anyone participating can take a ride on their Harley-Davidson bike and log their miles online, helping to amass the goal of 10 million miles ridden by fans of the brand during the event.