AMA Supercross Releases 2014 Schedule
Chaparral Motorsports
|
May 9, 2013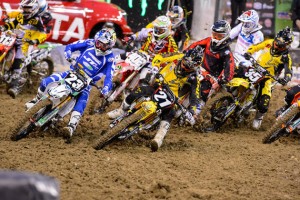 AMA Supercross only just wrapped up its 2013 motorsports season, but it's already planning on returning to bigger and better things in 2014. The series recently released the schedule for next year's events, and if all goes according to plan, it will be hitting up some of the largest stadiums in the U.S. For the first time since the early 1990s, Supercross will bring its action to the New York area, when it races into MetLife Stadium for one of the final stops of the year on April 26, 2014.

"With 40 incredible seasons behind us, we look ahead to continue bringing the best racing on the planet to new markets and new audiences across North America," said Charlie Mancuso, president of Feld Motor Sports, as quoted by Cycle News. "The sport is at an all-time high in terms of attendance, popularity and media exposure, so it's only natural that we continue to expand to the largest media market in the world - New York."

Also on the schedule in 2014 is a trip to Ford Field in Detroit. As usual, Supercross will open in January in Los Angeles and close out at the beginning of May in Las Vegas.