Icon Introduces New Motorcycle Jacket
Chaparral Motorsports
|
May 7, 2013
[caption id="attachment_25900" align="alignright" width="300"][mageProductLink sku="038-2820-2464" title=""]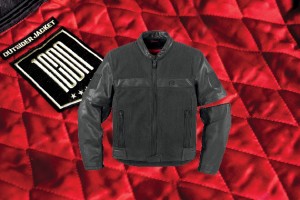 [/mageProductLink] Icon has long been a leader in convertible outerwear, and the Outsider continues that tradition.[/caption]

The weather may be warming up, but that doesn't mean riders can safely shed their motorcycle jackets. In fact, now may the time to invest in some new accessories, and the latest addition from Icon could be a potential investment.

Icon has long been a leader in convertible outerwear, and the [mageProductLink sku="038-2820-2464" title="Icon 1000 Outsider Jacket"]Icon One Thousand Outsider Leather/Denim Jacket[/mageProductLink] continues that tradition. Created from denim and leather-based materials, the jacket is ideal for those who want to transition seamlessly from safe riding to normal wear, as the all-black exterior offers protection without inhibiting movement.

There's more to this jacket than just a sleek look. It was designed with safety in mind, and the gear has reinforced seams and interior D3O armor. Icon's special D3O armor is included in the shoulder, elbow and back, giving motorcyclists plenty of protection. A removable, insulated vest liner is also available for some extra padding, and riders can continue customizing the jacket with a series of special trims and badges offered from the manufacturer.

This jacket is currently available at various dealers around the U.S., so riders ready to outfit themselves in the state-of-the-art gear can check out the offerings from their favorite online superstore.