Dani Pedrosa Collects MotoGP Win At Jerez
Chaparral Motorsports
|
May 7, 2013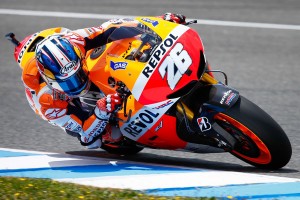 Dani Pedrosa
picked up his first win of the 2013 motorsports season at his home track in Jerez de la Frontera, Spain. The Honda rider began the race in second place but managed to grab hold of the lead by the sixth lap, and after that he cruised to a win.

"It was a beautiful race," said Pedrosa. "I was able to ride the bike well, even though it was difficult because the tires were really on the limit. I couldn't push too hard because of that, so I had to ride carefully. I was able to maintain a good advantage throughout the race and collect this win at home as a result."

Pedrosa was followed by teammate Marc Marquez, who managed to pass Valentino Rossi and Jorge Lorenzo for the second spot on the podium. According to Ultimate Motorcycling, it was how he got by Lorenzo that claimed most of the attention. The two had their bikes touch during the sequence, which didn't sit well with Lorenzo. The Yamaha rider refused to talk about the incident after the race.

Pedrosa is now the third winner in the three MotoGP races held so far, which moves him into second place in the overall standings. He is one point ahead of Lorenzo but three behind the leader Marquez.