Motorcycle Maniac: 2013 Suzuki V-Strom 650 ABS Adventure
Chaparral Motorsports
|
May 3, 2013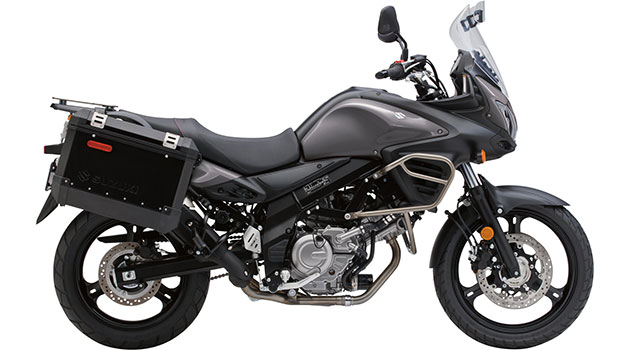 2013 Suzuki V-Strom 650 ABS Adventure: An Impressive Adventure Touring Bike
The 2013 Suzuki V-Strom 650 ABS Adventure may be a mouthful to say, but it's a joy to ride. For more than a decade, Suzuki has been producing models of this adventure motorcycle to wide acclaim. Its newest version may be the best yet, as a dazzling new look goes along with updated features, a powerful engine and supreme agility to create an excellent bike any motorcycle fan can appreciate.

This dual-sport adventure bike, while more of a street bike than anything else, is a unique machine capable of providing owners with a truly special riding experience.

Engine and Chassis
[caption id="attachment_25760" align="alignright" width="300"]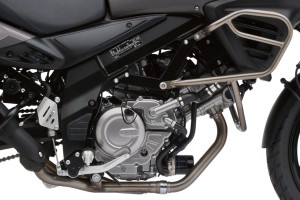 The engine for the 2013 Suzuki V-Strom 650 ABS Adventure, complete with an engine bar[/caption]

The V-Twin engine utilizes a displacement of 645cc and high rpm range power surges to keep riders cruising along on the road. High mileage and range are functions of the four-stroke, liquid-cooled motor, which also comes with an improved clutch and gearshift that are aimed at bettering the feel while cutting down on noise.

Compared to some previous V-Strom models, the 2013 version is slimmer and more compact. It's made from a lightweight alloy that easily speeds across any terrain, yet is strong enough to handle obstacles you may encounter along the way.

Features and Extras
A six-speed transmission allows riders to smoothly handle all kinds of trails and roads. Cruising can be done easily when in the top gear, while the remaining gears are aimed at creating a tight, sporty ride.

Riders who want to be able to stay on the road four hours at a time will appreciate the five-gallon fuel tank and an adjustable, protective touring windscreen, which can aid those on longer trips. Top-loading aluminum side cases are also helpful for owners who want to pack their bags for serious adventure riding.

Final Thoughts - Are You Ready For An Adventure?
[caption id="attachment_25761" align="alignright" width="300"]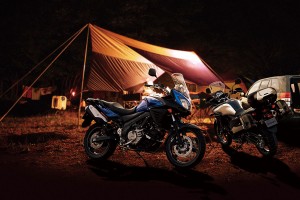 Camping with the 2013 Suzuki V-Strom 650 ABS, an adventure waiting to happen.[/caption]

Ultimately, the 2013 Suzuki V-Strom 650 ABS Adventure is a bike that's great for riding in any situation. A weight reduction frame, new engine and assortment of top features ensure the machine can be used by any type of motorist, and as you learn the ins and outs of the Suzuki motorcycle, you can improve the handling and performance.

The dual-purpose motorcycle is also available as a standard V-Strom 650, which comes without bags, crash guards and the windscreen. That is still a quality machine, but is missing some of the features that make this model a superior Adventure machine.

2013 Suzuki V-Strom 650 ABS Adventure Image Gallery
(Click for full size images)