Vincent Black Shadow Motorcycle Top Seller At Bonhams Auction
Chaparral Motorsports
|
May 1, 2013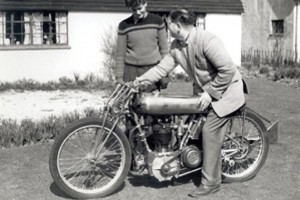 Vintage motorcycles have long been a draw for motorsports enthusiasts, and that was certainly the case at the most recent Bonhams Auction. The International Classic Motorcycle Show, which took place at the Staffordshire County Showground, featured some amazing bikes that commanded attention and high price tags.

One machine, a 1952 Vincent Black Shadow, sold for more than $175,000, making it the event's top seller. Originally constructed in an effort to break a speed record, the bike had since been fully restored and is capable of sustaining speeds of more than 100 mph for six hours, Motorcycle.com reports.

Some of the other popular items on the auction block included a 1914 Model F that was formally owned by actor Steve McQueen and a 1931 Brough Superior SS80. Various pieces of motorcycle gear and memorabilia, including two Barry Sheene race helmets, also sold for high prices.

"Once again our auction at the International Classic proved to be exactly that, with interest from bidders from across the globe," said Ben Walker, head of the Bonhams Motorcycle Department, as quoted by Ultimate Motorcycling. "Record-breaking machines like the 1952 Vincent Black Shadow and the movie star of charisma of Steve McQueen were among the draws for the crowd, and there was fierce competition for the Ducatis in the collection of the late Clifford Jones."