2013 AMA Supercross Salt Lake City Results
Chaparral Motorsports
|
April 29, 2013
Ryan Villopoto Wins Supercross Race And Championship In Utah
"We started the season off really rough and had a lot of stepping stones to overcome, but we did it as a team and we did it well." - Ryan Villopoto
Although there's one more week remaining in the 2013 AMA Supercross season, Ryan Villopoto has already wrapped up the title. The Kawasaki rider secured his third consecutive motorsports championship with a win in Salt Lake City, Utah, during the penultimate round of the series.

While he may have achieved the victory, it wasn't easy. Villopoto battled with Ryan Dungey, who won the hole-shot award and quickly tried to establish himself as the front runner. However, just a short distance in, Villopoto made a move to pass for the lead, gaining the ground and eventually opening up a 2-second advantage over his rival. He continued to hold off Dungey and Davi Millsaps, both of whom unsuccessfully challenged for the win before falling short.

"It's unreal," Villopoto said. "It was a crazy race, and the track was really technical. Any little mistake would make it anyone's game. We started the season off really rough and had a lot of stepping stones to overcome, but we did it as a team and we did it well."

With the victory, Villopoto becomes just the fifth rider in AMA Supercross history to win three titles, and one of four to win the championships consecutively, Cycle News reports.

Rockstar Energy Racing Salt Lake City Supercross Race Report
[caption id="attachment_25665" align="alignright" width="300"]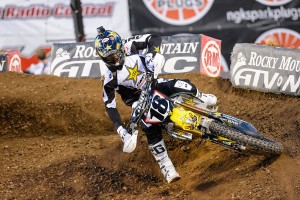 Davi Millsaps rode hard to finish second in Utah.[/caption]

Rockstar Energy Racing headed into the mountains in Salt Lake City for the penultimate round of the 2013 Supercross Championship. At an elevation over 4000 feet, the bikes are underpowered and the riders have little time to acclimate to the thinner air. For the first time in several years however, the weather was incredible. With crystal clear skies, perfect temperatures for racing and the Wasatch Mountains creating a picturesque backdrop visible from inside the stadium.

SLC presented without a doubt, the toughest set of whoops this season. They were big, abrupt and hard packed. While that description makes most riders cringe, it's like a gift to Davi Millsaps. Top riders were struggling and dreading them all day. Davi looked at times like he was just going down a straightaway, staying on top of them like they weren't even there. Millsaps was the fastest by a significant margin all day in practice. His heat race was more of the same, crossing the finish line first with Ryan Villopoto in tow.

As the first lap of the 450 main event unfolded, all 3 title contenders were up front. Davi moved by Ryan Dungey for second place and began to close on Villopoto. The trio stayed in those positions for the entire race. Typically when a freight train like that takes place, the race is considered boring. This was quite the opposite. Sometimes Villopoto would pull away. Then Dungey would catch Millsaps. Then Millsaps again would be all over the lead. It was an amazing race with 3 intense competitors. It was very evident that they were giving it their all and it was exciting for all fans in attendance at the edge of their seats. When the race concluded they were way ahead of the rest of the pack, all satisfied with their efforts and all had been pushed to their limit.

Davi Millsaps: "I gave it everything I had. I seriously had nothing left in me when I crossed that finish line. I was so happy to see the checkers. Ryan Villopoto ran a good last half of the season and I ran a bad one. It was a great run and it was fun racing against those guys. Definitely congratulations to Villopoto. He rode like a champion. It was a learning year for me, I've never been in the front, never had the points lead, let alone have this many podiums. All in all it's been a good season so far and I'm definitely looking forward to next year."

[caption id="attachment_25681" align="alignleft" width="300"]
Jason Anderson led the way to his first career victory.[/caption]

Jason Anderson really put everything together in Utah. Competitive all day in practice, then nearly catching the leader in his heat race en route to a 2nd place qualifying position. His main event was virtually flawless. Jason got a good start, rode a very smart race and kept his nerves calm for the entire 15 laps. Anderson started in 3rd, then in no time at all moved his way into the lead. He rode out front like a veteran would, like a rider who had done it many times.

It's been a long road since Jason's rookie season and all his hard work showed Saturday night. Once he got into the lead, he stayed there for every lap on the way to his first career victory, eventually building a 7 second lead. Now that this kid knows he can win, the rest of the 250 class may be in trouble.

Jason Anderson: "My win tonight was good. I got a good start and led the whole main which is something I've never done. I was stoked to do it here in Salt Lake. It was a good race for me. I got my first podium here last year, which was my first time here. To get my first win this year, I'm happy and super excited. I usually just go crazy. Just being calm and putting in my laps made the difference. The whoops were gnarly tonight. I definitely didn't wanna crash the last lap in them. Once I made it through them it was like sigh of relief. It was a good night."

[caption id="attachment_25667" align="alignright" width="300"]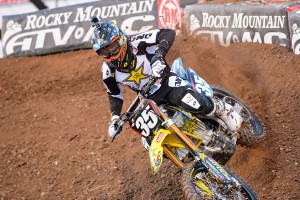 Ryan Sipes has had a tough couple weekends to come back to.[/caption]

Ryan Sipes has had a tough couple weekends to come back to. First, last week returning to a rutty, slick and rainy Seattle Supercross. Then to a tough track in Salt Lake with the elevation variable. Sipes qualified a solid 4th coming through the pack in his heat race. Then in his main he became engaged in a crazy multi rider battle. Everyone from 3rd to 10th was swapping positions. It was like a swarm of bees all criss-crossing and flying around the track. Amazing for the fans and fierce for the athletes involved. Yet another tough facet for a rider who has been off the line for several months to overcome. Sipes ended up finishing 7th but could have finished anywhere from 10th to 3rd. He will look to improve next week where he has won the shootout before.

Ryan Sipes: "Weekend was rough. I'm a little disappointed in myself. It's takin me a while to get back in the racing mode. I get out there and I kinda just lock up. I'm not flowin and I'm not riding nearly as good as I do at the practice track. If I could ride like I practice, I feel like I could be in the hunt for wins. It's not happening right now. Hopefully I can work on some stuff this week and make it better in Vegas."

Rockstar Energy Racing will travel south to Las Vegas next weekend where the temperatures are always high. The team will have 4 main events to try and pick up another victory. Millsaps will look for his 3rd, Anderson his second, Wharton his second and Sipes his first in the final round of this successful season.
Source: Rockstar Energy Racing

Ryan Dungey Finishes 3rd At Salt Lake City Supercross
[caption id="attachment_25669" align="alignright" width="300"]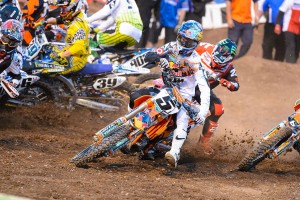 Ryan Dungey with the holeshot in the main event - Photo: Simon Cudby[/caption]

Red Bull KTM Factory rider Ryan Dungey earned a podium finish at the sixteenth round of the Monster Energy AMA Supercross Series when he finished 3rd overall in the 450SX class.

Dungey was up in the first 450SX heat where he earned the holeshot to take the early lead. Dungey went on to lead every lap of the eight-lap heat to take the win and top qualifying spot into the main event. Dungey's win marked his first heat race victory of the season.

In the main event Dungey earned the holeshot and led the pack as they rounded the first corner. Current point leader, Ryan Villopoto, cut inside of him on the second corner and took over the lead. A lap later Davi Millsaps challenged Dungey for the runner-up position. The three then began a battle that would last the entire race remaining within two seconds of each other through the twenty lap main event. The three-man freight train turned impressive lap times eventually lapping all the way through 8th position. When the checkered flag flew it was Villopoto who hung on for the win, followed by Millsaps and Dungey.

"It was a close race tonight," commented Dungey. "I'd like to thank the entire Red Bull KTM team for building me a great bike. We are still very close to second place in the championship standings and we are looking forward to battling for that position in Vegas."

Next Event: May 4, 2013 - Las Vegas, NV

Source: KTM North America

Josh Hill Scores Season Best At Salt Lake SX
[caption id="attachment_25664" align="alignright" width="300"]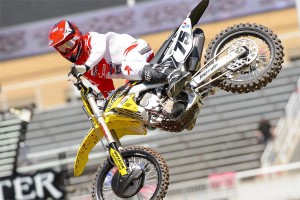 Josh Hill raced to his best result of AMA Supercross.[/caption]

RCH Racing Suzuki's Josh Hill raced to his best result of the AMA/ FIM World Supercross Championship at Saturday's penultimate round at Rice-Eccles Stadium in Salt Lake City, scoring seventh in the 450 Main Event.

Hill, who missed the opening five rounds with injury incurred at the opening event at Anaheim, ran in the top-10 throughout the 20-lap Main aboard his #75 Dodge/ Sycuan Casino/ RCH Racing/ Bel-Ray/ Suzuki RM-Z450 as team mate Broc Tickle finished his 16th consecutive Main Event with 11th.

Hill was seventh fastest in the afternoon timed practice and Tickle eighth; both riders using aggressive starts in their respective Heat Races to easily transfer to the Main. Hill finished third in Heat 2 while Tickle was fourth in Heat 1.

In the Main Event, Hill was running ninth after the first lap, moved into seventh on Lap 8 and maintained the position the rest of the race.

[caption id="attachment_25678" align="alignleft" width="200"]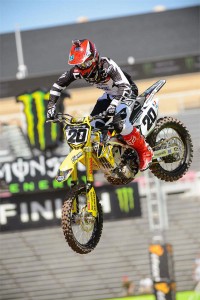 Broc Tickle finished his 16th consecutive Main Event with 11th.[/caption]

Said Hill: "I got a decent start in the Main and made a few quick passes to gain some spots. I got up into the top-10 early and that helped. The race start was so hard if you were starting outside of the first few gates because it was such a short straightaway and tight left-hand turn. Guys would just bang into each other. Riders with the first eight gate picks chose the inside. It was a battle."

Tickle looked to be on his way to his ninth top-10 Main Event finish until a mishap on Lap 10 in the tough whoops section dropped the RCH rider seven spots to 17th. The Michigan native raced the next nine laps incident-free and battled his way back to 11th.

"It was a solid start in the Main until I went down," said Tickle. "I was riding ninth and about to pass Andrew Short but skipped over a couple of the whoops and crashed pretty good. So I got up, got in behind Trey Canard and just started picking guys off that I had lost positions to earlier."

The 2013 Monster Energy AMA/ FIM World Supercross Series concludes next weekend at round 17 in Las Vegas.

Source: Team Suzuki

Ken Roczen Takes Title Chase To Las Vegas
[caption id="attachment_25670" align="alignright" width="300"]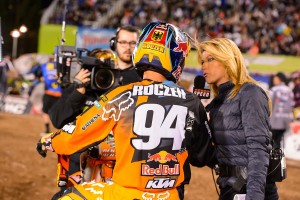 Ken Roczen talking to reporter Erin Bates after failing to qualify - Photo: Simon Cudby[/caption]

Red Bull KTM Factory rider Ken Roczen had the unthinkable happen at the penultimate round of the Monster Energy AMA Supercross 250SX Series at Rice-Eccles Stadium when he suffered crashes in both the heat and LCQ and did not qualify for the main event.

Roczen had a 20 point lead in the West 250SX Series heading into the Salt Lake City round. He was placed in the second heat where he was fourth off the start until he collided with another rider in the second corner. He recovered in dead last position. Roczen quickly moved up five positions before he ran off the track after trying to avoid a down rider in the whoops. After that incident he pulled off the track and returned to the pits in order to save energy for the last chance qualifier. Meanwhile, JDR/J-Star/KTM rider Malcolm Stewart took the heat win for his first heat victory this season.

Roczen had a great jump out of the gate in the LCQ before another rider came clear across the start straight and took out a group of riders including Roczen. He quickly recovered but had to come through the entire pack as he pushed toward the top two. Roczen gave it his all in the four remaining laps but came up approximately two bike lengths short of qualifying for the main event.

"I am really disappointed in the outcome of this race," remarked Roczen. "I had a large lead going into this race and now it will be very tight at the final round. I had a bit of a break with Eli Tomac (second in points) finishing 6th tonight, and luckily, I still hold the points lead. I am going to remain as positive as possible and do my best to win in Vegas and hopefully get the championship title."

After the conclusion of the main event, Roczen still managed to hold a 5 point lead in the championship standings as the riders head to Sam Boyd Stadium for the Supercross finale.

Next Event: May 4, 2013 - Las Vegas, NV

Source: KTM North America

Salt Lake City Overview And Point Standings
2013 AMA Supercross Salt Lake City Image Gallery (Click for full size images)


Overall Results - Supercross Class Race Time: 15:52.507














































































































































































| Pos. | # | Rider | Bike | Interval | Best Time |
| --- | --- | --- | --- | --- | --- |
| 1 | 1 | Ryan Villopoto | Kawasaki KX 450F | 20 Laps | 46.866 |
| 2 | 18 | Davi Millsaps | Suzuki RM-Z450 | +01.528 | 46.873 |
| 3 | 5 | Ryan Dungey | KTM 450 SX-F Factory Edition | +03.980 | 46.933 |
| 4 | 41 | Trey Canard | Honda CRF 450 | +25.658 | 47.573 |
| 5 | 51 | Justin Barcia | Honda CRF 450 | +33.142 | 47.506 |
| 6 | 10 | Justin Brayton | Yamaha YZ450F | +42.883 | 48.507 |
| 7 | 75 | Joshua Hill | Suzuki RM-Z450 | +52.929 | 48.606 |
| 8 | 29 | Andrew Short | KTM 450 SX-F | 19 Laps | 49.121 |
| 9 | 46 | Weston Peick | Suzuki RM-Z450 | +09.994 | 49.292 |
| 10 | 22 | Chad Reed | Honda CRF 450 | +17.095 | 49.434 |
| 11 | 20 | Broc Tickle | Suzuki RM-Z450 | +20.550 | 48.663 |
| 12 | 57 | Ben Lamay | Yamaha YZ450F | +22.640 | 49.727 |
| 13 | 12 | Jake Weimer | Kawasaki KX 450F | +23.447 | 49.387 |
| 14 | 39 | Robert Kiniry | Yamaha YZ450F | +25.105 | 50.301 |
| 15 | 49 | Phillip Nicoletti | Yamaha YZ450F | +30.627 | 49.992 |
| 16 | 42 | Vince Friese | Honda CRF 450 | +40.373 | 50.530 |
| 17 | 84 | Chris Blose | Yamaha YZ450F | +51.559 | 50.306 |
| 18 | 374 | Cody Gilmore | Kawasaki KX 450F | 18 Laps | 51.360 |
| 19 | 722 | Adam Enticknap | Honda CRF 450 | +15.353 | 52.141 |
| 20 | 85 | Kyle Partridge | Honda CRF 250 | 5 Laps | 52.274 |
Rider Point Standings - Supercross Class ( Race 16 of 17 )


Ryan Villopoto - 346 / 2013 Champion

Davi Millsaps - 318

Ryan Dungey - 315

Justin Barcia - 261

Chad Reed - 224

Trey Canard - 220

Andrew Short - 202

Justin Brayton - 177

James Stewart - 174

Broc Tickle - 165

Manufacturer Point Standings - Supercross Class ( Race 16 of 17 )


Kawasaki - 357

Suzuki - 334

Honda - 320

KTM - 315

Yamaha - 185

Overall Results - Supercross Lites West Class Race Time: 12:21.491
| Pos. | # | Rider | Bike | Interval | Best Time |
| --- | --- | --- | --- | --- | --- |
| 1 | 21 | Jason Anderson | Suzuki RM-Z250 | 15 Laps | 47.971 |
| 2 | 43 | Cole Seely | Honda CRF 250 | +05.688 | 48.330 |
| 3 | 40 | Martin Davalos | Kawasaki KX 250F | +09.756 | 48.699 |
| 4 | 32 | Malcolm Stewart | KTM 250 SX-F | +19.180 | 49.542 |
| 5 | 59 | Christian Craig | Honda CRF 250 | +24.336 | 49.798 |
| 6 | 1 | Eli Tomac | Honda CRF 250 | +27.680 | 50.067 |
| 7 | 35 | Ryan Sipes | Suzuki RM-Z250 | +28.761 | 49.898 |
| 8 | 28 | Tyla Rattray | Kawasaki KX 250F | +29.408 | 50.056 |
| 9 | 176 | Joey Savatgy | KTM 250 SX-F | +32.206 | 50.055 |
| 10 | 31 | Travis Baker | Yamaha YZ250F | +34.978 | 49.913 |
| 11 | 38 | Kyle Cunningham | Yamaha YZ250F | +39.161 | 49.572 |
| 12 | 338 | Zach Osborne | Honda CRF 250 | +45.393 | 50.258 |
| 13 | 72 | Dakota Tedder | Kawasaki KX 250F | 14 Laps | 51.364 |
| 14 | 91 | Topher Ingalls | Honda CRF 250 | +07.474 | 51.720 |
| 15 | 78 | Scott Champion | Honda CRF 250 | +26.453 | 53.083 |
| 16 | 653 | Tyler Bereman | Kawasaki KX 250F | +30.509 | 52.276 |
| 17 | 149 | Casey Hinson | Honda CRF 250 | 13 Laps | 53.752 |
| 18 | 239 | Ross Johnson | Honda CRF 250 | 8 Laps | 52.218 |
| 19 | 76 | Austin Politelli | Honda CRF 250 | 7 Laps | 50.881 |
| 20 | 792 | Bracken Hall | Honda CRF 250 | 3 Laps | 51.861 |
Rider Point Standings - Supercross Lites West Class ( Race 8 of 9 )


Ken Roczen - 163

Eli Tomac - 158

Cole Seely - 135

Jason Anderson - 124

Martin Davalos - 114

Zach Osborne - 111

Kyle Cunningham - 96

Christian Craig - 87

Tyla Rattray - 87

Joey Savatgy - 87

Manufacturer Point Standings - Supercross Lites Class ( Race 16 of 17 )


Honda - 366

KTM - 354

Suzuki - 294

Kawasaki - 283

Yamaha - 17