Taddy Blazusiak Wins Brazil X Games Enduro X
Chaparral Motorsports
|
April 22, 2013

Current GEICO EnduroCross Star Overcomes Adversity To Win First Global X Games Enduro X
[caption id="attachment_25465" align="alignright" width="200"]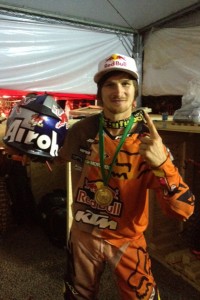 Taddy Blazusiak won the first ever Global X Games Enduro X event.[/caption]

Taddy Blazusiak, the current GEICO AMA EnduroCross champion had to overcome a poor qualifying heat race and an extremely slippery track to win the first ever Global X Games Enduro X event, which was held in Foz Do Iquacu, Brazil. Cody Webb, runner up in the 2012 GEICO EnduroCross Championship showed that he is capable of challenging Blazusiak and leading when he washed out the front end to give up the lead. In fact, Webb and Blazusiak exchanged the lead several times in the first few laps. Webb recovered to finish second ahead of the UK's David Knight, the multi time World Enduro and GNCC Champion, making it three nationalities on the podium.

"I don't know how it looks on TV but I have never ridden something as hard as this track," Blazusiak said after the finals. "It's so slick ... I'm super stoked on first place. I gave it all I had and I'm so pumped."

Colton Haaker, another American and winner of the 2012 Las Vegas opening round finished in fourth position riding a new Rockstar Energy, Lucas Oil backed Honda. Monster Energy Kawasaki's Taylor Robert rounded out the top five.

In the Women's completion, it was another podium with three Nationalities represented as Spain's Laia Sainz topped American Maria Forsberg and Puerto Rico's Tara Geiger. Sainz is a multi-time Women's World Enduro champion and looked very comfortable in her first ever X Games Enduro X event. Sainz took the lead from Forsberg on the first lap and rode a clean race to take the gold medal. Forsberg had to battle back from a first lap delay to earn the silver medal while Geiger, the former Women's X Games Women's Moto X champion rode a consistent race for the bronze.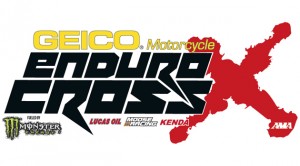 The top EnduroCross riders will now head to Las Vegas for the opening round of the 2013 GEICO AMA EnduroCross series will kick off on Friday, May 3rd during the Monster Energy AMA Supercross finals weekend in Las Vegas. You can get tickets at the Orleans Arena Box office: http://www.orleansarena.com/event-calendar/geico-endurocross-summer-2013

For more information, please visit www.EnduroCross.com.

Source: EnduroCross

2013 Brazil X-Games Enduro X Overview
2013 Brazil X-Games Enduro X Image Gallery (Click for full size images)




2013 X Games Enduro X, Brazil, Men's Final Results



Taddy Blazusiak

Cody Webb

David Knight

Colton Haaker

Taylor Robert

Mike Brown

Cory Graffunder

Kyle Redmond

Alfredo Gomez

Max Gerston

Geoff Aaron

Bobby Prochnau

Bryan Roper

Ricky Dietrich

Gary Sutherlin

2013 X Games Enduro X, Brazil, Women's Final Results


Laia Sanz

Tarah Gieger

Rachel Gutish

Kacy Martinez

Chantelle Bykerk

Jolene Van Vugt

Maria Forsberg

Marcella Gonclaves

Mariana Balbi

Stefany Serrao

2013 X Games Enduro X Schedule
| | Location | Date | Arena / Additional Information |
| --- | --- | --- | --- |
| Brazil X-Games | Foz do Iquacu Brazil | April 18, 2013 | Foz do Iquacu |
| Spain X-Games | Barcelona, Spain | May 18, 2013 | Barcelona Olympic Stadium |
| Germany X-Games | Munich, Germany | June 30, 2013 | Olympiastadion |
| USA X-Games | Los Angeles, USA | August 4, 2013 | Staples Center |
2013 GEICO AMA EnduroCross, Fueled by Monster Energy Schedule
| | Location | Date | Arena / Additional Information |
| --- | --- | --- | --- |
| Round 1 | Las Vegas, NV | May 3, 2013 | Orleans Arena (Friday during Supercross weekend) |
| Round 2 | Sacramento, CA | June 8, 2013 | Sleep Train Arena |
| Round 3 | Ontario, CA | September 21, 2013 | Citizens Business Bank Arena |
| Round 4 | Denver, CO | October 12, 2013 | National Western Complex |
| Round 5 | Everett, WA | October 26, 2013 | Comcast Arena |
| Round 6 | Boise, ID | November 9, 2013 | Idaho Center |
| Round 7 | Las Vegas, NV | November 23, 2013 | Orleans Arena |
EnduroCross tracks incorporate various elements of extreme off road racing into a Supercross-style setting, including rocks, boulders, logs, sand, mud, a water-hole...and even a few special obstacles like giant tires thrown in! Known as the "toughest racing on two wheels," this indoor off road racing will certainly keep you on your feet. For the seven EnduroCross events, be sure to log-on to www.motorsportshour.com for local air dates/times for the Lucas Motorsports Hour on the Versus network.

ENDUROCROSS is a registered trademark of Source Interlink Magazines, LLC.
For rules and race information visit www.EnduroCross.com or email endurocross@sorc.com.