2013 MotoGP Grand Prix Of The Americas Results
Chaparral Motorsports
|
April 22, 2013
Marc Marquez Storms To Maiden MotoGP Win In Texas
[caption id="attachment_25449" align="alignright" width="300"]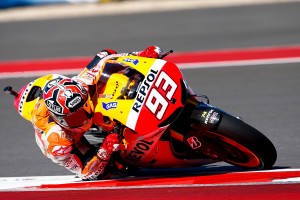 Marc Marquez became the youngest ever race winner in MotoGP.[/caption]

Marc Marquez became the youngest ever race winner in MotoGP, triumphing in Sunday's inaugural Red Bull Grand Prix of the Americas over teammate Dani Pedrosa, with reigning World Champion Jorge Lorenzo completing the podium.

On Saturday, 20-year-old Marquez took over from former double title winner Freddie Spencer as the youngest ever pole-sitter in the premier class. He now becomes the youngest race winner, having seen off a challenge from Pedrosa on the other Repsol Honda Team machine.

As the red lights went out at the new Circuit of the Americas it was Pedrosa who seized the lead, while Lorenzo headed backwards courtesy of a poor getaway. A lightning start for LCR Honda MotoGP's Stefan Bradl allowed the German to go second, but he was soon overhauled by Marquez, Lorenzo and Monster Yamaha Tech 3's Cal Crutchlow.

Following Pedrosa and waiting patiently for his moment, Marquez dived up the inside of Turn 7 on the 13th of the 21 laps. Pedrosa would hang onto the back of his teammate, but lost ground courtesy of a small error six laps later. Marquez took the chequered flag by one and a half seconds, with Lorenzo just over the same margin behind Pedrosa.

Having not tested at the venue a month ago, Crutchlow was more than pleased with fourth, as Bradl and Rossi completed that particular group, with the multiple title winner having overhauled GO&FUN Honda Gresini's Alvaro Bautista. The latter also fell behind Ducati Team's Andrea Dovizioso, who progressed to seventh on the final lap and then avoided a last-corner lunge from his rival. Leading American rider Nicky Hayden and Energy T.I. Pramac Racing's Andrea Iannone rounded out the top ten.

[caption id="attachment_25451" align="alignleft" width="300"]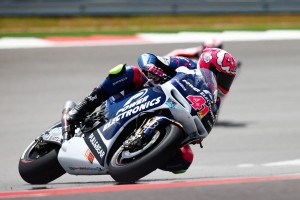 Aleix Espargaro enjoyed a strong ride to 11th place, extending his lead in the CRT ranks.[/caption]

Extending his lead in the CRT ranks, Power Electronics Aspar's Aleix Espargaro enjoyed a strong ride to 11th place ahead of two prototype riders; English Tech 3 rookie Bradley Smith and Ignite Pramac Racing's American Ben Spies, as well as French teammate Randy de Puniet. PBM enjoyed its strongest weekend to date, with Yonny Hernandez sealing the final point for 15th position while Michael Laverty recorded 16th with the team's own-built bike. Avintia Blusens maintained the symmetry in 17th and 18th, with Hiroshi Aoyama having overtaken Hector Barbera, while NGM Mobile Forward Racing's Claudio Corti, Gresini CRT rider Bryan Staring and Attack Performance Racing's Blake Young, the single wildcard rider in the race, completed the field.

It was a hugely disappointing afternoon for Came IodaRacing Project. Danilo Petrucci was fortunate to stay upright when teammate Lucas Pesek crashed out of the race directly behind him, only to retire in the pits with mechanical problems only minutes later. Colin Edwards was also on the sidelines, as the local Texan hero racked up the unenviable fact of becoming the race's first of three retirements with mechanical issues.

With 16 rounds to go in this highly dramatic MotoGP season, the story continues in Jerez with the Gran Premio bwin de España in two weeks' time.
Source: MotoGP

Jorge Lorenzo Takes 100th MotoGP Podium In Texas
[caption id="attachment_25446" align="alignright" width="300"]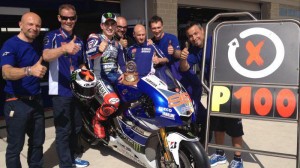 Jorge Lorenzo took third position on the podium in the Grand Prix of The Americas, his 100th career podium finish.[/caption]

Yamaha Factory Racing rider Jorge Lorenzo took third position on the podium today in the Grand Prix of The Americas, his 100th career podium finish. A less than perfect start from third on the front row saw the current World Champion lose position approaching turn one but he was quick to come back as the race settled in. Lorenzo was able to maintain third position to the finish line, holding distance to fellow Yamaha Cal Crutchlow behind in fourth and close down the gap to the front to just over three seconds at the flag. The result delivers an incredible 100th podium finish for the four-time World Champion ten years after he scored his first with victory in Brazil in 2003. The sixteen points brings his 2013 season total to 41 after two races, joint with Championship leader Marc Marquez and places him in second in the standings.

Having started from eighth on the grid, Valentino Rossi got involved in an early fight with the mid pack, including riders Crutchlow and Stefan Bradl, eventually bettering the German rider to move up and hold on to sixth place to the finish line. Rossi had to contend with a vibration from his front brakes during the race and had battled all weekend to find the best setup for the demanding circuit. The result places him in fourth place in the overall standings with 30 points, 3 behind Dani Pedrosa in third.

Jorge Lorenzo, 3rd
"Yesterday we were so far from Marc and Dani but this morning in the warm up we found something. The hairpin corners we normally take in first gear we made in second so it improved a lot the feeling and the acceleration, but it was not enough. Just a little bit more, maybe two tenths quicker and I could have fought with Dani and Marc. Today third position was the best we could do. I want to congratulate Cal who didn't give up until the end and also Marc, he's the youngest rider in history to win a Grand Prix; he is a phenomenon. It's an important day for me; I never thought to get this unbelievable number of podiums so today is a magic day. Time flies very quickly, it seems like it was just yesterday that I got my first victory, which was my first podium in Brazil in 2003 ten years ago and now today my 100th."
Valentino Rossi, 6th
"This is a difficult track for us. We expected to do better, but I had a lot of problems in the race because I had a problem with the brakes. I had a vibration in braking because I lost one part of a disc so this didn't help. We knew that we had to defend here; we know that when we cannot attack we need to try and arrive in the top five but today it was sixth. The balance of the first two races is positive and we arrive in Jerez optimistic for the next few races as the tracks are better for us."
Wilco Zeelenberg - Yamaha Factory Racing Team Manager
"This was our target, to be on the podium. To be honest to be just three seconds behind the lead is very nice. When you are ten seconds behind and you finish third you are quite happy but if it's just three seconds you think you might have been able to get a bit more. Apart from that we must be very pleased with the result, to be on the podium was our target and that will continue to be our target for the next couple of races. We struggled a lot here and everyone could see our competitors were strong; we had it the other way round in Qatar. Let's hope at the end of the season that the balance is in our favour."
Massimo Meregalli - Yamaha Factory Racing Team Director
"We knew since the beginning that this race was going to be really tough for us but I think the team has worked really well and we could manage it in the best way. To finish third, with only three second gap to the leader is for me really good. Jorge did a really intelligent race without a lot of risk. Now we are going back to Europe where the circuits are more suitable to our M1. Vale's team worked really hard to try and fit the bike to his riding style; they improved the bike through each practice. Unfortunately we made another step from the warm up to the race that didn't work as we expected. He also had a vibration on the front from his brakes. I think we are leaving Austin in a really good shape and we are really looking forward to the Jerez race."
Source: www.yamaha-racing.com

Fantastic Fourth For Cal Crutchlow In Texas
[caption id="attachment_25447" align="alignright" width="300"]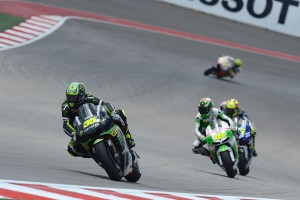 Cal Crutchlow rode to a fantastic fourth place finish in the inaugural Grand Prix of the Americas.[/caption]

Monster Yamaha Tech 3 Team rider Cal Crutchlow rode to a fantastic fourth place finish in today's inaugural Grand Prix of the Americas in Texas to consolidate his place in the top five in the World Championship standings after two races. For the second race in succession, the British rider comfortably finished as leading non-factory rider after he superbly recovered from an early off-track excursion to claim his best finish of the 2013 campaign. Crutchlow was locked in an early fight with Stefan Bradl when he ran off track on lap four, which dropped him back to sixth as Alvaro Bautista swept through. The 27-year-old wasted no time in getting back up to his fast pace and he brilliantly recovered the lost places with two expertly executed overtaking moves on Bautista on lap five and then on Bradl on lap nine. Crutchlow maintained his fast pace and was easily able to streak away from Bradl and Bautista to finish behind factory trio Marc Marquez, Dani Pedrosa and Jorge Lorenzo, which was a fantastic achievement considering they had all tested at COTA last month.

It was mission accomplished for Bradley Smith in the 21-lap race as he gained priceless experience by guiding his YZR-M1 machine home to his first point scoring finish in his rookie campaign. Opting to run Bridgestone's hard compound front tire for the first time all weekend, Smith gradually built up his confidence and an impressive charge in the second half of the race saw him set a personal best lap of 2.06.415 on the penultimate lap to finish in 12th position. That was 0.3s faster than his best qualifying lap and the confidence and experience gained this weekend means Smith heads to Jerez next month optimistic that he can battle for a maiden top 10 finish.

Cal Crutchlow - 4th
"I'm very pleased and we did a better job than any of us expected before we arrived in Texas. With no testing here I was worried that it would be more of a struggle and the fire in the garage on Wednesday meant we couldn't do any of our normal preparation work. So to finish fourth and be behind Marquez, Pedrosa and Lorenzo is a great achievement for all of us and I want to say a massive thanks to my crew. We qualified well and I rode very well in the race and the most pleasing aspect was my consistency. Unfortunately I ran wide while trying to pass Bradl but I managed to fight my way back through and I was running the same speed as Lorenzo for a long time and that gives me a lot of confidence to take into the next few races. I'm giving it my all and I'll never give up and I think this weekend again we showed how competitive the Monster Yamaha Tech 3 package is. Now we go to Jerez and I was quickest at the winter test a few weeks ago, so it is going to be another big battle that I'm excited about."
Bradley Smith - 12th
"I am really happy to finish the race because what I learned over a full race distance was priceless. I ran the hard front tire on the advice of Bridgestone and while it was definitely the right choice, it took me a few laps to understand how it was working. The last thing I needed was to push too hard and make another mistake like in Qatar but the best thing about the race is I got faster and faster. I was quicker as in qualifying on the penultimate lap of the race, and that's a sign of how much better I was riding the bike. I am learning more and more about the bike on each lap and I can go to Jerez now confident that I can be even more competitive and the goal will be to get closer to the top 10. Finally I can't praise my Monster Yamaha Tech 3 Team enough. After the garage fire on Wednesday night it really put everybody on the back foot, but we all rallied round and it is nice to see both Cal and I finish in the points to reward their hard work."
Herve Poncharal - Tech3 Team Manager:
"That was a very good first race here in Texas and Cal did an amazing job. He was in a very hard battle in the early laps and after he ran off the track his recovery was fantastic. He was back on his pace immediately and he brilliantly passed both Bradl and Bautista, even though it was clear that they had a very competitive package at this track. What was very impressive was the way Cal pulled away and he was able to run the same pace as Lorenzo in front of him, which is not an easy task and something he should be really proud of. Bradley also had a good race and he did exactly what he had to do after the crash in Qatar. He was calm at the beginning but once his confidence grew he got faster and faster and at the end he was as quick as a lot of those inside the top 10. This will give him a big boost and also the experience he is lacking, so we can look forward to an even stronger challenge from him in the next few races. Cal and Bradley did an awesome job but so did the whole Monster Yamaha Tech 3 Team. We didn't test here and that put us at a disadvantage and after the fire on Wednesday night our preparations were far from ideal. So to get this result in a crucial race for Yamaha and Monster Energy is extremely satisfying."
Source: www.yamaha-racing.com

Grand Prix of The Americas Overview And Point Standings
2013 MotoGP Circuit of The Americas Image Gallery (Click for full size images)


Circuit of The Americas General Overview



Circuit Length: 5513

Weather: Sunny

Fastest Lap Ever: 2'03.021 (Marc Marquez, 4-21-2013 11:58:45)

Grand Prix of The Americas Results - Race 1
| Pos. | Rider | Bike Mfr. | Country | Interval |
| --- | --- | --- | --- | --- |
| 1 | Marc Marquez | Honda | ESP | 43'42.123 |
| 2 | Dani Pedrosa | Honda | ESP | 0'01.534 |
| 3 | Jorge Lorenzo | Yamaha | ESP | 0'03.381 |
| 4 | Cal Crutchlow | Yamaha | GBR | 0'06.616 |
| 5 | Stefan Bradl | Honda | GER | 0'12.674 |
| 6 | Valentino Rossi | Yamaha | ITA | 0'16.615 |
| 7 | Andrea Dovizioso | Ducati | ITA | 0'22.374 |
| 8 | Alvaro Bautista | Honda | ESP | 0'22.854 |
| 9 | Nicky Hayden | Ducati | USA | 0'33.773 |
| 10 | Andrea Iannone | Ducati | ITA | 0'42.112 |
| 11 | Aleix Espargaro | ART | ESP | 0'48.837 |
| 12 | Bradley Smith | Yamaha | GBR | 0'50.705 |
| 13 | Ben Spies | Ducati | USA | 1'14.132 |
| 14 | Randy De Puniet | ART | FRA | 1'15.651 |
| 15 | Yonny Hernandez | ART | COL | 1'19.591 |
MotoGP Rider Standings (After Race 2 of 18 )


Marc Marquez - 41

Jorge Lorenzo - 41

Dani Pedrosa - 33

Valentino Rossi - 30

Cal Crutchlow - 24

Andrea Dovizioso - 18

Alvaro Bautista - 18

Nicky Hayden - 15

Andrea Iannone - 13

Stefan Bradl - 11

Aleix Espargaro - 10

Ben Spies - 9

Randy De Puniet - 6

Bradley Smith - 4

Yonny Hernandez - 3

Hector Barbera - 3

Manufacturer Standings as of 04/21/2013


Honda - 41

Yamaha - 41

Ducati - 18

ART - 10

FTR - 3

Team Standings as of 04/23/2013


Repsol Honda Team - 74

Yamaha Factory Racing MotoGP Team - 71

Ducati Team - 33

Monster Yamaha Tech3 - 28

Pramac Racing Team - 22

Go&Fun Honda Gresini - 18

Power Electronics Aspar - 16

LCR Honda MotoGP - 11

Avintia Blusens - 4

Paul Bird Motorsport - 3