New Exhibit Highlights Baja 1000 Race
Chaparral Motorsports
|
April 17, 2013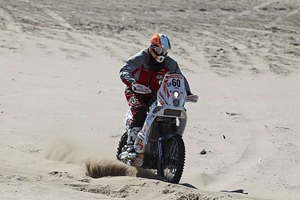 It's a big year for anniversaries in the world of motorsports, and the latest group to jump in on the celebration is the Baja 1000 motorcycle race. The event will recognize the 50th anniversary of its beginnings this year, which will be marked with a special dinner, road show and exhibit.

The exhibition is set to take place all summer long, and motorsports fans can get a look at the history of the Baja 1000 from May 4 to Sept. 2 at the Peterson Museum. Vintage bikes, motorcycle gear, apparel and other pieces of paraphernalia from the past 50 years will be displayed, and fans can even pick up some of their own memorabilia from on-site vendors. This collection, which has never been seen in one place before, traces the history of the legendary race from its inception in the 1960s to what it has become today.

A special tribute dinner will be held May 2. Famous riders and former winners of the Baja 1000, as well as champions from other races, are scheduled to be on hand to honor the anniversary. Audience members can meet and mingle with some motorsports greats, many of whom will also be participating in question-and-answer sessions.