Chaz Davies Takes A Double Win In World Superbike
Chaparral Motorsports
|
April 15, 2013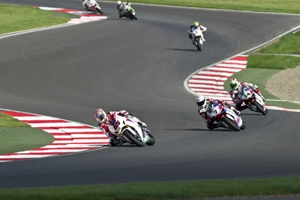 The second round of the FIM World Superbike Championship took place at MotorLand Aragon in Spain this past weekend, and the motorsports series thrilled the thousands of spectators in attendance.

BMW rider Chaz Davies won the two main events to sweep the podium. He narrowly edged out Sylvain Guintoli, the current standings leader, in both races, while Marco Melandri and Tom Sykes each earned a third-place finish.

In the first race, Davies capitalized on the problems of other riders to move into the top position. Sykes and Eugene Laverty were both in the lead for a fashion before experiencing technical issues, allowing Davies to cross the finish line first. The BMW rider only widened the gap in the second race, where he soundly beat Guintoli after a strong performance.

"For me it is just an amazing day," Davies said. "I cannot explain how happy I am ... My first victory with BMW and then the double win - this is something I was hoping to achieve this year, but I did not expect it to happen this early."

Aprilia's Laverty maintains his third-place position in the points standings despite encountering some bad luck in the races. He had a motorcycle gear problem that prevented him from finishing the first competition and then crashed out in the second.