Ewan McGregor Joins Forces With Moto Guzzi For Upcoming Ad Campaign
Chaparral Motorsports
|
April 11, 2013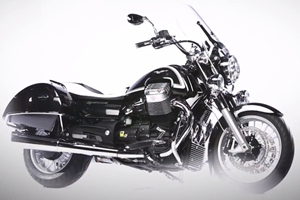 Ewan McGregor has played an adventure rider in a few films, and the actor is very much a touring motorcycle enthusiast in real life as well. It's a well-known fact that the star is constantly building up his own collection of bikes, both new and antique, and he isn't shy about voicing his support when brands create something he likes.

Now that one of McGregor's favorite brands, Moto Guzzi, is making a comeback with the California 1400, the actor came on board to help promote the new offering. After getting a chance to test the remodeled bike, McGregor became the face of Moto Guzzi and the ad campaign called "My Bike, My Pride," Motorcycle.com reports.

"I'm proud to have starred in this advertising campaign," said McGregor, as quoted by the news source. "I think we have really done something unique and great. I liked the new California 1400 straight away, from the first time I saw it. Then it surprised me when I rode it. It is from another planet ... truly surprising."

McGregor's personal collection of motorcycles and gear includes 10 Moto Guzzi models, among others, so don't be surprised if you see him riding a new custom bike around anytime soon. According to Auto Evolution, the updated California 1400 comes in a Touring version that features a windshield, extra lights and more convenience for long-haul riders, making it a great bike for people who want to throw on their favorite motorcycle accessories and hit the open road.