Motorcycle Maniac: 2013 Victory 15th Anniversary Cross Country Tour LE
Chaparral Motorsports
|
April 5, 2013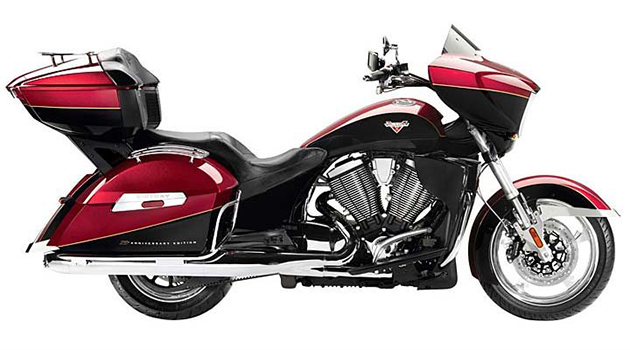 2013 Victory 15th Anniversary Cross Country Tour LE: A Contemporary Machine With A Classic Style
One of my favorite things to do on free weekends is to attend motorcycle shows and rallies. A few weeks ago, I had the opportunity to stop by the International Motorcycle Show in New York City, and while I was there a certain bike caught my eye. I'd been waiting to check it out further ever since, and I recently got the chance to test out the 2013 Victory 15th Anniversary Cross Country Tour LE.

The unveiling of the 2013 Victory 15th Anniversary Cross Country Tour Limited Edition took place at the New York show, and with it came a lot of anticipation about the new release. Since the original bike premiered in 1998, Victory has been steadily upgrading and improving it, consistently keeping it among the best touring machines on the market. The new edition is no different, as its top-of-the-line features and classic style make it an intriguing addition to the world of touring bikes.

A Classic Engine
Just like the standard model, the 2013 Victory 15th Anniversary Cross Country Tour LE is powered by a 106-cubic-inch engine. The four-valve, air-cooled motor delivers 106 foot-pounds of torque with a six-speed transmission, making it easy to handle on any type of road. A 5.8-gallon tank offers plenty of room for fuel, ensuring that riders can cruise the open road for hours on end.

Special Features
The 2013 Victory 15th Anniversary Cross Country Tour LE has an array of special features that separate the machine from its competitors. A custom seat, billet wheels, black windscreen and chrome details add to the overlook appearance of the bike, while an iPhone/iPod connector, audio system, GPS technology and Victory Comfort Control System make the riding experience an enjoyable one.

An Ideal Touring Bike
Touring is made easy thanks to the 41.1 gallons of storage space in the luggage, which is the most of any bike in the world. However, the trunk, saddlebags and multiple front storage compartments don't get in the way of providing space for two riders, as the machine's comfort is top notch.

To cap it all off, this Victory bike boasts a glossy red and black paint job that comes with gold pinstripes, much like the first motorcycle the manufacturer ever built. It also has a 15th anniversary badge and graphics to set the limited edition of the machine apart from the pack.

Only 150 of these special motorcycles are being made, making this bike one of the hottest items on the market.

2013 Victory 15th Anniversary Cross Country Tour LE Image Gallery
(Click for full size images)