Triumph Recalls Nearly 3,800 Bikes In The US
Chaparral Motorsports
|
April 2, 2013
[caption id="attachment_25058" align="alignright" width="300"]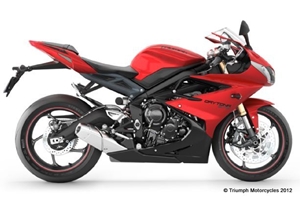 Triumph Recalls Nearly 3,800 Bikes In The US[/caption]

Triumph has been forced to recall almost 3,800 of its motorcycles due to a manufacturing error that could impact the lighting on several models of its bikes. The 2012 and 2013 versions of the Daytona 675, Street Triple, Speed Triples and Tiger 800 are all affected by the recall, and riders could see problems arise with their motorcycle lights if the issue is not addressed.

While the recall initially affected Canada, officials soon realized bikes sold in the U.S. were also at risk after a further review showed the issue may present a safety risk. According to Ultimate Motorcycling, the faulty electrical work may cause turn signals to be defective, increasing the risk of a vehicle crash.

Owners can bring their bike to a local Triumph dealer to get fixed, and this is a good opportunity to brush up on basic maintenance and make sure all of their gear is in top shape. New LED lights can be picked up at an aftermarket online superstore, while reflective accessories like helmets and jackets can also be a wise investment for riders who hit the roads in all conditions or at any time of day.

Motorcycle.com reports that the problem stems from a supplier's mistake, so the rest of the Triumph bike should be in the strong condition that riders have come to expect.