Yamaha One Two At MotoGP Jerez Test
Chaparral Motorsports
|
March 25, 2013
Valentino Rossi Returns To The Top In Jerez
[caption id="attachment_24619" align="alignright" width="300"]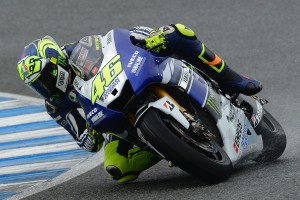 Valentino Rossi 2013 MotoGP - Jerez Test[/caption]

The second day of the final pre-season MotoGP test was again played out in difficult weather conditions yesterday with riders having to splash through a water-filled morning before being able to enjoy some dry track time later in the afternoon. Valentino Rossi was finally given the conditions that allowed him to show his pleasure at being back on the YZR-M1. In the afternoon's dry spell and on a European circuit he knows well, the nine time Champion rose quickly to the top of the timesheets, staying there until the close of the day and reminding everyone that the special relationship between 'the doctor' and the M1 has not lost its magic.

Teammate Jorge Lorenzo, Saturday's fastest rider in the wet, was just 0.015 seconds behind Rossi as today's session ended, the reigning World Champion continuing to stay on the pace at the sharp end of the time scores. Tech3 Satellite rider Cal Crutchlow was next in the standings, making a Yamaha 1,2,3.

Valentino Rossi - 1st, 39 laps, Time - 1'39.525
"Yesterday was very positive for us, I'm so happy, especially because we used a different style of setting. It is very important for us to understand this setting, which can help and effect my riding style to ride the bike in a better way and stay more constant, especially with good lap times on old tires. To make the first position with a time of 39.5 is good and also staying at the level of Jorge more or less. Me and my team are very happy with the pace and I think we will try to continue to work on this way."
Jorge Lorenzo - 2nd, 34 laps, Time -1'39.540
"The track was dry but not in perfect condition yesterday, there was not so much grip on the track and we had some problems on the acceleration of the corners where the bike was not very stable. In general it was a very positive test. We worked on suspension and electronics and we saw that compared to Austin the Yamahas' were much more competitive. We ended in the three first positions and that is good for the motivation of the brand. The track is not in the best condition, it's dry but it's not perfect because of the rain. I think we have to focus on getting more stability on acceleration and get more comfortable with race pace."
Wilco Zeelenberg - Yamaha Factory Racing Team Manager
"We are of course happy that it dried up and that we were able to do, I think 40 laps yesterday in dry conditions, lap times were not so bad. We are still not so satisfied with the set up so we will continue to work on that. Lap time wise you know Cal, Vale and Jorge are very close and in front of Honda which we are of course very happy with, but everything is quite tight! We need to work on more on the set up tomorrow."
Massimo Meregalli - Yamaha Factory Racing Team Director
"Finally we managed to have a good and helpful practice yesterday. We were able work very well on the base set up and we had quite good results. Now we are ready to swap everything to the last new items to test today. We will confirm the difference between the two chassis' and decide which one to use in Qatar. We didn't have any problems yesterday, just good steps made by trying different settings. It has been a very positive day."
Cal Crutchlow Storms Into Top Three At Jerez
[caption id="attachment_24620" align="alignright" width="300"]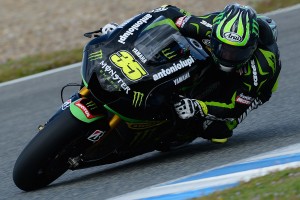 Cal Crutchlow 2013 MotoGP - Jerez Test[/caption]

Monster Yamaha Tech 3 Team rider Cal Crutchlow took full advantage of improved weather conditions to storm into the top three on a second day of MotoGP testing in Jerez that was dominated by Yamaha's 2013 YZR-M1 machine. Although there was no repeat of Saturday's torrential rain, much brighter skies and a strong wind didn't dry the track quickly enough for any meaningful testing to commence until after 1pm. Having waited patiently to start crucial set-up work on his YZR-M1 machine, Crutchlow was able to quickly find a fast pace and a 1.41.247 on only his third lap moved him into second position. As track conditions and grip levels improved, Crutchlow was able to improve his pace to a 1.39.574 that secured him a brilliant third position on the timesheets with a gap of just 49 thousandths of a second behind factory Yamaha duo Valentino Rossi and Jorge Lorenzo.

The majority of the afternoon session took place in sunny but breezy skies but the grey clouds that were a constant feature yesterday returned with 90 minutes of track time left and rain started to fall again. The showers quickly stopped but with conditions far from ideal, Crutchlow took no further part in proceedings.

A dry track presented rookie Bradley Smith with the ideal opportunity to put in vital laps on slick tires after Saturday's rain had restricted him to just 14-laps on Bridgestone's wet weather rubber. Smith was able to complete 41 laps in the afternoon and gain valuable time on track as he continued to adapt to the YZR-M1 machine. He set a personal best time of 1.41.398 that left him less than 0.1s outside of the top 10 and only 0.7 s away from the top six. He also grasped the chance to pursue nine-times World Champion Valentino Rossi for a short spell, learning how to improve his riding technique to suit the heavier and more powerful YZR-M1 after a two-year spell in the Moto2 category.

Cal Crutchlow, 3rd, 44 laps, Time - 1'39.574
"I am very happy with how yesterday went and it was good to get in some laps in the dry. We had a few things to try with the bike and the weather meant we could assess what was positive and negative. It wasn't easy at the start because the track was really dirty and then later on it got quite cold and slippery, but we got some important work completed on the set-up. My Monster Yamaha Tech 3 Team did a great job and I am sure with some small adjustments tomorrow we can be faster. The pleasing aspect of yesterday was I was very consistent and that makes me confident for when we come back for the race here. The fact that the top three was filled by Yamaha also bodes well for the race in a few weeks. I am right in the mix with the factory bikes again and this is very satisfying for me."
Bradley Smith, 12th - 41 laps, Time - 1'41.398
"Yesterday was positive because I really need dry track time and also to get some data of riding the bike on a track other than Sepang. I felt much happier than in Malaysia because it is a track I definitely like and we can see from the top three that it suits the Yamaha very well too. Immediately from the first exit I felt comfortable and knew my reference points quicker. It was easier for me to pick up the pace and we made some really good improvements and progress during the first four exits. We tried some set-up modifications to get an idea about my feedback and at that point we realized that we were going in the wrong direction and just as we came back to what I liked it started raining and that was a shame. I still need to improve a lot but the gap to the first six is not as big as Sepang and that is a positive. I followed Valentino for a short time yesterday and it was a very interesting experience. I could pick up some things about riding technique and I could understand that I need to be a little smoother."
Jerez Day Two Test Times:





Valentino Rossi - ITA Yamaha Factory (YZR-M1) - 1m 39.525s (Lap 29/46)

Jorge Lorenzo - ESP Yamaha Factory (YZR-M1) - 1m 39.540s (22/34)

Cal Crutchlow - GBR Yamaha Tech 3 (YZR-M1) - 1m 39.574s (29/44)

Dani Pedrosa - ESP Repsol Honda (RC213V) - 1m 39.630s (31/31)

Andrea Dovizioso - ITA Ducati Team (GP13) - 1m 40.322s (21/30)

Alvaro Bautista - ESP Honda Gresini (RC213V) - 1m 40.686s (25/35)

Marc Marquez - ESP Repsol Honda (RC213V) - 1m 40.714s (21/36)

Stefan Bradl - GER LCR Honda (RC213V) - 1m 40.783s (30/32)

Andrea Iannone - ITA Pramac Racing (GP13) - 1m 41.088s (15/15)

Nicky Hayden - USA Ducati Team (GP13) - 1m 41.325s (29/35)

Hector Barbera - ESP Avintia (FTR-Kawasaki CRT)* - 1m 41.376s (22/25)

Bradley Smith - GBR Yamaha Tech 3 (YZR-M1) - 1m 41.398s (28/41)

Aleix Espargaro - ESP Aspar (ART CRT) - 2m 41.444s (44/48)

Danilo Petrucci - ITA IodaRacing (Suter-BMW CRT)* - 1m 41.529s (31/32)

Michele Pirro - ITA Ducati Test Rider (GP13) - 1m 41.603s (25/32)

Randy De Puniet - FRA Aspar (ART CRT) - 1m 41.686s (24/34)

Claudio Corti - ITA Forward Racing (FTR-Kawasaki CRT)* - 1m 41.701s (24/26)

Ben Spies - USA Pramac Racing (GP13) - 1m 41.702s (28/29)

Karel Abraham - CZE Cardion AB (ART CRT) - 1m 41.916s (23/35)

Yonny Hernandez - COL Paul Bird Motorsport (ART CRT) - 1m 42.050s (21/32)

Bryan Staring - AUS Honda Gresini (FTR-Honda CRT) - 1m 42.107s (39/39)

Colin Edwards - USA Forward Racing (FTR-Kawasaki CRT)* - 1m 42.154s (31/33)

Hiroshi Aoyama - JPN Avintia (FTR-Kawasaki CRT)* - 1m 43.959s (25/25)

Michael Laverty - GBR Paul Bird Motorsport (PBM CRT)* - 1m 44.185s (16/21)

Lukas Pesek - CZE IodaRacing (Suter-BMW CRT)* - 1m 44.874s (25/33)




* Control ECU.

Source: Yamaha Racing