2013 AMA Supercross Toronto Results
Chaparral Motorsports
|
March 25, 2013
Another Supercross Win For Ryan Villopoto
[caption id="attachment_24611" align="alignright" width="200"]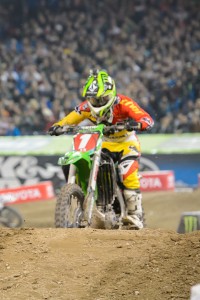 Ryan Villopoto made a come-from-behind win in Toronto.[/caption]

Ryan Villopoto made sure the only international stop on the 2013 AMA Supercross calendar was one to remember after he completed a come-from-behind win in Toronto. The Kawasaki rider thrilled the crowd at the city's Rogers Centre as he won his seventh event of the motorsports season.

For a while, it appeared as if Villopoto wasn't going to extend his win streak. Davi Millsaps had a strong start and led for the first 10 laps of the race, successfully fending off several of Villopoto's pass attempts. When the leader started to make some errors, however, Villopoto was ready to capitalize. He surged ahead just past the midway point of the race and held on to cross the finish line less than four seconds before Millsaps.

"It was unbelievable," Villopoto said. "Davi is riding really well and he was riding exceptionally well [tonight]. I got around him with about halfway to go and I was able to get a little bit of a gap. Everybody up here is unbelievable and it shows how fast we really are ..."

The victory extends Villopoto's win streak to four races while also helping him build up his lead in the standings. He now sits 12 points ahead of Millsaps and 22 points in front of third-place Ryan Dungey.

Rockstar Energy Racing Toronto Supercross Race Report
[caption id="attachment_24605" align="alignright" width="200"]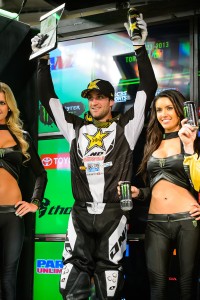 Davi Millsaps graced the podium after a positive night.[/caption]

Rockstar Energy Racing traveled internationally to Toronto, Ontario Canada and revisited the success the team has been able to celebrate all year. Once again Davi Millsaps and Blake Wharton graced the podium as a duo in their respective classes. Certainly a positive night for both and a step in the right direction. There is still room for improvement and this 2 week break will give the riders time to work on what they need to land on the top step of the box.

It was really impressive to see the team atmosphere when returning to the truck. Millsaps was upstairs coaching Wharton with some very valuable advice. The pair plan to spend time together during the off week at the test track and come out swinging when the series returns. It was a great thing to witness as Davi stated to Blake "You're part of the team. I want you to win for you and for the team, and I will do anything I can to help you."

It's no secret that Davi has been a bit off the past few weeks. It's also known that he sustained a knee injury while practicing before Daytona and has not been able ride nearly as much as he would like. The tides are changing now, however. Millsaps rode to a successful 3rd place finish in his heat race. Impressive was not the 3rd place finish, but the lap times he was putting down. He was the fastest rider on the track.

In the main event, he returned to the form he had early in the season in regards to his starts. He started near the front and immediately found his way into the lead. He continued by leading over half the race before succumbing to Ryan Villopoto. This is when the sign of things to come would be revealed. When Davi was stretching out his points lead in the beginning of the series, he would get passed by a competitor and hastily return fire by stepping up his game and regaining the position. In the weeks he was suffering from his knee injury and couldn't ride midweek, he didn't have an answer for the riders passing him or in front of him. He was essentially on damage control.

[caption id="attachment_24606" align="alignleft" width="300"]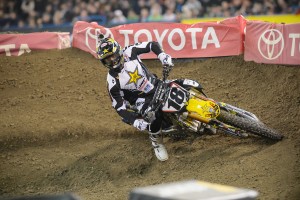 Davi Millsaps' magic is returning and this Supercross Championship is far from over.[/caption]

When Villopoto passed him in Toronto, the team's eyes were focused on how he would react. Initially he fell a bit off the pace but remedied that in just a couple laps. He began closing the gap, finishing just behind the leader in 2nd place. Clearly Davi Millsaps is back and a statement was made. The magic is returning and this Supercross Championship is far from over. The upcoming and only break of the season will benefit Davi more than any other rider and he will be eager to line up at the gate and contend for the win in Houston.

"It's definitely good to get a solid weekend under my belt, it's been about 6 weeks for me. I have a weekend off now so I will have a lot of time to practice and get back to where I was. It was a great race for sure, [Ryan] Villopoto rode awesome. I just made a few mistakes here and there and he capitalized on it. He was obviously going faster than me tonight. All in all from the past couple weekends to this weekend, I'm goin in the right direction. It's crazy how 3 days of riding a bike good helps so much. I block passed him in the second turn and he knew I was there so he just had to stand up and let me go by. We're riding clean. There's no reason to get all stupid and punt each other and just be enemies for the next 5 rounds or 2 years. We're riding clean and we'll pass when we have to pass and block pass when we have to block pass. As fast as we're going, to take someone out is wrong. We have more respect than that. If it came down to the championship, I think we'd both try but nothing stupid." - Davi Millsaps

Blake Wharton had a lot to be fired up about after the happenings in Indianapolis a week ago. Crashing with a significant lead with half a lap remaining and then being docked 4 more positions in a controversial protest is tough to swallow. Blake needed to rebound. It was clear in practice that he aimed to do just that. Wharton and Wil Hahn were the only two 250 riders successfully and consistently negotiating a very technical triple, triple section.

[caption id="attachment_24604" align="alignright" width="200"]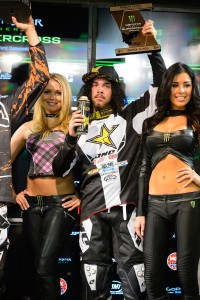 Blake Wharton was the second half of a double podium for Rockstar Energy.[/caption]

It was no surprise that they were the fastest two riders in practice all day. In Blake's heat race, he opened up a commanding lead en route to another qualifying victory. In the main event he experienced a bit more adversity. Initially he was one of the fastest riders on the track and was closing in on the lead.Then at about the halfway point he was forced to go into protect mode as Hahn was on his heels. Blake began to ride a bit tight but was able to hold on for a very positive 3rd place. He wants to win and there is no question that he has what it takes. He knows what he needs to work on and Davi will be a very big asset to him over the next couple weeks. He too will be counting down the days until he can line up at the gate again and show the world what he can do.

"Canada was pretty good but not where I wanted to be. I won the heat race but in the main I need more. My speed is good, I feel like my speed is there. I was picking some lines I shouldn't, doing some things I shouldn't and I just didn't ride the whole time the way I needed to. I feel good on the bike and everything is right there but there are just a few things I'm missing. This weekend is off but it won't really be off. I'm going to do my thing, I'll be riding. There's not really any time to rest during Supercross. Gotta keep sprinting." - Blake Wharton

All members of the team will appreciate this well deserved break and a little extra time at home. Both Davi and Blake will not rest much however as their desire is to victorious. They will work hard to find improvements and be ready when the series returns for the second stop in the state of Texas. It is by no means out of the questions to consider the possibility of a double win, and that will be the goal.

Source: Rockstar Energy Racing

Ryan Dungey Earns 3rd At Toronto Supercross
[caption id="attachment_24598" align="alignright" width="200"]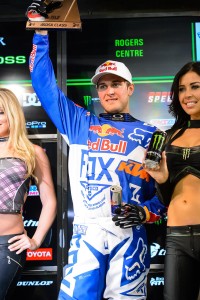 Ryan Dungey earned a podium finish at the twelfth round of the Supercross Series - Photo: Simon Cudby[/caption]

Red Bull KTM Factory rider Ryan Dungey earned a podium finish at the twelfth round of the Monster Energy Supercross Series where he finished 3rd overall.

Dungey was placed in the first 450SX heat where he got a mid-pack start. During the eight lap heat race, Dungey was able to charge forward and finish the race in 2nd position to easily transfer to the main event.

Dungey got off to a great start in the main event rounding the first corner in fourth place. He spent the first four laps reeling in the third place ride of Chad Reed whom he was able to make an aggressive pass on in the fourth lap. He quickly pulled away from Reed and began to catch the lead riders. At the halfway point it was a three-way battle for the lead involving Davi Millsaps, Ryan Villopoto and Dungey. As Dungey tried to make an inside pass on Millsaps, he accidentally stalled his bike and lost a position to Reed. A lap later, he regained the position back and set to work again to reel in the top two riders.

In the remaining laps, he was able to close the gap but was unable to gain another position. At the end of the twenty lap main event, he held on to finish 3rd overall.

"After the first lap, I tried to follow Villopoto through the pack and we had a good battle going, but unfortunately I made a bummer move and stalled the bike. It caused me to not jump the triple and I lost a position. I'm bummed for my mistake but happy I was able to get the position back and land on the podium," stated Dungey.

Source: KTM North America

100th Start For James Stewart At Toronto SX
[caption id="attachment_24609" align="alignright" width="300"]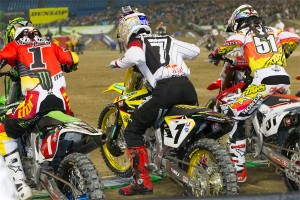 James Stewart celebrated his 100th career start in Saturday's Main Event at the Rogers Centre in Toronto, Canada[/caption]

Yoshimura Suzuki Factory Racing's James Stewart celebrated his 100th career start in Saturday's 12th-round AMA/ FIM World Supercross Championship Main Event at the Rogers Centre in Toronto, Canada with seventh overall.

The Yoshimura Suzuki rider turned in a stellar performance in his eight-lap heat race, getting a good start and gapping the field to take his eighth heat race win of the year. In the 20-lap Main Event, he struggled a bit at the start but worked his way up into fifth. He turned in a confident ride on his Yoshimura Suzuki RM-Z450 but suffered a slight mishap with just a few laps to go and wound up finishing seventh.

Said Stewart: "The heat race went pretty well. In the Main Event, I got an OK start. I kind of slid out on the first jump and almost went down, but I made my way up to fifth and just stayed there. I couldn't get around those guys in front of me; they were battling pretty hard. I'm very disappointed in myself, no excuses, I just didn't get it done. It was a bummer, for sure. The Yoshimura Suzuki RM-Z450 was awesome. We made a change after the heat race and the bike was just phenomenal. These results are frustrating for me, we've been working so hard, but I'm still fighting and we'll keep working during the break and come back strong for Houston."

Yoshimura Suzuki Factory Racing's next event is the 13th round of the 2013 AMA/ FIM World Supercross Championship on Saturday, April 6th at Reliant Stadium in Houston Texas.

Toronto Behind The Scenes Race Report:


Source: Team Suzuki

Marvin Musquin Wins Toronto Supercross
His Third 250SX Main Event Win in a Row
[caption id="attachment_24596" align="alignright" width="200"]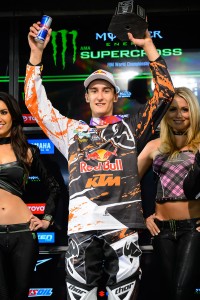 Marvin Musquin pulled off his third straight win in a row at the Toronto Supercross - Photo: Simon Cudby[/caption]

Red Bull KTM Factory rider Marvin Musquin pulled off his third straight win in a row at the Toronto Supercross after pulling the holeshot and leading every lap of the sixth round of the Monster Energy East 250SX Supercross Championship Series.

Musquin pulled the holeshot on his KTM 250 SX-F at the start of the second 250SX heat. Musquin went on to lead every lap of the heat to take his second heat win of the season.

When the gate dropped for the main event, it was Musquin who came out with the holeshot. From the first lap through to the checkers he led every lap. At the halfway point he had already pulled a four second gap, which he held for the duration of the race. This race marked his third straight victory of the season.

"The track was very tough and slippery today. I had a crash earlier in the day and felt horrible going into the main but my Red Bull KTM team helped motivate me and I was able to pull it off. My holeshot helped a lot and I am happy to get my third win in a row," stated Musquin.

Next Event: Houston, TX - April 6, 2013

Source: KTM North America

Toronto Overview And Point Standings
2013 AMA Supercross Toronto Image Gallery (Click for full size images)


Overall Results - Supercross Class: Race Time - 19:48.182














































































































































































| Pos. | # | Rider | Bike | Interval | Best Time |
| --- | --- | --- | --- | --- | --- |
| 1 | 1 | Ryan Villopoto | Kawasaki KX 450F | 20 Laps | 57.746 |
| 2 | 18 | Davi Millsaps | Suzuki RM-Z450 | +03.598 | 57.740 |
| 3 | 5 | Ryan Dungey | KTM 450 SX-F Factory Edition | +07.539 | 57.695 |
| 4 | 22 | Chad Reed | Honda CRF 450 | +09.730 | 58.168 |
| 5 | 51 | Justin Barcia | Honda CRF 450 | +31.475 | 58.184 |
| 6 | 12 | Jake Weimer | Kawasaki KX 450F | +35.833 | 58.945 |
| 7 | 7 | James Stewart | Suzuki RM-Z450 | +41.500 | 58.266 |
| 8 | 20 | Broc Tickle | Suzuki RM-Z450 | +43.818 | 59.698 |
| 9 | 29 | Andrew Short | KTM 450 SX-F | +45.603 | 59.078 |
| 10 | 62 | Matthew Goerke | KTM 450 SX-F Factory Edition | +46.549 | 59.279 |
| 11 | 10 | Justin Brayton | Yamaha YZ450F | +51.530 | 59.351 |
| 12 | 49 | Phillip Nicoletti | Yamaha YZ450F | 19 Laps | 59.998 |
| 13 | 75 | Joshua Hill | Suzuki RM-Z450 | +07.151 | 1:00.751 |
| 14 | 57 | Ben Lamay | Yamaha YZ450F | +17.050 | 1:01.526 |
| 15 | 39 | Bobby Kiniry | Yamaha YZ450F | +31.296 | 1:01.321 |
| 16 | 84 | Chris Blose | Yamaha YZ450F | +45.506 | 1:02.345 |
| 17 | 64 | Justin Sipes | Kawasaki KX 450F | 18 Laps | 1:01.202 |
| 18 | 46 | Weston Peick | Suzuki RM-Z450 | +20.999 | 1:00.439 |
| 19 | 54 | Les Smith | KTM 450 SX-F Factory Edition | 17 Laps | 1:01.228 |
| 20 | 800 | Mike Alessi | Suzuki RM-Z450 | 3 Laps | 1:02.102 |
Point Standings - Supercross Class ( Race 12 of 17 )


Ryan Villopoto - 252

Davi Millsaps - 240

Ryan Dungey - 230

Chad Reed - 196

Justin Barcia - 184

James Stewart - 169

Trey Canard - 165

Andrew Short - 148

Justin Brayton - 122

Broc Tickle - 122

Matthew Goerke - 119

Jake Weimer - 94

Mike Alessi - 84

Weston Peick - 59

Eli Tomac - 52

Joshua Grant - 40

Jimmy Albertson - 38

Kyle Chisholm - 38

Joshua Hill - 37

Bobby Kiniry - 37

Overall Results - Supercross Lites East Class: Race Time - 15:04.402
| Pos. | # | Rider | Bike | Interval | Best Time |
| --- | --- | --- | --- | --- | --- |
| 1 | 25 | Marvin Musquin | KTM 250 SX-F | 15 Laps | 59.339 |
| 2 | 19 | Wil Hahn | Honda CRF 250 | +03.570 | 58.811 |
| 3 | 13 | Blake Wharton | Suzuki RM-Z250 | +20.172 | 58.893 |
| 4 | 77 | Jeremy Martin | Yamaha YZ250F | +20.986 | 1:00.360 |
| 5 | 42 | Vince Friese | Honda CRF 250 | +24.275 | 1:00.953 |
| 6 | 48 | Cole Thompson | Honda CRF 250 | +24.277 | 1:00.728 |
| 7 | 613 | James Decotis | Honda CRF 250 | +37.986 | 1:00.703 |
| 8 | 67 | Gavin Faith | Honda CRF 250 | +41.273 | 1:00.995 |
| 9 | 194 | Jackson Richardson | Honda CRF 250 | +46.052 | 1:01.657 |
| 10 | 50 | Kyle Peters | Honda CRF 250 | +48.271 | 1:01.925 |
| 11 | 69 | Peter Larsen | Yamaha YZ250 | +50.491 | 1:01.570 |
| 12 | 73 | A J Catanzaro | Kawasaki KX 250F | +1:05.058 | 1:01.501 |
| 13 | 87 | Lance Vincent | KTM 250 SX-F | 14 Laps | 1:02.185 |
| 14 | 412 | Levi Kilbarger | Honda CRF 250 | +13.337 | 1:02.499 |
| 15 | 71 | Zackery Freeberg | Honda CRF 250 | +28.146 | 1:03.039 |
| 16 | 675 | Kyle Hussey | Kawasaki KX 250F | +48.991 | 1:04.081 |
| 17 | 639 | David Buller | Honda CRF 250 | +54.210 | 1:04.775 |
| 18 | 377 | Austin Coon | Honda CRF 250 | 13 Laps | 1:05.452 |
| 19 | 556 | Brady Kiesel | Yamaha YZ250F | 2 Laps | 1:03.374 |
| 20 | 317 | Justin Hill | Kawasaki KX 250F | DNS | |
Point Standings - Supercross Lites East Class ( Race 6 of 9 )


Wil Hahn - 134

Marvin Musquin - 128

Blake Wharton - 108

Dean Wilson - 87

Vince Friese - 81

Kyle Peters - 78

Jeremy Martin - 71

Justin Hill - 68

Gavin Faith - 66

James Decotis - 66

Cole Thompson - 57

Mitchell Oldenburg - 49

A J Catanzaro - 45

Peter Larsen - 40

Lance Vincent - 38

Zachary Bell - 37

Zackery Freeberg - 35

Jackson Richardson - 26

Levi Kilbarger - 24

Steven Clarke - 16