Corbin To Celebrate Rider Appreciation Day This Summer
Chaparral Motorsports
|
March 21, 2013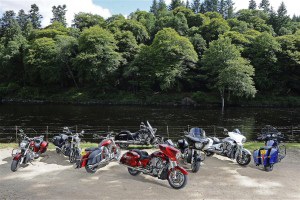 Thousands of people have participated in Corbin's annual Rider Appreciation Day in the past, and thousands more will get to do so this year when the event returns to the Hollister Motorcycle Rally July 5 and 6 in Hollister, Calif.

Corbin will be joined by dozens of other street bike gear manufacturers for its fourth annual Rider Appreciation Day. While the corresponding Hollister rally is now allowing vendors to set up shop on the official grounds, Corbin has been giving them a space for years, and so many are coming to offer special deals and discounts to riders this year that the event had to be spread across two days.

Other demonstrations, rides and displays are scheduled to be set up, and many of them will be showcasing the latest trends in motorcycles and accessories. Riders will have the chance to enjoy all of the offerings at the California rally on either day, and the event is free to enter.

There will also be competitions for best custom paint job, graphics and bike redesigns. More than 60 motorcycles took part in the contests last year, and there should be even more as word spreads about this great event.