New Suzuki Designs Inspired By Air Jordan Sneakers
Chaparral Motorsports
|
March 19, 2013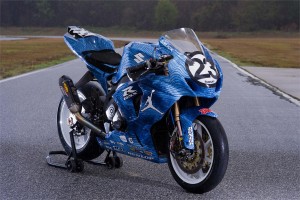 The Michael Jordan Motorsports (MJM) team is in the midst of competing for the 2013 AMA Superbike Championship, and when they take to the track, fans may notice that their motorcycles have a certain flair. In honor of the team's 10th anniversary, the Suzuki GSX-R1000's used by riders Danny Eslick and Roger Lee Hayden will feature a design inspired by a pair of the athlete's famous sneakers.

Wavy blue patterns will adorn the Suzuki bikes and corresponding motorcycle apparel, similar to the design on the new Nike Air Jordan XX8 shoe. To go along with the new style, the iconic Air Jordan symbol will be emblazoned on the side of the machine.

MJM debuted the new livery on the Skydeck of the Willis Tower, formally the Sears Tower, in Chicago. Jordan won six NBA championships in the Windy City and founded the motorsports team there, so it was only fitting that the new style of bikes was unveiled there as well, Motorcycle.com reports.

The team raced with the new bikes at the Daytona Superbike competition March 16 and 17. Fans can look forward to seeing more of the unique designs at AMA events in the future.